'It's poison': Mum 'hit rock bottom after driving drunk with kids in car' as UK women named world's worst binge drinkers
9 November 2023, 14:37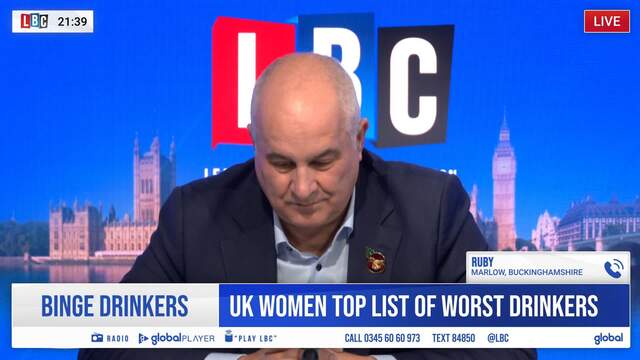 Caller Ruby recounts alcohol struggles with LBC's Iain Dale
A recovering alcoholic has recounted her difficult journey to sobriety, telling LBC's Iain Dale how she hit rock bottom after 'driving drunk with her kids in the car'.
It comes after a new report found that British women top the list for the world's biggest female binge drinkers, with 26 per cent having six or more drinks in one session at least once a month.
Speaking to LBC, caller Ruby - not her real name - said she believed people tend to drink "because they have mental problems", which she says applied to her.
"I was put into a boarding school at a very early age with religious nuns and they didn't treat us very well," she recounted.
"You grow up feeling different and you don't fit in and you don't get loved. You go to school and you're bullied. You grow up with all these things and down the line, you have that first drink, and it's like a warmth of golden nectar going down."
"All those things that you felt about yourself, your low self-esteem, and all those things you hate about yourself, all that goes out the window. And you've found the answer," she added.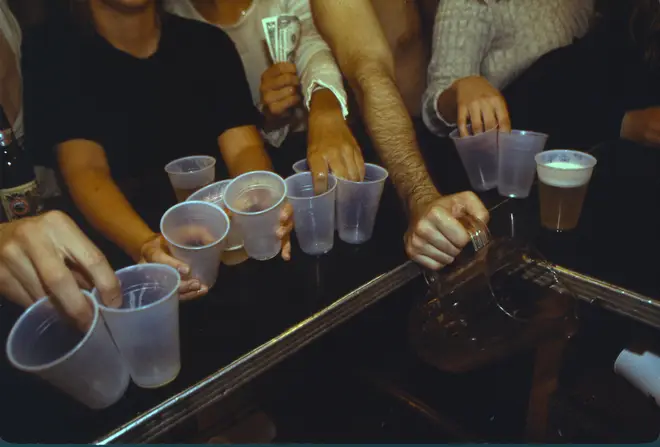 Ruby's drinking eventually grew out of control, until she drove drunk with her kids in the car, and woke up to her dead dog - who was ill at the time - after she took a nap following a drinking session.
Her drinking habits also caused her to attempt suicide.
"This stuff is poison...all I wanted was a drink," she told LBC.
Read More: Wayne Rooney used to drink alcohol 'until almost passing out' during early Manchester United years
Read More: Police hunt shoplifters who stole over £2,000 of alcohol from Sainsbury's
It was after Ruby spent time in a clinic for alcoholics that she "started to see the beauty in the world again". She immediately went back to alcoholics anonymous meetings after initially avoiding them and has not had a drink since.
New research has revealed that British women are the most regular binge drinkers in the world.
The UK was first in the global charts for binge drinking among women, according to a report by the Organisation for Economic Co-operation and Development (OECD).
It found that at least 26 per cent of women binge drink at least once a month, meaning having at least six drinks in a single session at least once a month.
Those feeling distressed or suicidal can call Samaritans for help on 116 123 or email jo@samaritans.org in the UK. In the US, call the Samaritans branch in your area or 1 (800) 273-TALK.
You can contact Alcoholics Anonymous here.