Rollercoaster horror as riders suspended mid-climb on 235ft ride, as Storm Noa's winds reach 70mph
12 April 2023, 20:56 | Updated: 13 April 2023, 02:37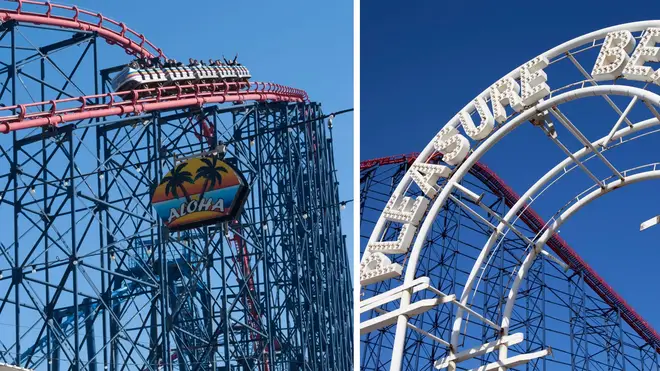 Ride operators were forced to suspend a 235ft rollercoaster with passengers still on it, as 70mph winds from Storm Noa threatened riders' safety.
The Big One, a rollercoaster at Blackpool Pleasure Beach resort, had to stop just seconds before it reached its tallest drop-point, as thrashing winds picked up.
Staff at the theme park were forced to climb the rollercoaster by foot to rescue the riders stuck near the rollercoaster's drop at around 2:50pm today.
The ride passengers were seen clinging to the handrails on their way down the 400 step flight of emergency stairs, The BlackPool Gazette reported.
Read more: Storm Noa sweeps across UK with yellow weather warnings issued over 70mph winds
Read more: Woman who fed over 1,600 during cost-of-living crisis left 'heartbroken' after cruel vandals destroy allotment
A spokesman for Blackpool Pleasure Beach said: "At 2.50pm Blackpool Pleasure Beach stopped the Big One train on the ride's lift hill due to sudden changes in weather conditions.
"Guests on the ride were reassured and escorted from the ride by Blackpool Pleasure Beach staff.
"Due to high gusts of wind the Big One rollercoaster closed for the remainder of the day."
It comes after a woman was 'seriously injured' and rushed to hospital earlier today, after being hit by flying scaffolding caused by Storm Noa's winds.
The Blackpool ride was closed for the remainder of the day following the incident.