Storm Noa sweeps across UK with yellow weather warnings issued over 70mph winds
12 April 2023, 12:31 | Updated: 12 April 2023, 12:34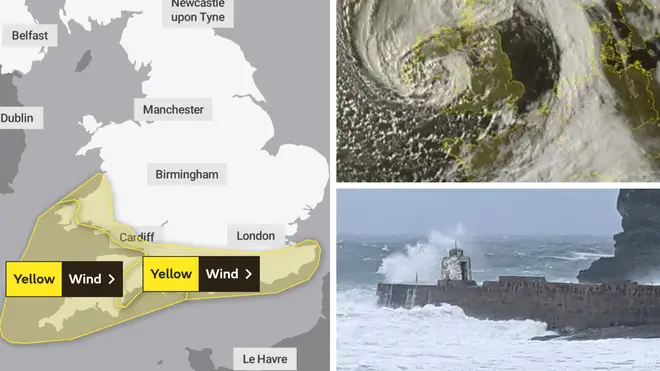 Storm Noa is sweeping in across the UK, battering parts of the country with 70mph gusts and yellow weather alerts for high wind in place.
The swathe of wintery weather with heavy rain and strong gusts from Storm Noa is forecast on Wednesday.
The weather system, named Storm Noa by Meteo France, is predicted to grow stronger over the course of the day, with coastal areas in south-west England, particularly Devon and Cornwall, likely to be worst affected.
The Met Office has warned of potential short-term losses of power and disruption to road and ferry travel in the region.
#StormNoa has been named by Meteo France, as France is expected to get stronger winds and greater impacts, resulting in them naming the system.

This has been adopted by the UK Met Office as per international storm naming arrangements. pic.twitter.com/iZV9RiCnmI

— Met Office (@metoffice) April 12, 2023
A yellow weather warning for wind has also been extended to the south-east of England, where the storm is predicted to migrate over the course of the day.
The forecaster said there is a chance of "heavy outbreaks of rain and thunder" in south-east England by Wednesday evening.
Met Office spokesman Stephen Dixon said: "There's likely to be some warning updates from us of winds with some associated rain throughout the day with gusts up to 60-70mph this morning and some heavy rains accompanying.
"Coastal areas, particularly Devon and Cornwall, are likely to see the worst of this with potential short-term losses of power and disruption to travel.
Read more: British skier, 18, killed in Swiss avalanche, pictured for first time as female classmate remains missing
Read more: Pub landlady in golliwog row denies husband is Britain First supporter after he's pictured in group's shirt
"This is a low-pressure system that is building in from the west and is set to get worse throughout the course of the day."
On Wednesday morning, travel problems hit the road and rail network in south Wales.
South Western Railway said train services running across the whole of its network may be cancelled or delayed due to high winds, with disruption expected until 5pm.
Meanwhile, major motorways including two sections of the M4 in Wales as well as the M48 Severn Bridge were closed, with National Highways reporting gusts of 68mph.
Although the weather is a named storm in France, it is not classed as such by the Met Office.
Heavy showers are also expected in Scotland, with western areas predicted to see in excess of 30mm of rain and other areas set to see around 20mm of rain.
Temperatures in Scotland are expected to be 5C but will dip to freezing level overnight, particularly in rural areas in the north of the country.
A yellow warning for wind has been lifted in Northern Ireland, though the Met Office predicts strong winds of around 50mph in some coastal areas.
Mr Dixon added: "The set up is low pressure dominant both in the South West and in Scotland.
"Overnight tonight and into Thursday, we are expecting these low-pressure systems to combine and move into the North Sea. This will leave behind showers across much of the UK with winds decreasing throughout the day on Thursday."
The first storm to be named by the Met Office, or Irish or Dutch weather services, this season will still be Storm Antoni, in accordance with the 2022/23 name list.