Rishi's back to the future Cabinet: David Cameron joins Sunak's top team amid row with Tory right
14 November 2023, 10:02 | Updated: 14 November 2023, 10:06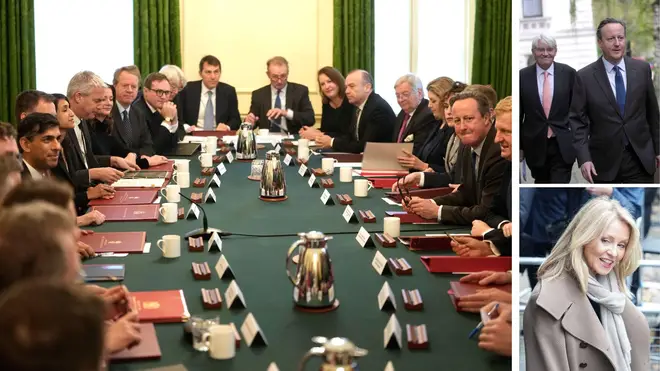 David Cameron has arrived at Downing Street for his first Cabinet meeting in seven years as Rishi Sunak assembles his new look top team.
The Prime Minister turned the clocks back to bring his ex-boss back to No10 in a shock move on Monday as he sacked Suella Braverman.
He will hope his new-look government will close the gap in the polls with Labour ahead of the next election - no small ask with Sir Keir Starmer keeping a double digit lead.
Sunak told his team they would make "big, bold decisions that will drive change".
Read more: Who's in and who's out in Rishi Sunak's reshuffle?
"Looking around this table, I know that we have an energetic and enthusiastic team that is going to deliver for the country," he said.
"So, let's get to work."
Cameron arrived at Downing Street clutching a red folder as he returned to his old residence on Tuesday morning.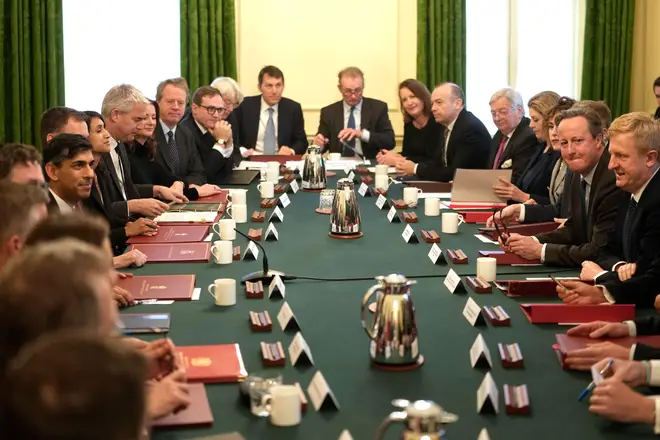 He joined alongside his predecessor James Cleverly, who was moved to the Home Office to take over from Braverman.
Cameron said on Monday: "We are facing a daunting set of international challenges, including the war in Ukraine and the crisis in the Middle East. At this time of profound global change, it has rarely been more important for this country to stand by our allies, strengthen our partnerships and make sure our voice is heard.
"While I have been out of front-line politics for the last seven years, I hope that my experience – as Conservative Leader for eleven years and Prime Minister for six – will assist me in helping the Prime Minister to meet these vital challenges. Britain is a truly international country.
"Our people live all over the world and our businesses trade in every corner of the globe. Working to help ensure stability and security on the global stage is both essential and squarely in our national interest. International security is vital for our domestic security."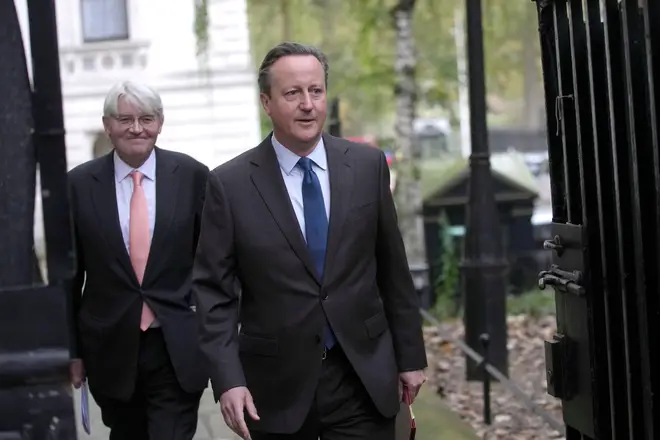 While Cameron's comeback and Braverman's sacking drew the most attention, Steve Barclay was moved to Defra and Victoria Atkins replaced him as health secretary, while Laura Trott was made chief secretary to the Treasury.
Esther McVey was appointed as minister for "common sense".
Some moderate Tories praised Cameron's return, hailing it as a return to a more typical form of politics after years of culture wars, divisive ministerial and advisory appointments and scandals.
Read more: 'We're a broad church: 'Conservative chairman defends David Cameron's comeback despite anger from the Tory right
Cameron's replacement as PM, Theresa May, said: "His immense experience on the international stage will be invaluable at this time of great uncertainty in our world. Looking forward to working together again!"
Anticipated anger at the sacking of Braverman from the hard right failed to materialise - though any battle lines between them and more moderate Tories may just be getting drawn.
Braverman, who is believed to be among the frontrunners for any future Tory leadership contest, said she will have "more to say in due course".
Read more: David Cameron's return to government signals 'the grown ups are back in the building' Clare Foges tells LBC
But the only prominent angry response was from Dame Andrea Jenkyns, the former minister who submitted a letter of no confidence in Mr Sunak to the backbench 1922 Committee.
She said: "If it wasn't bad enough that we have a party leader that the party members rejected, the polls demonstrate that the public reject him, and I am in full agreement. It is time for Rishi Sunak to go."
She said that Mrs Braverman "was the only person in the Cabinet with the balls to speak the truth of the appalling state of our streets and a two-tier policing system that leaves Jewish community in fear for their lives and safety".