Cenotaph at risk: Rishi Sunak warns pro-Palestine protests on Armistice Day would be 'provocative and disrespectful'
3 November 2023, 15:58 | Updated: 8 November 2023, 07:24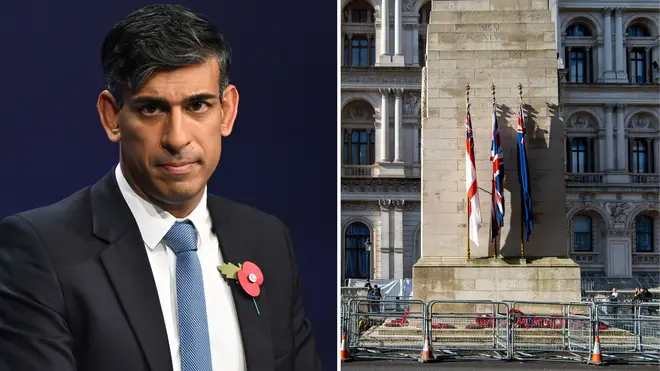 Rishi Sunak has warned that pro-Palestine protests on Armistice Day would be 'provocative and disrespectful' amid concerns that the Cenotaph is at risk.
The PM said there is a "clear and present risk that the Cenotaph and other war memorials could be desecrated".
Tens of thousands of demonstrators are understood to be planning to take to the streets to call for a ceasefire in Israel's attacks on Gaza on November 11.
There are fears the march could disrupt the two-minute silence commemorating the war dead and the daytime and evening Festival of Remembrance at the Royal Albert Hall, with the latter performance usually attended by royals.
Read more: Sickening poster at the Cenotaph: Met investigation as calls grow to stop protesters targeting 'sacred' Remembrance Day
Read more: Hezbollah leader says Israel-Hamas "battle" has "extended to more than one front" sparking fears of a wider war
Sunak said in a Twitter statement: "To plan protests on Armistice Day is provocative and disrespectful, and there is a clear and present risk that the Cenotaph and other war memorials could be desecrated, something that would be an affront to the British public and the values we stand for.
"The right to remember, in peace and dignity, those who have paid the ultimate sacrifice for those freedoms must be protected.
"I have asked the Home Secretary (Suella Braverman) to support the Met Police in doing everything necessary to protect the sanctity of Armistice Day and Remembrance Sunday."
It comes after the Met warned that it would use all its powers to stop the disruption of commemorations.
The force said officers will be deployed across the capital that weekend as part of a "significant policing and security operation".
Protest groups have not indicated plans to march on Remembrance Sunday on November 12 but a significant demonstration is expected on the Saturday.
Demo organisers have pledged to avoid the Whitehall area where the Cenotaph war memorial - the focus of national remembrance events - is located.
Friends of Al-Aqsa (FOA) said it expects hundreds of thousands of people to take part in the demonstration, organised by a coalition of groups.
Spokesman Ismail Patel said: "We definitely will not be at the Cenotaph. We understand the sensitivity of the date."
The Met said: "We're absolutely committed to ensuring the safety and security of anyone attending commemorative events."
The high-profile Remembrance Sunday outdoor service at the Cenotaph is attended by royals, senior politicians and veterans and is a poignant tribute to those who lost their lives in conflict.
Armistice Day on November 11 is the anniversary of the end of the First World War and is also known as Remembrance Day.