Rishi Sunak vows to press on with Rwanda policy 'regardless' of Supreme Court ruling
15 November 2023, 07:22 | Updated: 15 November 2023, 07:39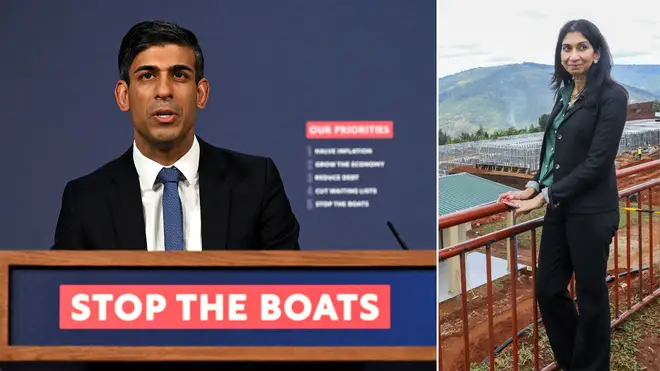 Rishi Sunak will continue with the government's planned Rwanda immigration policy regardless of a ruling by the Supreme Court on whether it is lawful.
The UK's most senior court will decide whether the scheme to send migrants to Rwanda is lawful later today.
Sending migrants to Rwanda is one of the government's flagship policies that it says will help them to 'stop the boats'.
Around 370 migrants who crossed the Channel on a small boat could be sent to Rwanda by next year if the scheme is considered to be lawful by the Supreme Court, The Times reports.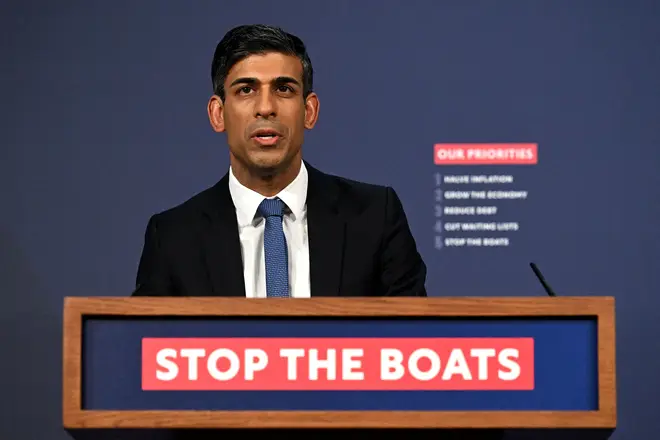 In the event that the Supreme Court decides the policy is unlawful, the government has been focusing on back-up plans, which includes making the Rwanda deal one that can be ratified by Parliament.
Rwanda would have to outline how it would be a safe country for asylum seekers to live in if this backup plan was to be enacted.
Read More: Tories at war after Suella Braverman accuses Rishi Sunak of 'betraying the nation' in scathing resignation letter
Read More: Suella Braverman accuses Rishi Sunak of 'betraying the nation' in scathing resignation letter
Pressure on Rishi Sunak from the right of the Tory party to leave the European Court on Human Rights (ECHR) is expected to grow if the ruling goes against the government.
In a scathing letter to the prime minister after her sacking, the former home secretary Suella Braverman urged the prime minister to "change course immediately".
"Someone needs to be honest: your plan is not working, we have endured record election defeats, your resets have failed and we are running out of time. You need to change course urgently," she said.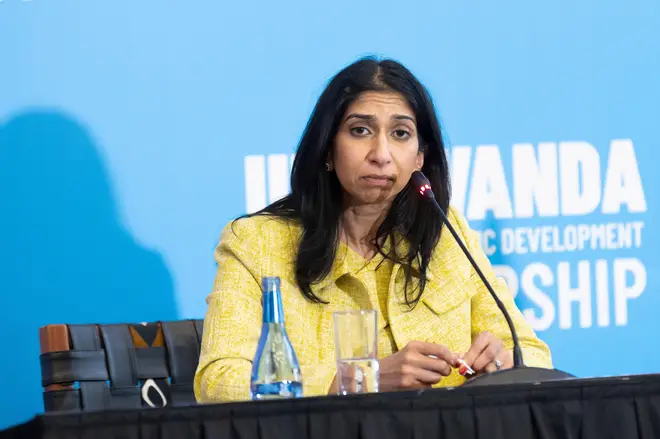 Ms Braverman accused the prime minister of having "no credible backup plan" if the Rwanda scheme is considered unlawful.
"I can only surmise that this is because you have no appetite for doing what is necessary, and therefore no real intention of fulfilling your pledge to the British people," she said.
No10 expects Ms Braverman to launch a rebellion against the government if the Supreme Court rules the policy is unlawful, though only expects around a dozen Tory MPs to back her, The Guardian reports.
According to political scientist Tim Bale, Ms Braverman might be "overestimating how MPs will rally behind her".
"The Rwanda judgement will be key in that," he told LBC's Nick Ferrari at Breakfast.
"More MPs are going to move to tell Sunak to leave the ECHR if the Rwanda Case is lost.
"No way that Rishi Sunak will lose the leadership at this point... can't see that happening."
"The Conservatives don't want to make things worse by tearing themselves up completely," he added.