Sunak casts doubt on key pledge to cut NHS waiting lists as he continues to blame striking junior doctors
15 September 2023, 00:28 | Updated: 15 September 2023, 00:54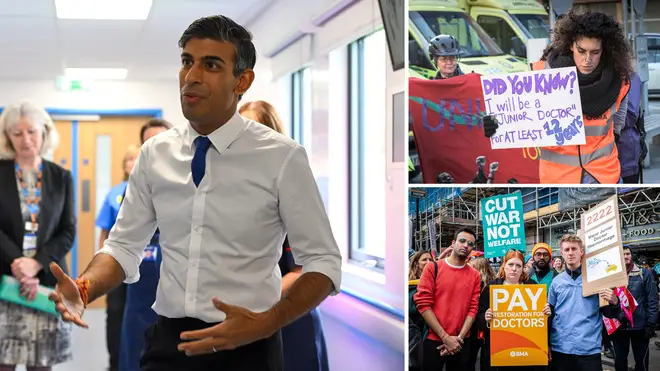 Rishi Sunak has cast doubt on one of his five pledges - to cut NHS waiting lists - blaming a lack of progress on striking junior doctors.
The prime minister said on Thursday it would be "very hard" to reduce waiting lists by next March.
It comes after new figures show a record 7.68 million people were waiting for treatment in the NHS by the end of July.
This is an increase of more than 100,000 in a month.
According to Mr Sunak, striking junior doctors are to blame.
"We were making very good progress before industrial action," the prime minister said.
"With industrial action, it's very hard to continue to meet these targets."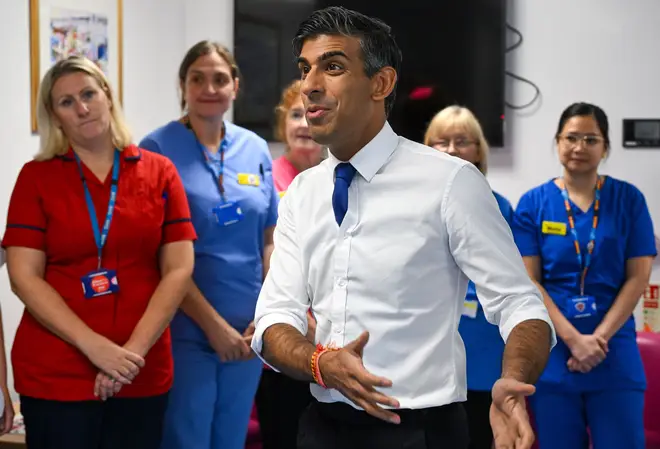 It is not the first time the prime minister has blamed rising waiting lists on industrial action from junior doctors.
Speaking to LBC's Nick Ferrari last month, Mr Sunak said the government had been making progress to bring waiting lists down until strikes began.
"We were actually making progress…we eliminated the number of two year waiters, people waiting a really long time, we practically eliminated the number of people waiting one-and-a-half years," he told LBC.
"We were making progress on bringing the overall numbers down. What happened? We had industrial action."
Read More: Rishi Sunak slams 'flip-flopping' Keir Starmer as Labour leader opposes plan to scrap eco rule to boost housebuilding
Read More: Female NHS workers discuss 'horrible memories' after a new report on workplace sexual assault
The waiting list has been growing for much of the last 10 years, passing three million in 2014, four million in 2017, five million in 2021 and seven million in 2022.
In February 2020, the last full month before the start of the Covid pandemic, it stood at 4.57 million.
Since then, the list has increased by just over three million, to 7.68 million as of July this year.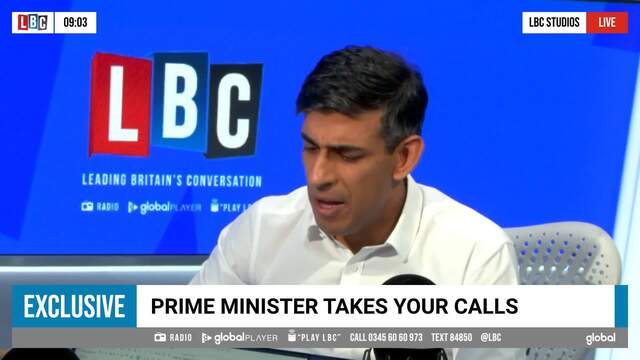 Sunak comments on waiting lists.
Mr Sunak's comments signal the prime minister is not confident about meeting his five key pledges, announced at the start of this year.
They were to cut waiting lists, halve inflation, stop the boats, reduce national debt, and grow the economy.
It comes after the government announced a £200million fund for the NHS with likely another difficult winter ahead for the national health service.