Sunak considers 'ramping up' police patrols to protect Jewish communities after 'displays of Hamas support'
9 October 2023, 16:23 | Updated: 9 October 2023, 16:28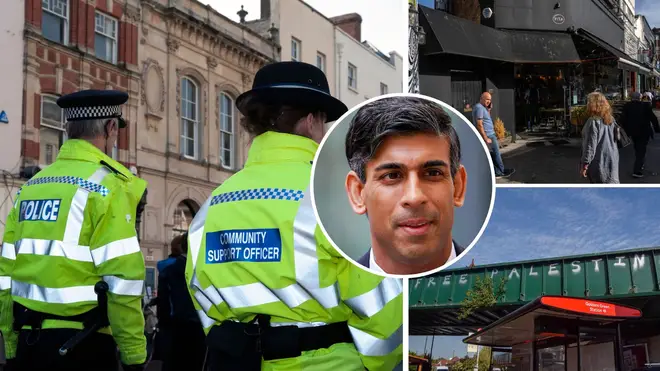 Rishi Sunak is considering a surge in police patrols to protect Jewish communities after reports of people showing support for attacks on Israel by Hamas.
Number 10 has said that it would be "utterly despicable" for anyone to use the conflict between Hamas and Israel as a "pretext" to attack communities in the UK.
Prime Minister Rishi Sunak is reportedly looking to step up the number police patrols in a bid to make sure Jewish communities feel safe.
"We take any threat to the Jewish community extremely seriously," Mr Sunak's official spokesman said.
"It would obviously be utterly despicable for this weekend's attacks to be used as some kind of pretext to threaten or to attack communities in the UK.
"The home secretary has already held a meeting with the Community Security Trust to ensure we have taken all steps necessary to ensure our Jewish community feels safe and secure.
"I believe that includes surging police patrols where necessary.
"We want the police to use every available aspect of the law against displays of support for Hamas, other proscribed terrorist groups or attempts to intimidate British Jews."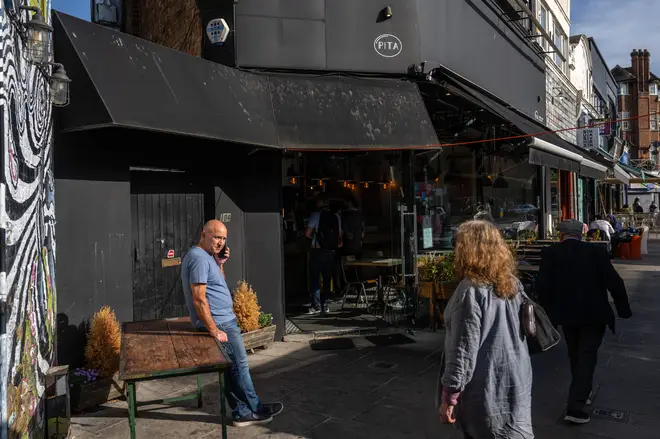 It comes after pictures emerged from Golders Green on Monday morning which showed the front doors of popular Kosher restaurant Pita vandalised with reports the till had been stolen.
'Free Palestine' graffiti had been daubed on a nearby railway bridge. It is not clear if the graffiti and vandalism are linked.
Scotland Yard said it is not treating the incident as a hate crime.
A spokesman said: "Police were called at approximately 06:10hrs on Monday, 9 October to reports of a burglary and damage caused to a restaurant in Golders Green Road, NW11.
"It was reported that a cash register had been stolen.
"Officers have attended the scene and examined CCTV at the location. There has been no arrest and enquiries into the circumstances are ongoing.
"At this stage, the incident is not being treated as a hate crime."
The Met Police said it had been made aware of a number of incidents in the capital in connection with the conflict, with protests also planned in the coming days.
Read more: Hamas says it's 'not frightened' by the US moving aircraft carrier to Israel, as conflict deepens
Read more: Kosher restaurant in Golders Green vandalised as Met police step up patrols in London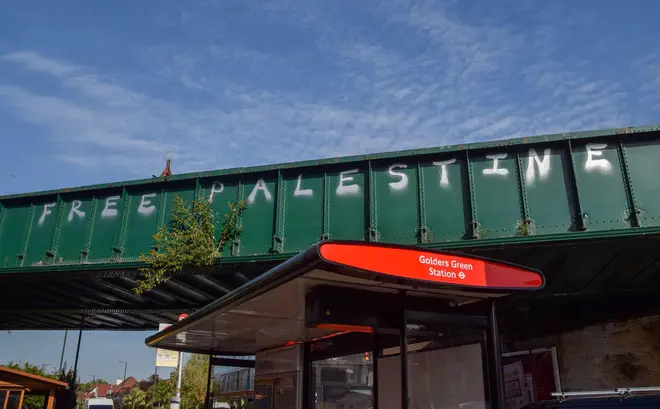 Dave Rich, from Jewish safety charity the Community Security Trust, said: "This graffiti is a deliberate attempt to intimidate the Jewish community.
"It is disgraceful and should be roundly condemned by all sides. We expect the police to fully investigate because this cannot be allowed to continue."
Mr Sunak is set to hold an emergency COBRA meeting on Monday due to the ongoing conflict between Israel and Hamas.
Hamas launched a surprise attack on Israel that has killed more than 700 Israelis. Officials in Gaza have reported at least 500 Palestinian deaths.
"We already have a very longstanding relationship with Israel, we're one of their strongest allies," Mr Sunak said on Monday.
"We've provided in the past the kinds of equipment that they've used to defend themselves over the past couple of days, and as I said to the prime minister, we will continue to provide - whether that's diplomatic, intelligence or security support - as they need.
"I'm chairing a COBRA [meeting] with my ministerial colleagues this afternoon, when we'll continue to discuss the situation, but we're in close dialogue with our Israeli counterparts."
On Sunday the Metropolitan Police announced it was stepping up patrols in London amid reports of people celebrating the attack on Israel by Hamas.
A Scotland Yard spokesperson said: "We are aware of a number of incidents, including those that have been shared on social media, in relation to the ongoing conflict in Israel and the border with Gaza.
"The Met has increased policing patrols across parts of London in order to provide a visible presence and reassurance to our communities.
"We remain in contact with partners and community leaders to listen to any concerns.
"Anyone who experiences threatening behaviour or is worried about their safety is urged to contact police."