Sunak says Israel not to blame for missile that killed hundreds at a hospital - which was launched from inside Gaza
23 October 2023, 16:05 | Updated: 23 October 2023, 16:57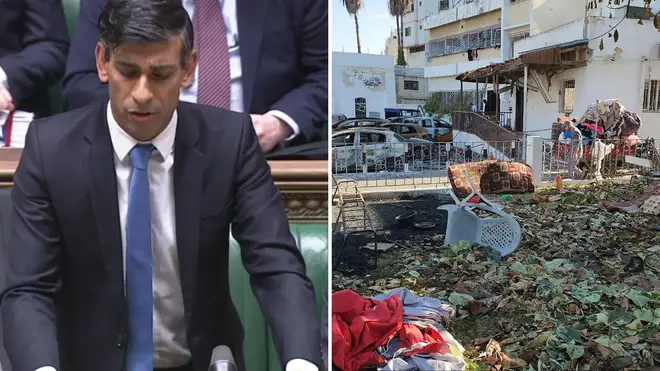 Rishi Sunak says the missile that killed hundreds of people at a hospital was launched from inside Gaza.
The PM revealed that UK intelligence had concluded that the explosion was not the result of an Israeli air strike – as claimed by Palestinian terrorist group Hamas – but was launched from within Gaza.
Hamas said at the time that the explosion - which it claimed killed more than 500 people - was the result of an Israeli air strike. Israel denied this, saying it was a misfired rocket fired by the group Islamic Jihad.
Revealing the findings of an investigation by British intelligence experts into the blast, the PM told the Commons: "I can now share our assessment with the House. This has been on the basis of the deep knowledge and analysis of our intelligence and Whitehall's experts.
"The British government judges that the explosion was likely caused by a missile or part of one that was launched from within and Gaza towards Israel."
Mr Sunak also said the UK will give a further £20million of humanitarian aid to Gaza, doubling its earlier funding.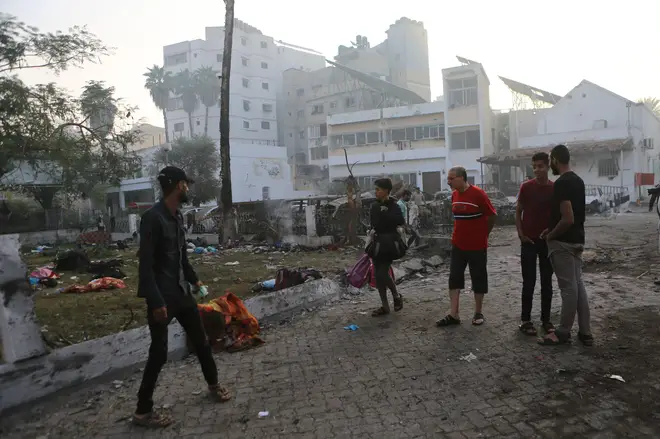 Read More: Organisers of pro-Israel prayer walk in north London say they've been 'silenced' by police
Read More: Brit, Yosef Guedalia, 22, 'seen carrying wounded civilian at Israeli kibbutz' confirmed to have died fighting Hamas
Hamas terrorists had previously accused Israel of deliberately bombing the Al-Ahli hospital as Jerusalem hit back with a furious denial.
The Israel Defence Force (IDF) has claimed that a "failed rocket launch" by PIJ – the second-largest militant group in Gaza – was responsible for the hospital explosion.
The IDF released a recording of an intercepted conversation between Hamas officials admitting the hospital was hit by PIJ rocket. Israeli officials have also argued that the absence of a large crater shows the explosion was not caused by one of its missile strikes.
Last week US President Joe Biden backed Israel after analysis by the Americans supported Israel's account of what happened.
After landing in Tel Aviv, he told Israeli Prime Minister Benjamin Netanyahu: "Based on what I have seen, it was done by the other team, not you."
While in Israel last week, Mr Sunak said Israel had a "right and duty" to "go after" Hamas. He called the terrorist group "pure evil" and told Israel's prime minister Benjamin Netanyahu: "We want you to win".