Social media yobs will face 'full force of the law', vows Rishi Sunak after Oxford Street flashmob
15 August 2023, 22:43 | Updated: 15 August 2023, 23:16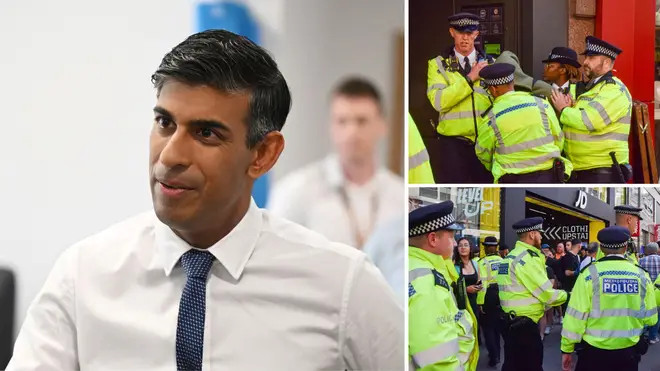 Rishi Sunak has warned that social media yobs tempted to get involved in future antisocial and criminal flashmobs will face the "full force of the law".
The Prime Minister blasted the organising on social media of looting and disruption as "appalling" and "unacceptable".
It comes after huge crowds of youths clashed with police on Oxford Street last week after a social media call for a "shoplifting rampage".
West End stores were forced to close their shutters and lock customers inside during the looting bid, which was understood to have been inspired by a social media craze encouraging people to take part in an "Oxford Street JD robbery".
The Metropolitan Police arrested nine people and issued 34 dispersal orders during the incident.
Read more: Parents told to 'get a grip' on social media yobs after Oxford Street chaos
Read more: Social media rampage fears spread to Southend: Police issue dispersal order following Oxford Street chaos
When asked what he made of the incident in the capital, Mr Sunak said: "I have got to say it is appalling. Criminal damage, criminal behaviour is unacceptable.
"I fully support the police in bringing those people to justice.
"I want anyone watching who is thinking about this, who sees something like this, to know that they will be met with the full force of the law.
"Because that type of behaviour is simply unacceptable in our society."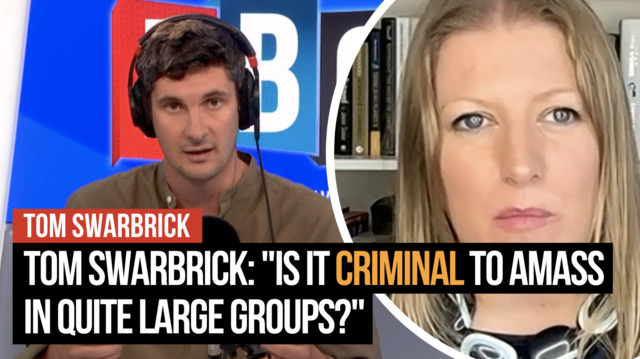 Tom Swarbrick challenges PCC Donna Jones on Oxford Street 'riot'
It comes after Donna Jones, the new chairwoman of the Association of Police and Crime Commissioners (APCC), said parents should speak to their children to prevent them getting involved in similar social media crazes which are "facilitating criminal activity".
She called for young people to be fined by magistrates' courts if they end up joining looters.
Ex-London Police Officer reacts to spike in crime on Oxford Street
"These TikTok flash mobs are ridiculous," Ms Jones told the Mail.
"We've had a load of kids in Southampton take paracetamol over the weekend following a TikTok challenge to see who can get hospitalised and stay in there the longest.
"Parents need to get a grip of what their children are doing.
"It's not for the police to instil a sense of what is right and wrong, it is for the parents. It's not down to the police to prevent these things happening.
"Parents have a responsibility to sit down and speak to these kids about what is going on TikTok, how these things are not fun, people will die, it is not sensible to do this and don't feel the peer pressure that you have to."
She added that any parent who believed their child had been involved in the Oxford Street chaos "should be sitting down with them and having a strong word with them".
"What they did was completely criminal," she said.
"It could completely screw up their future in terms of employment opportunities if they are arrested or receive a caution.
"There needs to be a push back here, societally, to say to parents, 'what are you doing to make sure that your kids know that this is not acceptable behaviour?'"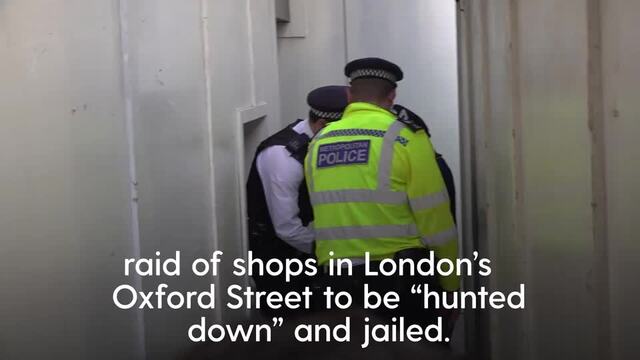 Youths in Oxford Street rampage must be 'hunted down', says Braverman
Ms Jones said the crazes added extra pressure on police resources which were already stretched.
She went on to say that companies behind social media platforms like TikTok could be fined for hosting content if it leads to crime on a mass scale.
TikTok previously denied being responsible for the carnage on Oxford Street, saying other platforms had been used to promote it.
A spokesman said: "We have seen no evidence to support these claims and we have zero tolerance for content facilitating or encouraging criminal activities.
"We have over 40,000 safety professionals dedicated to keeping TikTok safe – if we find content of this nature, we remove it and actively engage with law enforcement on these issues."