Rishi Sunak hails the UK joining Indo-Pacific bloc in Britain's biggest trade deal since Brexit
31 March 2023, 07:11 | Updated: 31 March 2023, 07:12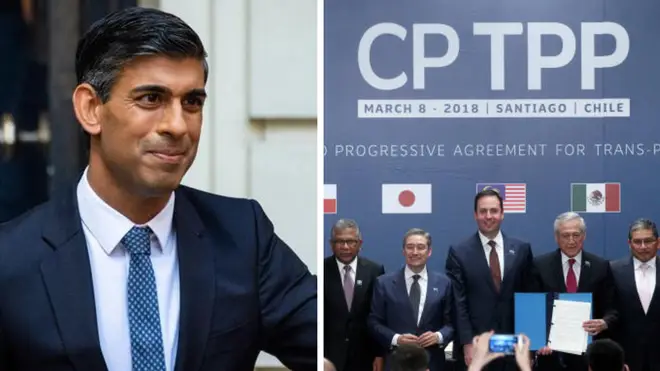 Rishi Sunak has welcomed the UK joining a large trading bloc of countries in the Indo-Pacific region, which marks Britain's biggest deal since Brexit.
The UK joined the Comprehensive and Progressive Agreement for Trans-Pacific Partnership (CPTPP) in the early hours of Friday morning. The deal means that tariffs for British exporters to the other countries in the group will be slashed.
The entire CPTPP, including Britain - now has a total gross domestic product (GDP) of £11 trillion, accounting for 15% of global GDP.
Mr Sunak said the deal showed the UK was able to make the most of post-Brexit freedoms.
But the opposition parties said the impact would be limited, with official estimates suggesting it will add just £1.8 billion a year to the economy after 10 years, representing less than 1% of UK GDP.
🌏It's nearly 1am UK time and my counterparts and I have only just officially concluded negotiations to join the #CPTPP bloc!  
 
Fantastic news for 🇬🇧UK business & consumers as we increase trade with the dynamic Indo-Pacific region providing the future of global GDP growth📈 pic.twitter.com/DuxDUxrqce

— Kemi Badenoch (@KemiBadenoch) March 30, 2023
The UK already has trade deals with most of the other countries in the bloc, whose members are Australia, Brunei, Canada, Chile, Japan, Malaysia, Mexico, New Zealand, Peru, Singapore and Vietnam, officials said it would improve existing arrangements, with 99% of UK goods exported to the CPTPP now eligible for zero tariffs.
The UK is the first European country and the first new member of the bloc since it was formed in 2018. It follows nearly two years of negotiations, culminating in intensive talks in Vietnam earlier this month, when representatives of all 11 existing members agreed to let the UK in.
Mr Sunak said it would put the UK at the centre of a "dynamic" group of Pacific economies, giving British businesses "unparalleled access to markets from Europe to the south Pacific".
"We are at our heart an open and free-trading nation, and this deal demonstrates the real economic benefits of our post-Brexit freedoms," he said.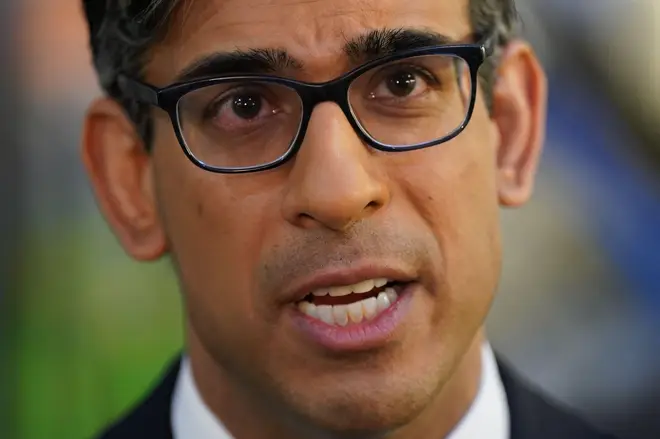 "As part of CPTPP, the UK is now in a prime position in the global economy to seize opportunities for new jobs, growth and innovation."
The CBI welcomed the agreement as a "milestone" for British industry, reinforcing the UK's commitment "to building partnerships in an increasingly fragmented world".
Interim director-general Matthew Fell said: "CPTPP countries and business need to work together to future proof the rules-based trading system and stimulate growth with a focus on digital, services and resilient supply chains."
Labour said that while the agreement represented "encouraging" progress, it needed to see the details.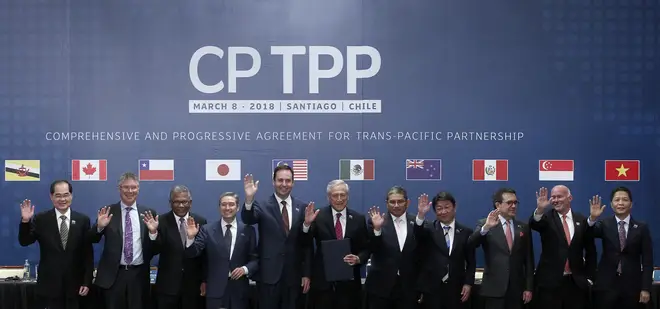 Shadow trade secretary Nick Thomas-Symonds said: "The Conservative Government's track record in striking good trade deals is desperately poor.
"Other countries joining CPTPP arrangements have secured important safeguards and put in place support for their producers: it is vital that ministers set out if they plan to do the same."
Read more: Brexit as bad for economy as Covid and war in Ukraine, head of government's watchdog says
Read more: PM's new Brexit deal for Northern Ireland receives backing of MPs - despite Boris Johnson and Liz Truss revolt
Liberal Democrat trade spokeswoman Sarah Green said: "This Conservative Government is responsible for some shocking trade deals that fail to add economic benefit to the UK.
"The Conservatives have trashed the British economy with GDP stagnant and this announcement will not even repair a fraction of their damage."