'Rishi and I best friends': Sunak's wife introduces PM in surprise speech as she confirms his love of 'cheesy rom-coms'
4 October 2023, 12:29 | Updated: 4 October 2023, 13:49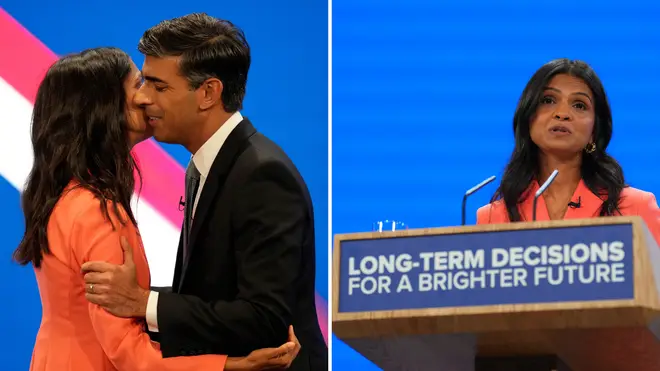 Akshata Murty introduced her husband Rishi Sunak in a surprise speech at the Conservative Party Conference, as she confirmed his love of "cheesy rom-coms".
Making a brief appearance before the prime minister in Manchester, Ms Murty told the Tory party that her husband "has no idea what I am going to say".
She later added: "The reason why I am here is really quite simple, and it is because Rishi and I are each other's best friends.
"We are one team and I could not imagine being anywhere else but here today with all of you to show my support to him and to the party."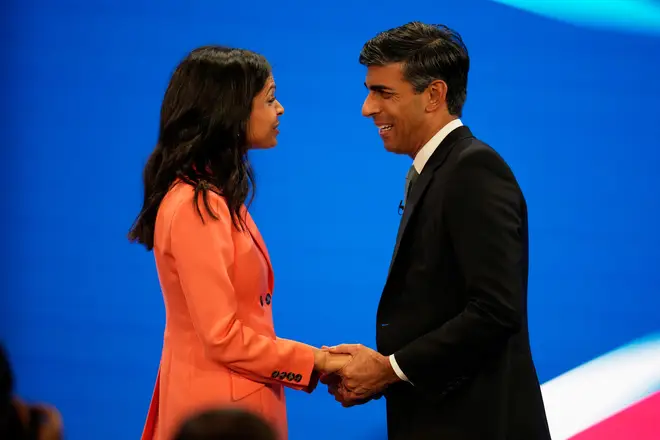 Referencing rumours in the media about what her husband does and doesn't like, Ms Murty said "some of it is accurate".
"I'm afraid he does love a good rom-com. The cheesier, the better, even," she said.
"And some of it is not true, so you'll be relieved to hear that episodes of Emily in Paris are not informing his outlook on the EU."
Read More: Rishi Sunak is like an 'incontinent cat': James O'Brien slams Tories ahead of PM's Party Conference speech
Read More: Meet Mrs Sunak: Everything you need to know about billionaire 'first lady' Akshata Murthy
Ms Murty said if she had to describe her husband, the prime minister, it would be "aspiration".
It is unusual for the wife of the prime minister to make such a speech at a party conference, though Gordon Brown's wife did the same in 2008.
Like Mr Sunak, Mr Brown was reportedly unaware his wife Sarah would be introducing him to their conference in September 2008.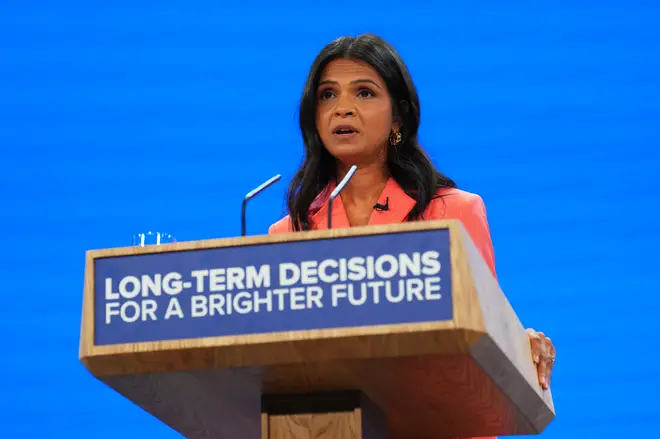 Mrs Brown said: "I asked if I could have the chance today to talk briefly to you. One of the privileges of my life over recent years has been the opportunity to meet so many different and extraordinary people.
"These have all been great moments, often private ones, but always meaningful and I thank you all. I remember the warm welcome you gave me and Gordon at conference after our wedding.
"I'm so proud that every day I see him motivated to work for the best interests of people all around the country.
"Sometimes in a world where there is so much to do we don't perhaps have enough time to celebrate what has been done."