'Free speech' platform Rumble hits back at MP's 'disturbing' letter over Russell Brand in demonetisation row
21 September 2023, 18:05 | Updated: 21 September 2023, 18:08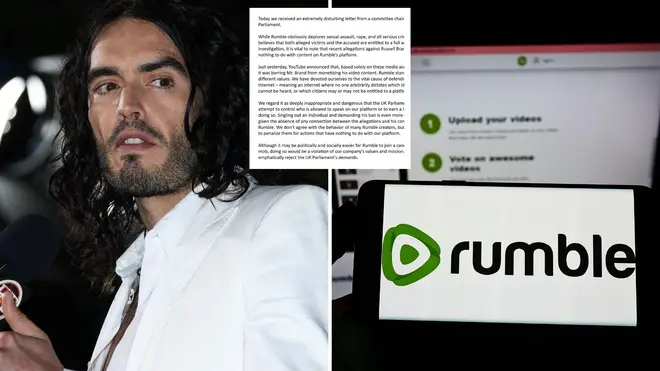 The 'free speech' video platform Rumble has rejected a 'disturbing' letter from Dame Caroline Dinenage concerning the monetisation of Russell Brand's content on its site.
Dame Caroline Dinenage, the chair of the House of Commons media committee, wrote to the video streaming platform to express her concern about Russell Brand profiting from his content on Rumble.
It comes after allegations of sexual assault and emotional abuse were made against Russell Brand over the weekend following a joint investigation by The Times, Sunday Times and Channel 4's Dispatches.
He has strongly denied the allegations, which include claims of controlling, abusive and predatory behaviour.
On Tuesday Youtube axed the monetisation of Brand's content on its platform.
But 'free speech' platform Rumble has said it will not follow in the footsteps of Youtube amid the allegations, insisting it would not "join a cancel culture mob".
It branded a letter from Dame Caroline about he comedian as "deeply inappropriate and dangerous".
Dame Caroline wrote to Rumble, X (formerly Twitter), TikTok and Meta to ask if they would follow Youtube's decision.
"While we recognise that Rumble is not the creator of the content published by Mr Brand, we are concerned that he may be able to profit from his content on the platform," she wrote to Rumble chief executive Chris Pavlovski.
Read more: 'Jimmy Savile police' on Russell Brand case after serious sexual assault allegations
Read more: Katy Perry shares first social media post since sexual assault allegations made against ex-husband Russell Brand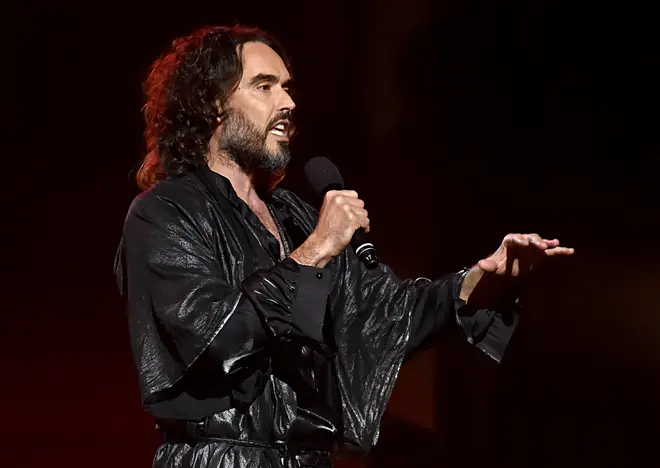 She continued: "We would be grateful if you could confirm whether Mr Brand is able to monetise his content, including his videos relating to the serious accusations against him. If so, we would like to know whether Rumble intends to join YouTube in suspending Mr Brand's ability to earn money on the platform.
"We would also like to know what Rumble is doing to ensure that creators are not able to use the platform to undermine the welfare of victims of inappropriate and potentially illegal behaviour."
Brand has been accused of sexual assault and emotionally abusive behaviour between 2006 and 2013, when he was at the height of his fame and working for the BBC, Channel 4 and starring in Hollywood films - which he has denied.
The Met police is also investigating an alleged sex attack in Soho in 2003.
Rumble hit out at Dame Caroline's letter regarding the allegations, as it shared its response on X: "Today we received an extremely disturbing letter from a committee chair in the UK Parliament.
"While Rumble obviously deplores sexual assault, rape, and all serious crimes, and believes that both alleged victims and the accused are entitled to a full and serious investigation, it is vital to note that recent allegations against Russell Brand have nothing to do with content on Rumble's platform.
"We have devoted ourselves to the vital cause of defending a free internet - meaning an internet where no one arbitrarily dictates which ideas can or cannot be heard, or which citizens may or may not be entitled to a platform."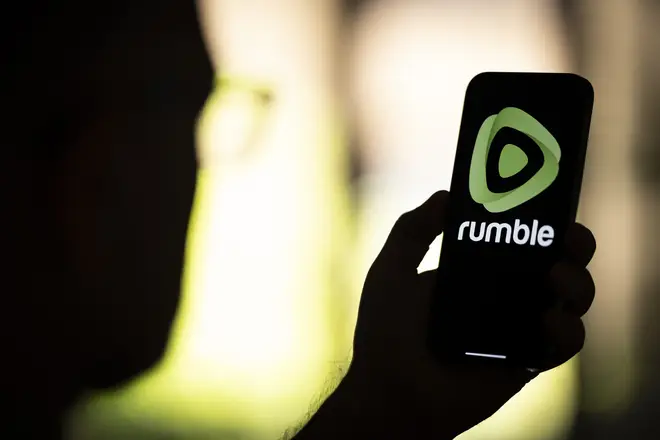 The response continued: "We regard it as deeply inappropriate and dangerous that the UK Parliament would attempt to control who is allowed to speak on our platform or to earn a living from doing so.
"Singling out an individual and demanding his ban is even more disturbing given the absence of any connection between the allegations and his content on Rumble. We don't agree with the behaviour of many Rumble creators, but we refuse to penalise them for actions that have nothing to do with our platform.
"Although it may be politically and socially easier for Rumble to join a cancel culture mob, doing so would be a violation of our company's values and mission. We emphatically reject the UK Parliament's demands."
Brand has 1.42 million followers on Rumble where he hosts a weekly live show at 5pm BST, but there have since been no new episodes.
His last video shared on the platform was on Friday, which addressed the investigation into his behaviour which was scheduled to air over the weekend.
In it he said that his past relationships were "always consensual" and claimed he was the subject of a "co-ordinated attack".
Rumble has gained popularity among some names, such as Andrew Tate, due to its policies around protecting a "free internet".
Youtube said in response to the allegations on Tuesday that it had "suspended monetisation"" on Brand's channel "following serious allegations against the creator. This action means the channel is no longer able to monetise on YouTube".