Russia hit by 'biggest drone strikes since Ukraine war began' as cargo planes damaged in airport attack
30 August 2023, 06:51 | Updated: 30 August 2023, 06:54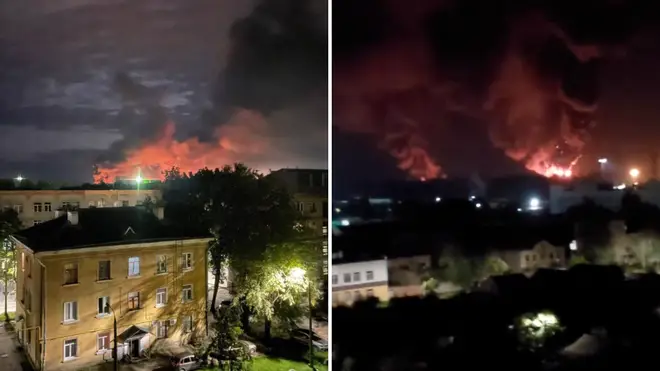 Russia has accused Ukraine of launching the biggest drone attack since the war began in February last year.
Drones started a fire after hitting an airport in Russia's western Pskov region near the border with Estonia and Latvia, according to the governor and local media.
More drones were shot down over Oryol, Bryansk, Ryazan, Kaluga and the Moscow region, according to the defence ministry.
Pskov regional governor Mikhail Vedernikov ordered all flights to and from the airport to be cancelled on Wednesday so the damage could be assessed during daylight.
The airport strike, which was first reported minutes before midnight, damaged four Il-76 transport aircraft, Russia's state news agency Tass reported, citing emergency officials.
Footage and images posted on social media showed smoke billowing over the city of Pskov and a large blaze. Mr Vedernikov said there were no casualties, and the fire has been contained.
Unconfirmed media reports said between 10 and 20 drones could have attacked the airport.
Meanwhile, In Kyiv, falling debris killed two people and injured another after Russia launched a "massive combined attack" on the Ukrainian capital using drones and missiles, head of the military administration Sergei Popko wrote on Telegram.
In what Mr Popko said was the biggest attack since spring, Russia launched Shahed drones at Kyiv from various directions and then targeted the capital with missiles from Tu-95ms strategic aircraft.
Read More: 'Farewell ceremony' for Wagner chief Yevgeny Prigozhin as he is buried privately in St Petersburg after plane crash
Read More: Wagner mercenary leader Prigozhin confirmed dead after genetic analysis, Russian investigators claim
He said more than 20 targets had been brought down by Ukraine's air defences. It was unclear how many had been launched.
The deaths and injury occurred when debris fell on a commercial building in the Shevchenkivskyi district, Popko said. Explosions in Ukraine were also reported in the southern city of Odesa and the Cherkasy region.
In Russia, Pskov was the only region reporting substantial damage.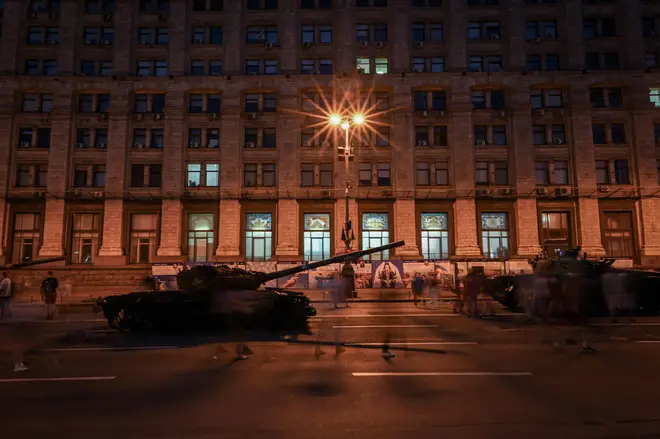 Outside Moscow, three main airports - Sheremetyevo, Vnukovo and Domodedovo - temporarily halted all incoming and outgoing flights, a measure that has become routine in the wake of the drone attacks.
There was no immediate comment from Ukrainian officials, who usually refuse to take responsibility for any attacks on the Russian soil.