Government should 'act immediately' and 'ban banks closing accounts' over free speech issues
4 July 2023, 08:45 | Updated: 4 July 2023, 09:22
Sajid Javid: 'The government should act on this immediately and ban' banks closing accounts
A former Chancellor has called on the government to review the practice of banks closing customer accounts over "free speech" issues.
Speaking to Nick Ferrari at Breakfast on LBC, the former Chancellor Sajid Javid said a bank has "no right to close accounts solely because they disagree with a customer's lawfully expressed views."
The Tory MP was speaking after a number of banking customers complained their accounts had been closed because they had expressed their views either on Brexit or LGBTQ issues.
Mr Javid called for the government to "act on this immediately and ban this practice."
Shadow Chancellor Rachel Reeves will join Iain Dale to answer your questions - tonight from 7pm and you can watch live o Global Player
The conversation comes after Nigel Farage claimed his bank accounts have been closed, saying life in the UK is becoming "completely unliveable".
Read more: Mum-of-three 'attacked' trying to stop shoplifters blasts PCSO who refused to intervene 'as then I have to deal with it'
Read more: Captain Tom's daughter accused of using hero veteran's name to build spa and pool complex at home
Meanwhile, Reverend Richard Fothergill, a customer of Yorkshire Building Society (YBS) for 17 years, had his account closed days after writing to the bank to complain about its public messaging during Pride month.
"I wrote to them on their feedback portal making two points: one was 'is this really a good use of your time, you're not here for social engineering' and [secondly] said I have serious ethical problems with the transsexual element, and the implications of broadcasting that to young children".
In a letter he received last week, he said he was told his relationship with YBS had "irrevocably broken down" and that the company holds a "zero tolerance approach to discrimination".
"They didn't justify it - they said 'your comments will not stand'. I think its fairly sinister and we're in very dangerous water when banks can pick and choose who they're going to do business with based on prejudicial whims".
Read more: New hotline for homeless veterans launches across UK amid government plan to end rough sleeping this year
A spokesman for YBS said the company never closes savings accounts based on different opinions or beliefs, adding an account was only ever closed if a customer is "rude, abusive, violent or discriminates in any way".
Shelagh Fogarty on the sectors struggling post-Brexit
The former Brexit Party leader said the unnamed banking group, which he has been with since 1980, told him it was a commercial decision.
However, Mr Farage said on Twitter this amounted to "serious political persecution", suggesting the decision was made due to his involvement in the 2016 European Union referendum.
He said in a video: "I got a phone call a couple of months ago to say 'we are closing your accounts', I asked 'why', no reason was given.
"I was told a letter would come which will explain everything, the letter came through and simply said 'we are closing your accounts, we want to finish it all by a date', which is around about now.
"I didn't quite know what to make of it, I complained, I emailed the chairman, a lackey phoned me to say that it was a commercial decision, which I have to say, I don't believe for a single moment.
"So I thought, well there we are, I'll have to go and find a different bank, I've been to seven banks, asked them all 'could I have a personal and a business account?', and the answer has been no in every single case.
"There is nothing irregular or unusual about what I do, the payments that go in and come out every month are pretty much the same, I maintain in my business account quite a big positive cash balance, which I guess with interest rates where they are is pretty good for the bank too."
Mr Farage, a prominent Leave campaigner, suggested this could be due to "prejudice" because the "corporate world" has probably not forgiven him for Brexit.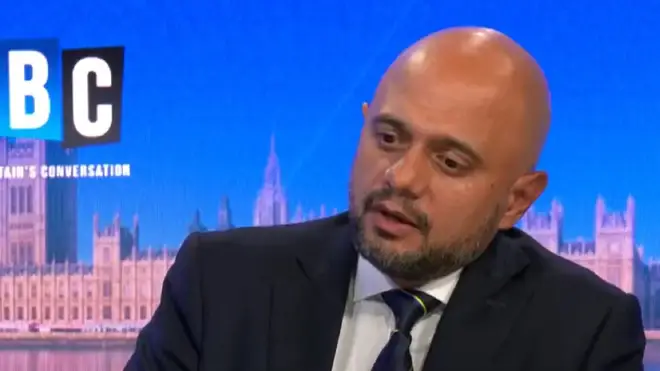 It should be "completely unacceptable" for a bank to close an account on "political grounds", the security minister has said.
Tom Tugendhat's comments were in response to Conservative former cabinet minister David Davis, who voiced concerns over the impact of politically exposed persons (PEP) regulations on individuals, citing Nigel Farage as an example.
Mr Davis told the Commons: "Last week, Nigel Farage publicised the cancellation of his bank account under the politically exposed persons (PEP) regulation, but he is only the latest of a number of people to have their lives wrecked by this regulation. Recently, lords in the other place have tried to correct this policy with only partial success. I understand because of pushback from the Home Office and security services.
"Can the Home Secretary explain why this is and what she is going to do about it?"
Mr Tugendhat said: "Yesterday, the Treasury and the Home Office came together and agreed various things that were announced from the Lords, actually, which was the PEP agreement. So this sort of closure on political grounds - if that is indeed what has happened, and after all, we only have the allegation of it at this point - should be completely unacceptable.
"PEP is there to prevent the corrupt use of banking facilities by politicians in corrupt regimes. It is not here to silence individuals who may hold views with which we may or may not agree."