PM backs Met chief amid outrage over policing of Sarah Everard vigil
14 March 2021, 22:30 | Updated: 15 March 2021, 14:33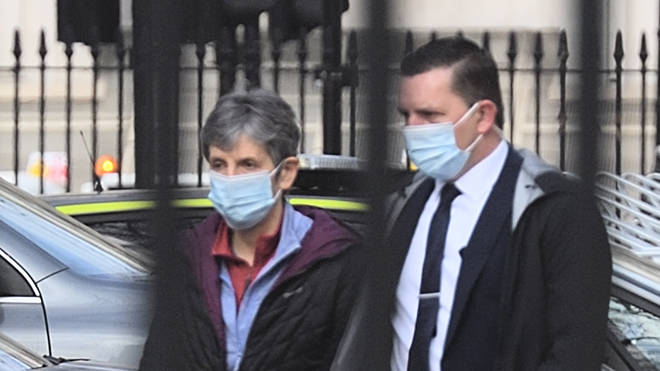 Boris Johnson has said he has "full confidence" in Met Police Commissioner Cressida Dick following a backlash over the force's use of force at a vigil for Sarah Everard.
In ugly scenes, officers clashed with crowds gathered on Clapham Common in south London to remember the 33-year-old marketing executive who went missing while walking home from a friend's flat on March 3.
Serving Metropolitan Police officer Wayne Couzens, 48, has been charged with kidnapping and killing the marketing executive.
During an official visit to a bus depot in Coventry, Boris Johnson was asked if he had full confidence in the Met's chief officer.
Mr Johnson replied: "Yes, I do. And what she's asked is ... that we look at what happened on Saturday night.
Read more: British public supports Cressida Dick amid fallout from Sarah Everard vigil, poll finds
"The police do have a very, very difficult job. But there's no question that the scenes that we saw were very distressing and so it is right that Tom Winsor, the inspector of constabulary, should do a full report into it.
"I think people have got to have confidence in the police and Tom's going to look at that."
Earlier he said the death of the 33-year-old must "unite us in determination" to drive out violence against women and girls.
The Met has been facing increasing criticism of their handling for a vigil for Sarah, after using heavy handed tactics to break apart a gathering of people who were laying flowers and lighting candles for her.
An official socially-distanced vigil had been proposed, but the Met said it would not be allowed to go ahead due to Covid-19 rules which currently ban mass gatherings.
Currently, there is no definitive answer as to whether a protest is legal in lockdown.
Police forces are expected to look at each demonstration individually, and weigh up the right to protest versus the risk to public health.
The Prime Minister chairing a meeting of the Crime and Justice Taskforce on Monday to look at what action needs to be taken to ensure the UK's streets are safe, following the suspected murder of the 33-year-old and subsequent clashes between the public and police officers at a vigil.
He said he was "deeply concerned" by the Metropolitan Police's handling of the event, echoing criticism expressed across parliament.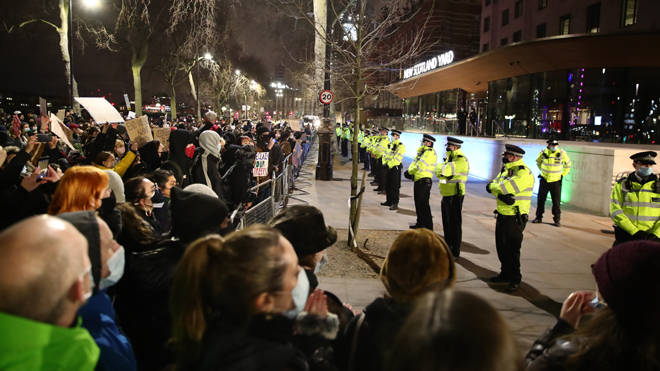 Commissioner Dame Cressida Dick is expected to attend the meeting along with Home Secretary Priti Patel and Justice Secretary Robert Buckland.
READ MORE: Police officer appears in court charged with kidnap and murder of Sarah Everard
He will use it to discuss the Government's strategy on violence against women and girls, securing safer streets, rape prosecutions and the criminal justice system.
Dame Cressida has ruled out resigning over the accusations of "manhandling" by police officers.
She told reporters she was "appalled" at what happened to Sarah Everard but she would not consider her position over clashes between officers and mourners at Clapham Common on Saturday night.
She said: "All the women and men of the Met are outraged at what has happened and they're working as hard as they can to get justice for Sarah."In that context, none of us would have wanted to see the scenes we saw at the end of yesterday's events."
READ MORE: Dame Cressida Dick rules out resignation over Sarah Everard vigil clash
She added that if the vigil had been lawful "I'd have been there...I'd have been at a vigil" and highlighted the "really calm and peaceful" atmosphere as the Common before 6pm yesterday.
The Home Secretary added: "With Sarah and her family in my thoughts and prayers, I will continue to do all I can in my role as Home Secretary to protect women and girls.
"Everyone should be free to walk our streets without fear of harassment, abuse or violence.
READ MORE: Thousands gather outside Parliament to protest against policing of Sarah Everard vigil
"The Home Office survey on tackling violence against women and girls has received an unprecedented 53,000 responses since it reopened on Friday and I'd urge everyone to give us their views."