Scotland's First Minister Humza Yousaf reveals his wife's parents have left Gaza through Rafah crossing
3 November 2023, 12:03 | Updated: 3 November 2023, 17:32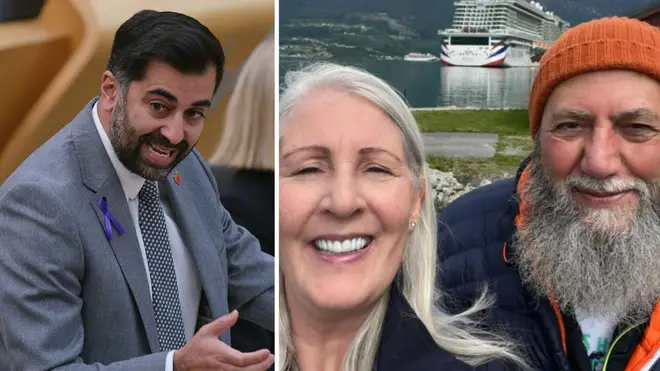 Scotland's First Minister Humza Yousaf has revealed that his wife's parents have left Gaza through the Rafah crossing.
Elizabeth and Maged El-Nakla, from Dundee, travelled to Gaza to visit family before the conflict erupted and have been trapped there ever since.
They were named on a list of those granted access by the Palestinian Border Authority and were told to present to the border at 7am.
A statement from Yousaf and his wife, Nadia El-Nakla, said: "We are very pleased to confirm that Nadia's parents were able to leave Gaza through the Rafah crossing this morning.
"We are grateful to all of those who have assisted our parents over the last few weeks, including the Foreign, Commonwealth and Development Office crisis team.
"These last four weeks have been a living nightmare for our family, we are so thankful for all of the messages of comfort and prayers that we have received from across the world, and indeed from across the political spectrum in Scotland and the UK."
Read more: Sickening poster at the Cenotaph: Met investigation as calls grow to stop protesters targeting 'sacred' Remembrance Day
Read more: British nationals escape Gaza via Rafah crossing for second day in a row amid reports Brits turned away at border
We're hugely relieved that Nadia's parents have been able to leave Gaza. We thank everyone for their messages of comfort over the past few weeks.

Our thoughts are very much with those who can not leave and still suffering in Gaza. We will continue to raise our voices for peace. pic.twitter.com/uFU1vUfDBe

— Humza Yousaf (@HumzaYousaf) November 3, 2023
Yousaf added: "Although we feel a sense of deep personal relief, we are heartbroken at the continued suffering of the people of Gaza.
"We will continue to raise our voices to stop the killing and suffering of the innocent people of Gaza.
"We reiterate our calls for all sides to agree to an immediate ceasefire, the opening of a humanitarian corridor so that significant amounts of aid, including fuel, can flow through to a population that have suffered collective punishment for far too long, and for all hostages to be released.
"Families in Gaza and Israel are suffering after the loss of entirely innocent men, women and children.
"We pray for them all, and pray that the international community at last focuses on achieving a lasting peace in the region: one that recognises that the rights and lives of Palestinians and Israelis are equal."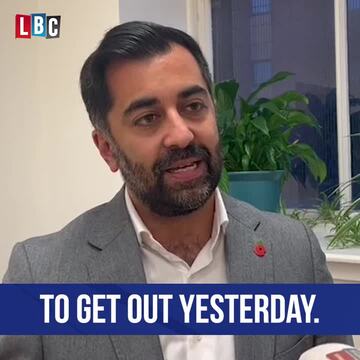 Humza Yousaf's relief at in-laws' escape from Gaza
Nearly 100 British citizens were expected to be able to leave Gaza for Egypt on Friday.
The latest list published by the authority included 92 people described as British citizens, out of a total of 127 people named under the UK section of the list.
It comes amid major diplomatic efforts to secure foreign nationals safe passage out of the war-torn region and into Egypt through the Rafah crossing.
Around 200 Britons in Gaza have so far registered with the authorities, and along with their dependents the total number the UK is trying to secure passage for is thought to be in the low hundreds.
The Foreign Office said on Thursday that more UK nationals were able to make it into Egypt after two UK aid workers managed to flee Gaza a day earlier, but they did not say how many.