Serial fraudster jailed for more than three years after conning hundreds of thousands using banking scam
13 April 2023, 16:06 | Updated: 13 April 2023, 16:15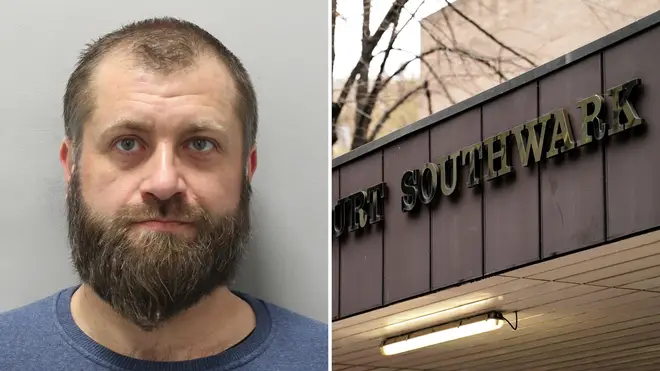 A serial fraudster who stole hundreds of thousands of pounds out of online banking customer has been jailed for more than three years.
Belarusian national Denis Kupcevich, 43, was using stolen identity details to defraud customers out of their hard-earned cash.
Kupcevich had been placed under surveillance by the NCA as he moved between various plush hotels in London and Poole over six months and ultimately found to be using the hotels and some flats as bases for criminal activity.
One of Kupcevich's victims was conned into paying £160,000 to his gang after they phoned him pretending to be his bank and saying money needed to be moved due to a security risk.
Read more: Man, 74, accused of murdering PC Sharon Beshenivsky in 2005 appears in court after extradition from Pakistan
Read more: Male GP turned away from blood donation after refusing to answer if he was pregnant
Another was fraudulently "sold" a second-hand BMV for £12,400 which never came.
He stole the identity of a Bulgarian national and a Moldovan national to help him commit his crimes - obtaining fraudulent passports and identity cards.
Kupcevich used these false IDs to launder his money through bank accounts before he was sentenced at Southwark Crown Court today.
Timothy Court, of the NCA's National Cyber Crime Unit, said: "Kupcevich played a vital role in the criminal ecosystem by enabling fraudsters to conceal their activity and access their illicit earnings.
"By arresting Kupcevich, the NCA has starved criminals of this service and protected the public from those seeking to cruelly steal money from unsuspecting victims."
One of Kupcevich's more complicated crimes involved a fake real estate agency created to launder his money in February 2020 - before he and his cronies stole the identity of a legitimate childcare company to do the same.
The fraudster was arrested at the Croydon flat - after contacting banks to prevent nearly £2 million from making its way to the gang's accounts
Kupcevich, who first entered the UK illegally by using a false identity in 2004, was charged with one count of money laundering, two counts of possession of identity documents with improper intention and one count of articles for use in fraud.
Officers seized 10 mobile phones, four laptops and two bank cards in a different name during a raid after his arrest.
The NCA investigation identified a large number of potential victim's bank accounts, both personal and business, which the fraudsters had plans to target.