Shopworkers need more protection: Priti Patel calls for police crackdown after surge in thefts from shops
2 October 2023, 10:13 | Updated: 2 October 2023, 10:15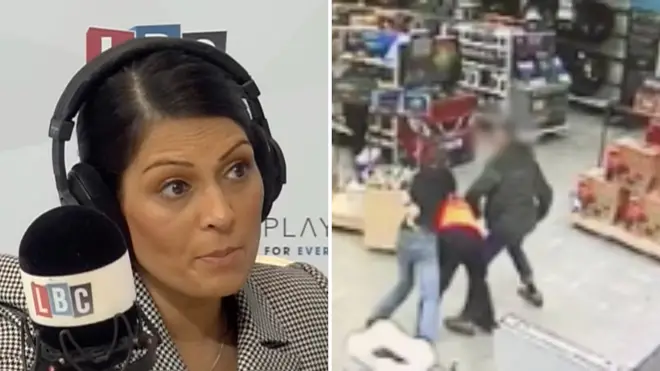 Former Home Secretary Priti Patel has called on police chiefs to 'use their powers' to protect shop workers following a surge in thefts from stores.
Ms Patel, whose family used to run newsagents in Hertfordshire, spoke out after the alarming wave of thefts from stores that has hit the UK in recent weeks.
Retail bosses say violent criminals are "emptying stores", leaving shop staff in danger thanks to inadequate legal protections. The heads of 90 retail giants - which include high street mainstays Tesco, Sainsbury's and Boots - have written to the government demanding action following soaring levels of retail crime.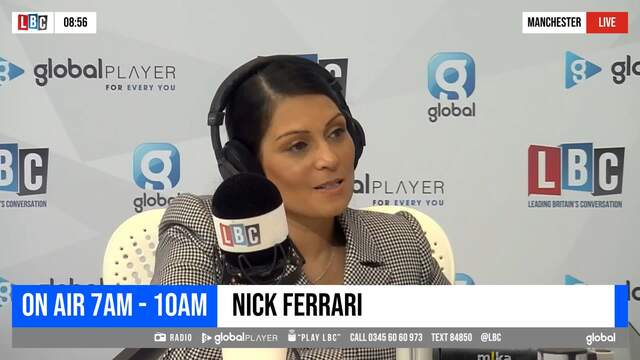 Priti Patel speaks to Nick Ferrari on theft from shops
Ms Patel told LBC's Nick Ferrari at Breakfast: "The police do have a lot of powers.
"They have more resources now. They have more police officers and they should be absolutely targeting this."
Her comments come after high-street grants called for better protection for workers suffering from a plague of thieves "emptying stores" with little to no consequence. Last week it emerged a Halfords worker suffered a stroke after being kicked in the head by two shoplifters.
Last month Iceland boss Richard Walker has told LBC that serious incidents against his staff had never been higher.
Previously he told Nick that raiders are organising themselves into shoplifting gangs as the crime becoming increasingly organised and deadly.
"This is no longer about the petty theft - this is about serious violence against our store colleagues by shoplifters which sadly is becoming more and more of an occurrence,"
Walker said."Weapons deployed to reinforce these threats are things like knives, screwdrivers, hammers, hypodermic needles.
"No-one should have to go through this."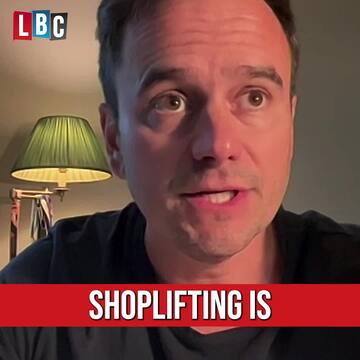 Iceland boss on shoplifting
Today Ms Patel, who while Home Secretary pledged to crack down on violence against shop workers, told Nick: "To be very, very candid independent retailers have for years, decades, suffered violence, abuse and loss of income because of shoplifting. this is just blatant theft.
"The British Retail Consortium and the big chains are now speaking about this. I would urge tham all to continue to do so because they can affect changes to our laws.
"The police do have powers and they need to use their powers of arrest and make sure they are charging people for the right crimes."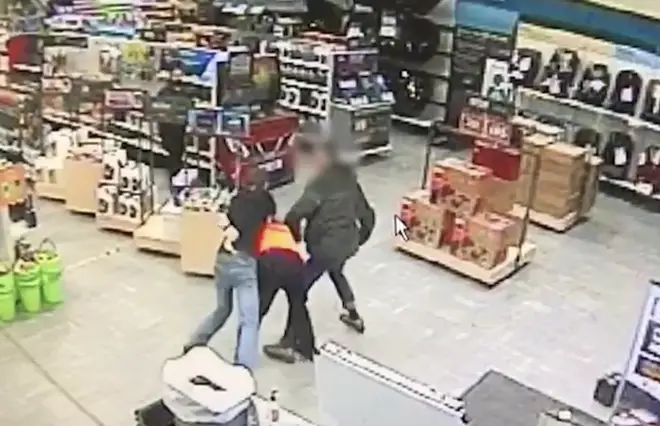 Read More: 'Protect our staff': UK retail chiefs' plea after Halfords worker suffers stroke in 'appalling' attack by shoplifters
Read More: Supermarket forced to display empty decoy Ferrero Rocher chocolate boxes in bid to deter shoplifting gangs
In a case that has shocked the nation, Marty Scott, 57, was left unable to work after being kicked in the head and chest by two thugs at the shop in Stockton, County Durham, with lawyers adding he placed "himself and potentially others at risk".
He was challenging shoplifters in the branch when he was attacked. His family say he's been let down by the store and the CPS after the case against the shoplifters was dropped, despite it being on CCTV.
Bosses blame him for the injuries he suffered, saying his action was 'against store policy'.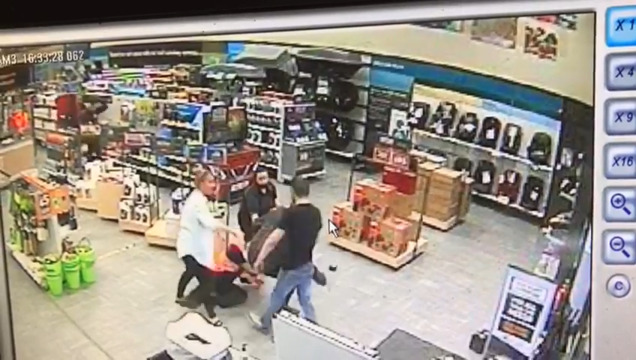 CCTV shows Marty Scott attacked in Halfords before having a stroke
Read More: Halfords worker 'gets blamed' after suffering stroke following 'appalling' attack by shoplifters
Read More: Supermarket staff threatened with hypodermic needles as Iceland boss warns shoplifting 'becoming unpunishable'
The firm's lawyers said: "It is company policy not to attempt to retrieve stock or aggravate the situation and the claimant went directly against this policy, placing himself and potentially others at risk."
Retail bosses say violent criminals are "emptying stores", leaving shop staff in danger thanks to inadequate legal protections.
The group are pleading for the creation of a new UK-wide legislation which would make assaulting or abusing a retail worker an aggravated offence.
It comes as the head of the Co-op group claimed his business had lost £33 million to criminals in the first half of 2023.
A law that already exists in Scotland, the new laws would carry a far tougher sentence than current legislation.
The would also require police to record all incidents of shoplifting and retail crime, increasing the provision of police resources to retail sites.
"The police consistently tell us that a lack of data about these offences means they have no visibility about the nature or scale of the issue," reads letter says.
It follows police data which shows the extent to which major high street retailers are let down by the force.
According to the figures, forces failed to respond to 73% of serious retail crimes that were reported to police.
Meanwhile, 44% of retailers within the BRC who took part in the annual crime survey rated the police's own response to reports as "poor" or "very poor".