Sixteen arrests and machine gun seized as police launch dawn crackdown on gangs in Merseyside
9 November 2023, 13:02 | Updated: 9 November 2023, 13:08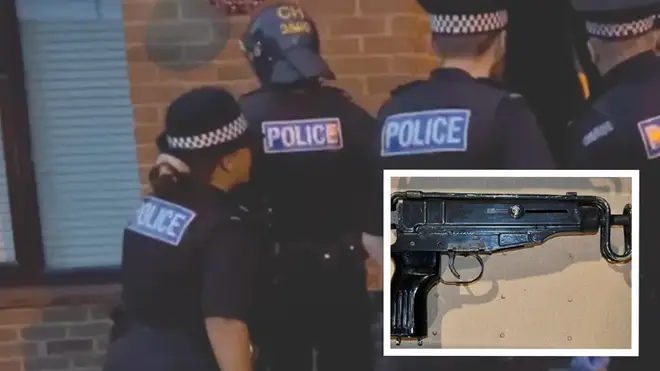 Sixteen people have been arrested during a series of dawn raids on Merseyside, designed to tackle organised crime gangs.
The operation centred around the use of firearms after a Skorpion machine gun was seized in March. The firearms, which are Czech-designed, are capable of firing 800 rounds a minute.
Skorpion weapons were used in three high-profile murders in Merseyside last year, including the shooting of 26-year-old beautician Elle Edwards, who was hit when gunman Connor Chapman opened fire outside the Lighthouse pub in Wallasey Village, Wirral, on Christmas Eve.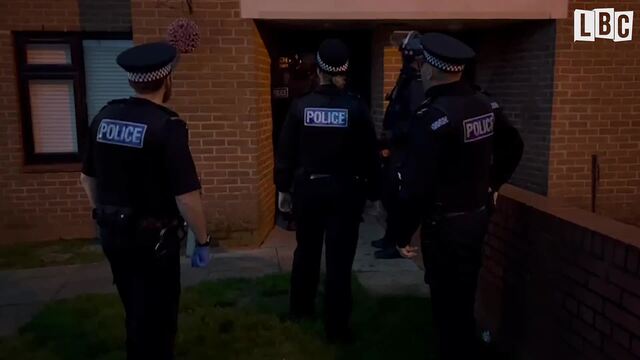 Police conduct raid on property in Liverpool
Ashley Dale, 28, also died having been shot with a Skorpion at her home in Old Swan last year. Five men are currently standing trial accused of her murder.
Read more: Musician who sold teenage girls for sex after promising them a modelling career jailed for 13 years
Read more: Fury as shopper filmed berating poppy seller in Northern Ireland saying they are 'badges for murderers'
Eight warrants were executed at properties at 7am on Thursday morning, with 16 people being arrested. Three of those were women.
Detective Chief Inspector Stephen Ball told LBC: "Skorpion firearms have been shown to be particularly devastating in our communities, as was seen last year with the murder of three of our community members, so it's absolutely essential we get these firearms off our streets.
"The activity today shows and highlights how committed we are around pursuing and actively pursuing those engaged in this level of criminality."
Mr Ball said this year had seen 14 firearm discharges in Merseyside, compared with 49 last year, but urged anyone with information about weapons to get in touch.
He added: "We do have ways to protect people, I understand that it's daunting for people to pass that information but these types of criminals are exploiting the young people in our community and those that are most vulnerable so it's essential that we work together to target this and get the guns off our streets. We won't stop until we've got all of the guns off our streets.
"It's been shown over recent years the level of violence criminals are willing to use on Merseyside and by the nature of using weapons like Skorpions, that are capable of such devastation, that shows what they're willing to do.
"It does present a challenge but that's why we want to work with the community because it's working together with the community that's going to combat this effectively. We can't do it on our own."