Drop it like it's pot: Snoop Dogg claims he's 'giving up smoke' in shock announcement - but fans are unconvinced
16 November 2023, 21:17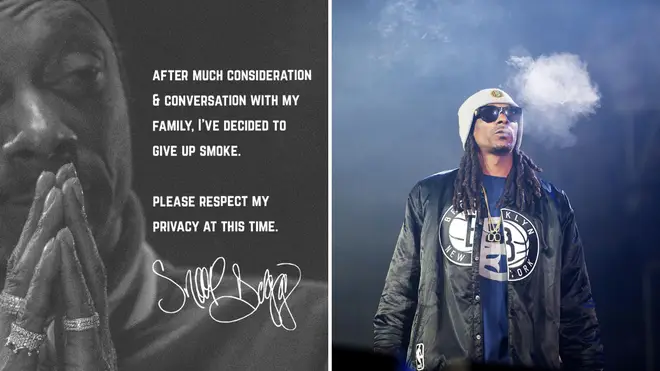 Snoop Dogg has claimed he's "giving up smoke" in a new announcement - but fans remain unconvinced.
Posting on social media, the rapper shared a photo captioned: "I'm giving up smoke".
The full photo statement read: "After much consideration and conversation with my family, I've decided to give up smoke.
"Please respect my privacy at this time."
Despite the short post from the star, his well-documented love of cannabis has left fans feeling sceptical about the authenticity of his announcement.
One wrote: "Today isn't April Fools Snoop."
Another said: "Are you ok??"
One joked: "You for real or you snooping around???"
Meanwhile, other fans congratulated the star's decision, as one said: "We respect that Snoop, health comes first."
Another added: "Health above anything else. Snoops setting a great example to everyone. Respect."
Read more: Who is Bianca Censori? Inside her unconventional marriage to Kanye West
Read more: Bianca Censori 'flees to family in Australia' to escape Kanye West's 'controlling ways'
But a theory also emerged among sceptical fans that the star's post may be a publicity stunt to launch a new line of products.
One theorised that he might launch "his own line of vapes or edibles" as a possible explanation.
Such a stunt wouldn't come as a particular shock to fans given the rapper has already turned his open love of the drug into business ventures in the past.
It comes after he revealed earlier this year that he had cut down his intake of the drug after becoming a grandfather.
"Being a grandfather has changed me in multiple ways.
"The main way is being concerned with how I live, how I move, the kind of people I'm associated with, because I want to see my grandkids grow old."