Met denies delaying partygate report and pledges to probe 'without fear or favour'
28 January 2022, 08:20 | Updated: 28 January 2022, 20:49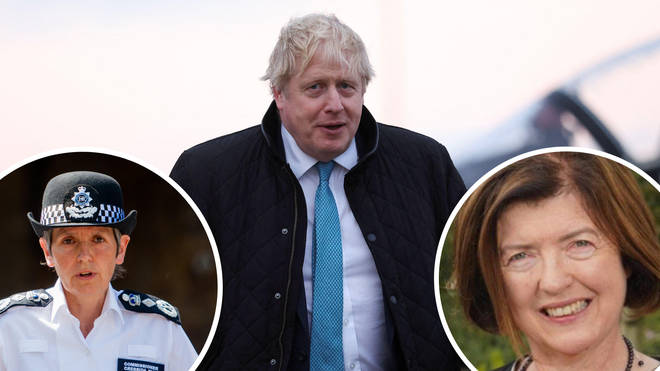 The Met Police has promised to investigate allegations of lockdown-breaching parties in Downing Street "without fear or favour" and has confirmed it received "material", requested to support its probe, from the Cabinet Office.
In a statement, the force said the investigation would follow "normal processes" after it received the evidence, and asked for the Government report into the parties to be delayed to avoid prejudicing the Police inquiry.
Shortly afterwards, multiple reports said senior civil servant Sue Gray, who was entrusted with carrying out the internal investigation, had made the decision to release a redacted version of the report rather than wait for the Met Police investigation to conclude.
It means the Prime Minister could see the report within days or even hours.
Read more: Highway Code changes: The five new rules most likely to catch people out
"My officers will now examine this material in detail to establish whether individuals attending the events in question may have breached the regulations," said Commander Catherine Roper, who leads the Met's Central Specialist Crime Command.
"They will do so without fear or favour following our normal processes."
The force confirmed it was asking for Sue Gray to make "minimal reference" in her report to the events being investigated, adding it had not asked for the report to be delayed and saying the intent was for the investigation to be completed "promptly, fairly and proportionately".
"In order to protect the integrity of the police investigation, as is appropriate in any case, and to be as fair as possible to those who are subject to it, the Met has asked for minimal reference to be made in the Cabinet Office report to the relevant events," said Commander Roper.
"This will only be necessary until these matters are concluded, and is to give detectives the most reliable picture of what happened at these events. We intend to complete our investigations promptly, fairly and proportionately.
"We have not delayed this report and the timing of its release is a matter for the Cabinet Office inquiry team."
Downing Street declined to comment on the update.
The Met also detailed possible punishments for the allegations, saying the 'normal' outcome for lockdown breaches was a fixed penalty notice.
But it added that if the evidence suggested rules had been broken, "officers will decide if enforcement action is appropriate".
"If the decision is to take enforcement action then a report will be sent to the ACRO Criminal Records Office which will issue the fixed penalty notice. Recipients can pay the fixed penalty and the matter will be considered closed."
Commander Roper added: "As the Commissioner said, we will not be giving a running commentary but we will continue to update when significant progress is made in the investigative process."
Under fire Met Commissioner Cressida Dick has been attacked after Scotland Yard controversially demanded Sue Gray water down her long-awaited Partygate report
Tories, lawyers and ex-officers have joined a furious backlash after police confirmed they have told the Cabinet Office the long-awaited document should feature 'minimal reference' to lockdown breaches that might be criminal.
The announcement has thrown the situation into complete chaos, with Ms Gray now considering pausing the process rather than releasing a version that would inevitably be condemned as a whitewash. 
It is unclear when the report will now be released.
Read more: Boris says he will publish Sue Gray partygate probe in full as findings expected next week
Read more: D-Day for Boris? Partygate report 'fairly imminent' Liz Truss tells LBC
The move was questioned by a senior police source, who told LBC it would be unusual if officers guarding Downing Street had not already passed information up to their bosses.
He could not understand why the Met had told Ms Gray to keep the references to events it is investigating to a minimum.
"It is beyond my comprehension. Everyone knows what happened," he said, criticising the force for not launching its own inquiry sooner.
"They are so far behind the curve, if they had done it straight away it would have been straight forward," he said.
"It is terribly straight forward – there's lots of cops about, there's lots of dairies… I would line the cops up [and ask them if they knew anything].
"It would be very odd if nothing had been passed up the chain."
Labour leader Sir Keir Starmer said on a visit to Glasgow: "The prime minister is spending all this time arguing about whether this report should be redacted or not in relation to criminal proceedings into his breach of the laws.
"He's also using both Sue Gray and the police as a shield. You don't need Sue Gray, a senior civil servant, or the commissioner of the Metropolitan Police to tell you whether you went to a party.
"You know whether you went and this game that the prime minister is playing where he won't say until somebody tells him what he tells them is frankly ridiculous.
"But I think the big ticket item here is the paralysis of our politics caused by a criminal investigation brought about because of the activities of the prime minister."
Liberal Democrat Home Affairs Spokesperson Alistair Carmichael MP said: "So first the police were waiting for Sue Gray, now Sue Gray has to wait for the police?
"Any appearance of an establishment stitch-up between the Met Commissioner and the Government is profoundly damaging. Police officers need the trust and confidence of the public to do their jobs and keep our communities safe."
Mr Johnson said he would allow all of Ms Gray's findings to be released - while questions have been raised over whether the Met's probe would impact Ms Gray's inquiry.
It has not been confirmed when the report will be released or if Ms Gray has made a decision on delaying publication because of the Met's probe.
The PM has faced repeated calls to resign over the saga, including from some backbench Tory MPs and Scottish Conservatives.
Read more: 'There wasn't a cake': Tory MP reveals Boris wasn't 'ambushed' for birthday bash
He has signalled his determination to fight on, telling critics to wait for Ms Gray's report, whilst saying he does not believe he fell foul of the law.
He has apologised for attending a "bring your own booze" event in the Downing Street garden, which he said he attended for less than half an hour. He told MPs he regretted not ordering staff to go back indoors during the May 2020 do, when England was under lockdown.
No10 also had to say sorry to the Queen over a do held by staff on the eve of Prince Philip's funeral, which the monarch attended under Covid rules.
These are just two of a series of "partygate" allegations levied against Downing Street and Whitehall.
Speaking on Thursday, Mr Johnson said he was "absolutely not" delaying Ms Gray's report publication, and when asked if he would publish it in full he told reporters: "Of course."
It has been reported the report is being looked over by lawyers for issues relating to the police probe, but Downing Street said it was "hypothetically" possible for it to be released on Friday. It is widely anticipated to be brought out next week.
The Attorney General, Suella Braverman, was seen entering No10 late on Thursday, while The Telegraph said anyone who police can prove attended the gatherings will be issued with a fixed penalty notice. Reports suggest they could face £100 fines.
LBC correspondent Rachael Venables says:
By waiting until Sue Gray was getting ready to hit 'send' on her infamous report, the Met Police seem to have handed a significant win to the Government.
Remember, they were first asked to look into parties at Downing Street two months ago; repeatedly declining to investigate before that dramatic U-turn on Tuesday.
They were already facing tough questions about their own knowledge of lockdown-busting bashes.
Downing Street is one of the most heavily guarded, police-surveilled locations in the UK. With lurid reports now of DJs, broken swing-sets and suitcases full of wine - could the officers on guard really have been unaware of such breaches, when their colleagues were prosecuting others across the country for similar crimes?
Now we hear they've asked Sue Gray to only make "minimal reference" to the events they are investigating. Events which, inevitably, would be the most serious of claims made against the staff at Number 10.
We don't know if Sue Gray will comply, but questions now swirl; will the report even be published at all, with those most damning parts "watered down"?
It's inadvertently bought Boris Johnson the most valuable commodity of all – time - to shape the narrative, and try to pull his rebellious backbenchers into order.
He may not survive the fall-out from the police investigation in the long-term, but for now, he can breathe a momentary sigh of relief.