Rishi Sunak leads tributes at funeral of 'remarkable' former Commons speaker Betty Boothroyd
29 March 2023, 13:53 | Updated: 29 March 2023, 16:23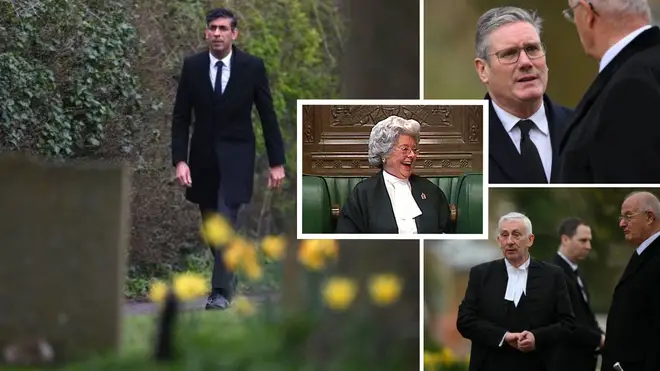 Rishi Sunak and Sir Keir Starmer led mourners at the funeral of the first ever female Commons Speaker Betty Boothroyd.
Baroness Boothroyd, who was an MP for 27 years, before sitting in the house of Lords for two decades, overturned more than 700 years of parliamentary tradition when she was became Commons speaker in April 1992.
The Prime Minister and Labour leader were among the mourners that gathered to pay their respects to the trailblazing parliamentarian at St George's Church, Thriplownear, on Wednesday, close to her Cambridgeshire home.
Leading the tributes ahead of the funeral, the PM said: "Today we come together from across the political spectrum to remember one of our greatest Speakers – the remarkable Betty Boothroyd. Parliament stands taller because of her service."
Mr Sunak also earlier hailed Ms Boothroyd's as "a remarkable woman who dedicated her life to politics", while former PM Theresa May praised "inimitable style", and "immense personal warmth and kindness".
Read more: 'He was full of life': Paul O'Grady producer says comedian was 'laughing and smiling' hours before his death
Read more: Thousands of asylum seekers to be housed in military sites including former Dambusters base
Mr Sunak walked up the path leading to the 12th century church, before being greeted outside the building.
Following the news last month, flags were flown at half mast in Westminster, while MPs held a minute's silence in the Commons in her memory.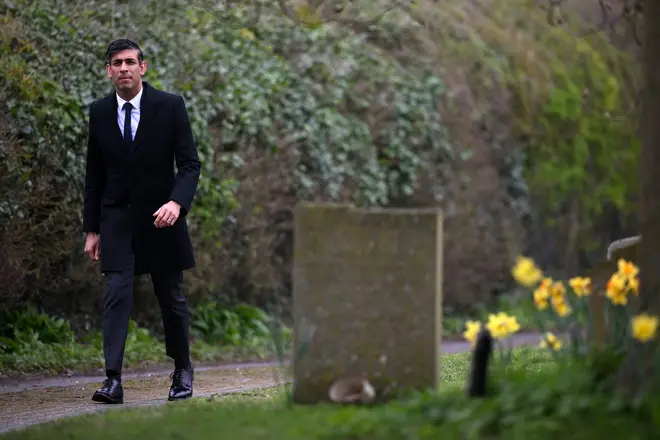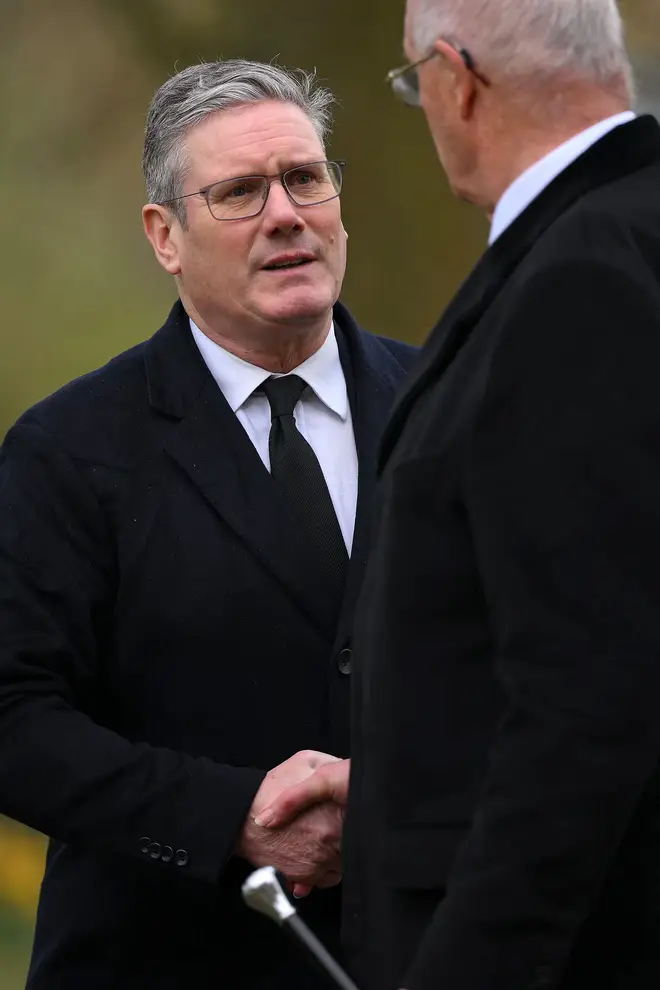 Following her passing in February, Mr Starmer said: "Betty Boothroyd was an incredible and inspirational woman.
"As Speaker, she was at the forefront of a generation that smashed the glass ceiling for female politicians. She made the role her own, with a wit and style that will never be replicated."
Current Speaker Sir Lindsay Hoyle, who was also at the service, described Lady Boothroyd as "one of a kind" following her death, as tributes flooded in from across the world of politics.
Baroness Boothroyd was born in Dewsbury in 1929. Raised in a working class family, her mother was in Labour.
She did not immediately embark on a political career – instead holding dreams of becoming a dancer on the West End – but she then contested four election unsuccessfully before winning the West Bromwich seat in the 1973 election.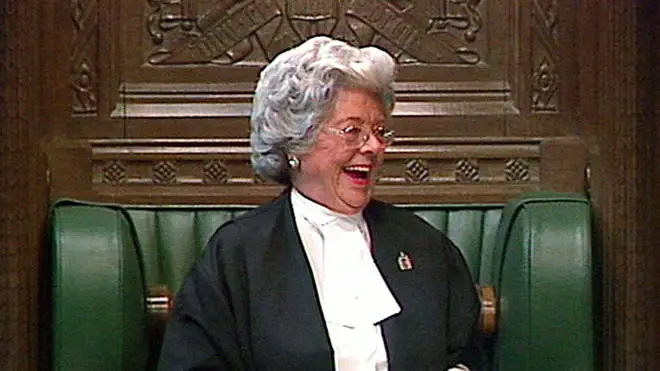 After becoming a strong advocate for Britain's membership of the common market – a position she would hold for decades as she campaigned for a "people's vote" on Brexit – Baroness Boothroyd became deputy speaker in 1987, then became the first speaker after being elected in 1992 when Bernard Weatherill stepped down.
"Call me madam," she told and MP who asked how he should refer to her.
"Elect me for what I am, and not for what I was born," she said.
Known for her no-nonsense approach to presiding over the Commons, Baroness Boothroyd helped to modernise the appearance of the speaker, refusing to wear the traditional wig.
She said her most memorable moment during her time in the job was Nelson Mandela's state visit in 1996.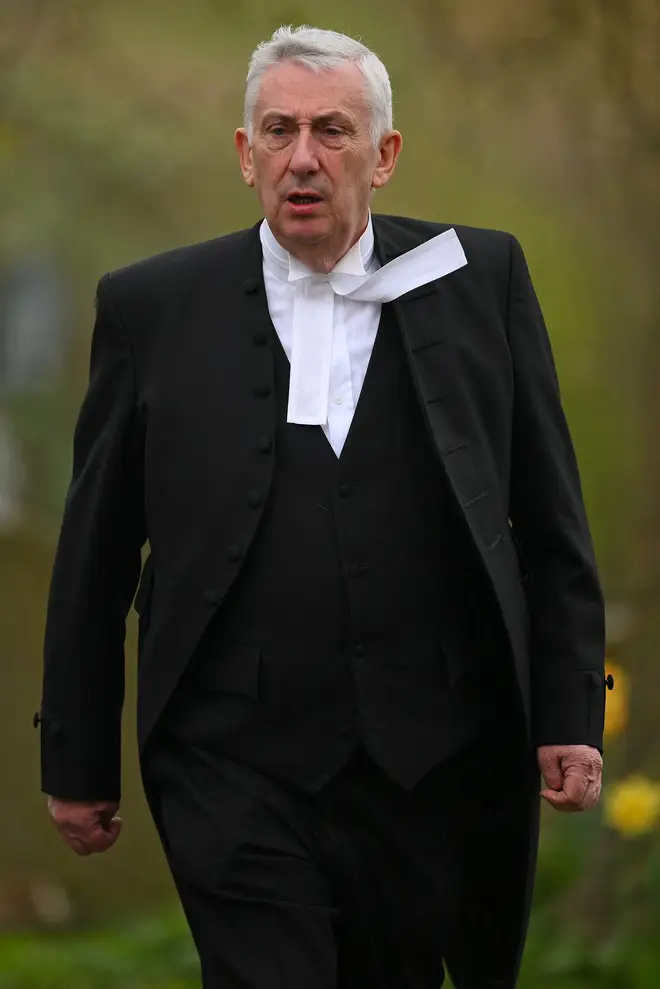 She stood down in 2000 and was made a life peer in 2001, then received the Order of Merit from the Queen in 2005.
In her later years, she was a prominent voice for a second referendum on Brexit, and was sharply critical of Boris Johnson's handling of Partygate.
Tony Blair, whose first years as prime minister were during Baroness Boothroyd's final years, said after her passing: "It was a testament to Betty's many fine qualities that she became the first female Speaker and the first from the Opposition benches.
"She was a truly outstanding Speaker, presiding with great authority, warmth and wit, for which she had our deep respect and admiration.
"It was a privilege to be in Parliament during her tenure and to know her as the big-hearted and kind person she was. My thoughts are with her family and many friends."