'The hardest goodbye': England youth footballer Ben Cull, 24, dies weeks after proposing as fiancé pays tribute
16 September 2023, 19:26 | Updated: 16 September 2023, 20:29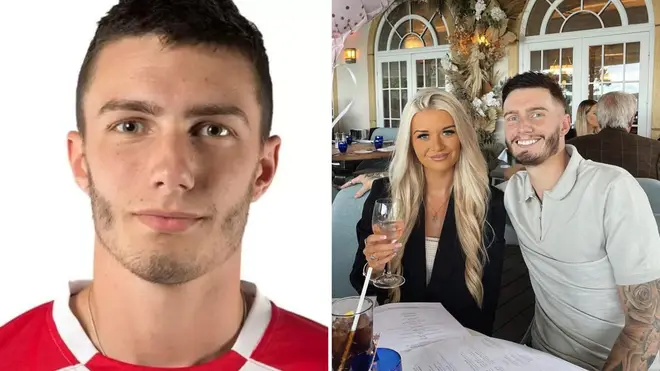 A former England youth footballer has died aged 24 just weeks after proposing to his girlfriend, as friends and family describe him as a "person who made a whole room laugh".
The 24-year-old played for Southampton academy, with fans are set to pay tribute to the former youth footballer on Tuesday's game against Ipswich Town.
Ben Cull, who played for England Under-16s, died from an extremely rare bone cancer just weeks after proposing to his girlfriend, Daisy Morrison.
Paying tribute, Ms Morrison described Cull as her "soulmate" who "fought so hard" during his battle with the disease, describing his departure as "the hardest goodbye".
Taking to social media, she added: "Right now it feels impossible to even put one foot forward in a world without you".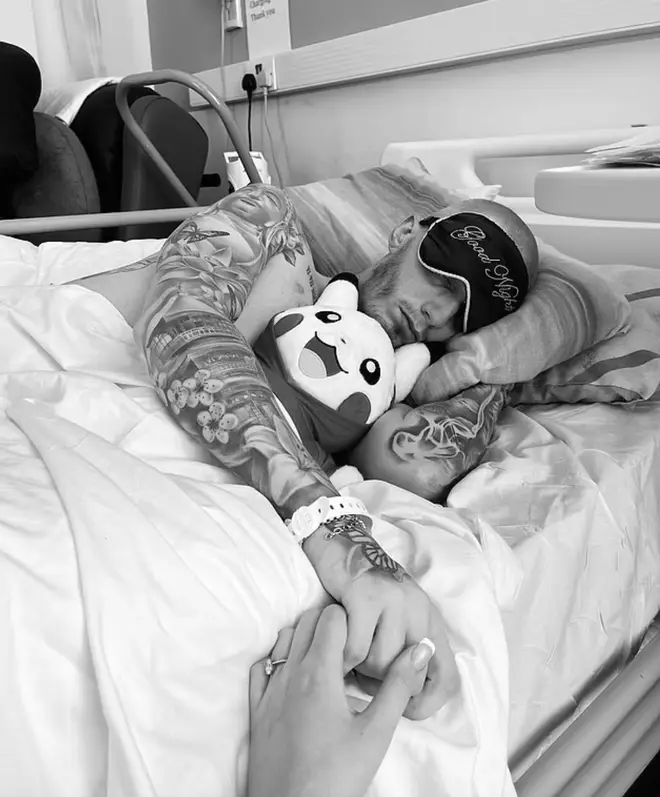 Cull was diagnosed with Ewings Sarcoma in his knee in 2017.
Cull, who played for the Southampton's U23 team, earned two caps for the England youth team before he was diagnosed with the disease.
The rare bone and soft-tissue condition is known for developing in the body's supporting tissues.
In a statement, Southampton academy said: "Ben's skill on the pitch was complemented by his fantastic attitude and determination off it.
"The thoughts of everyone at the club are with Ben's family, friends and his partner Daisy."
After his diagnosis, Cull, who joined Saints in 2012, dedicated himself to charity fundraising events for the Teenage Cancer Trust.
Taking to social media following his death, Miss Morrison posted an emotional tribute alongside a series of photos.
"The Hardest Goodbye 💔😭 Yesterday I lost my whole life, My Fiancé, My Soulmate, My Person, My Entire World… 💔 I always hoped and prayed this day would never, ever come. True heartbreak is real, my heart physically hurts & I've never felt pain like this 😓," she wrote on Instagram.
"I adored you more than words will ever say & I know how much you adored me Ben, you told me every single day, you fought so hard for me & you always put me first & I will hold on to that forever.
Read more: Russell Brand accused of sexual assault by four women. He denies the allegations.
Read more: Boy, 14, stabbed to death in Manchester named as Nathaniel Shani as family pays tribute to 'most loving' teenager
"Right now it feels impossible to even put one foot forward in a world without you, you & I are a team and I've lost the strongest member😭
"My mum & dad couldn't of picked a better soulmate for me, they adored you, they think of you as a son & are hurting so bad right now😓They say you go for someone like your Father & god you were like dad, 2 peas in a pod, the best of friends, couldn't of wished for a stronger bromance💔
"You fought until the very end my darling, I know you did absolutely everything you could to stay & despite suffering so bad, you kept going, that I will be forever grateful for, you never gave up, god just had his own plans."
"One thing I can say for sure, is that we made the most of every single second. You & I both said we'd rather of met our soulmate and had less time, than lived a whole lifetime without eachother🤍," she continued.
"You were the reason I smiled everyday, my reason to wake up, you were the first person I'd turn to with a problem, the person I felt safe next to every night, the person who made a whole room laugh, you were my reason for it all, you gave me a purpose.
"The only person I want to speak to right now is you & I can't do that which breaks me💔You've told me so many times to be brave for you and never give up & I promise I am going to try😓
I already miss you so much, & will do every single second of everyday my darling boy, the cuddles, the kisses, the laughs, messages & everything, my heart will never, ever heal from this hole you've left. To let you go will always be the toughest thing I'll ever have to do💔
Good Night baby, I will see you up there one day, we will be reunited again my darling & finish our story as it isn't over yet✨🌙 I love you Forever & Always my Angel 💔😭✨🌙 "