'The house was shaking, the children were screaming' - Humza Yousaf tells of his family's terror in Gaza
10 October 2023, 15:33 | Updated: 10 October 2023, 15:56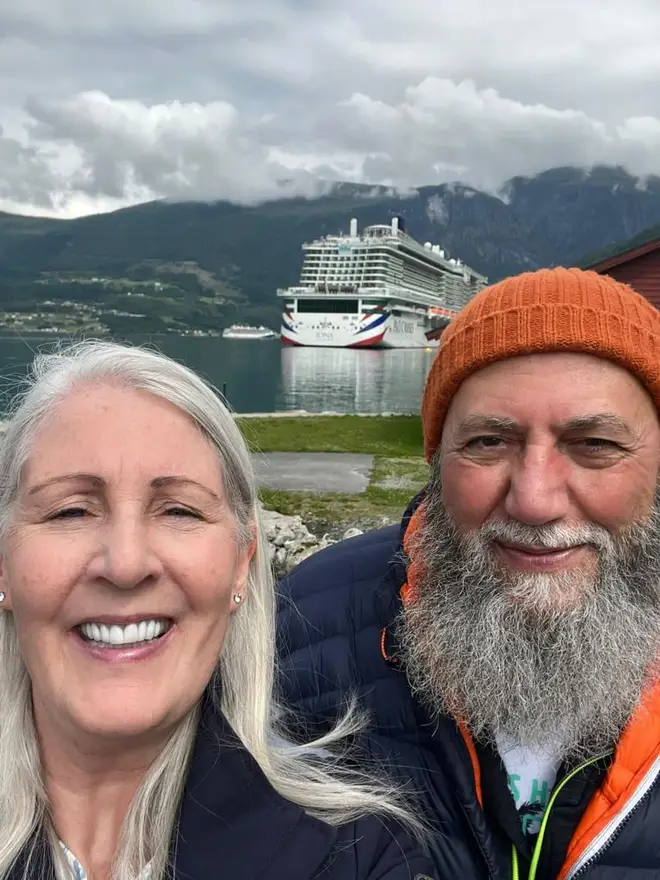 Scotland's First Minister has revealed his family in Gaza only have a day of supplies left and remain trapped as the only border crossing out has been bombed.
Humza Yousaf told LBC he was able to speak to his mother-in-law this morning and she had described a night of terror.
He was speaking just moments after writing to Foreign Secretary James Cleverly, urging the UK government to use its diplomatic ties with the Israeli government to call for a ceasefire and the opening of a humanitarian corridor into Gaza.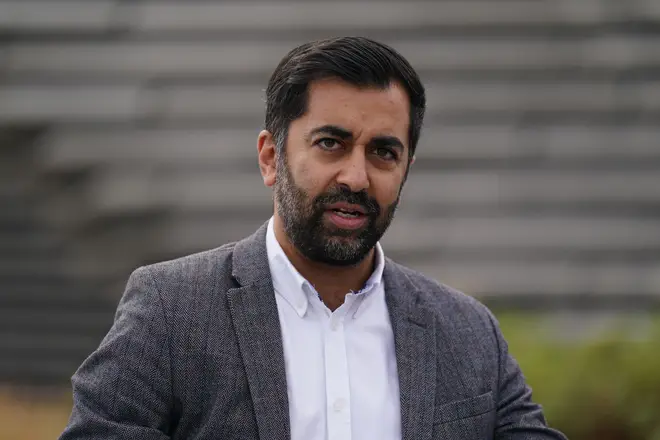 Read More: Chilling photos show aftermath of Supernova music festival in Israel in aftermath of Hamas attack that killed 260
Read More: Israeli kibbutz Kfar Aza site of a 'massacre' after Hamas 'slaughtered 40 babies'
Mr Yousaf's wife Nadia has a grandmother and brother in Gaza, and her parents, Elizabeth and Maged El-Nakla made the trip from Dundee last week to visit them. Her brother is a hospital doctor, and he has a wife and four children - the youngest of whom is just two months old.
The First Minister said: "We got an update this morning from my mother-in-law who told me they were alive, which of course is what we were hoping to hear. Beyond that the situation is dire.
"They had a terrible night - rockets were falling all around them, the house was shaking, the children were screaming most of the night. They have one day of supplies left and are terrified to go out given they're being told to stay indoors.
"And they're being told to leave because we all know what's going to happen, what is happening to Gaza, but they have nowhere to go - an hour ago the Rafah border had been bombed and closed so there's nowhere to get out, they're still trapped."
Mr Yousaf said he had been in discussions with the Foreign and Commonwealth Office and had now written to the Foreign Secretary.
"I've appealed to them to use their position as an ally of the government of Israel to urge for a humanitarian corridor to be opened, that should allow medical supplies and humanitarian supplies to come in and to give safe passage to Gazans, ordinary innocent Gazans to leave by the Rafah crossing,
"But that can only be done if there's a ceasefire and I would urge the government of Israel and of course Hamas, to cease the violence for 24 to 48 hours to allow that humanitarian crossing to be opened."
Mr Yousaf also said he was writing to the family of Bernard Cowan, the Glasgow man who was killed in the Hamas attack.
Mr Cowan grew up in the Glasgow area and settled in Israel where he lived with his wife and three children.
More than 700 people have been killed in Israel since Saturday and over 500 people have died in Gaza, and Mr Cowan is among more than 10 British citizens feared dead, or missing.
Since the attack by Hamas and the subsequent bombing of Gaza by Israeli forces, there have been pro-Palestine protests in the UK and the Metropolitan Police has increased the level of security and number of patrols outside Jewish schools in London to provide "reassurance".
The Union of Jewish Students has also told LBC there's been a rise in reports of anti-Semitism on UK university campuses since Saturday's surprise attacks by Hamas in Israel. Their President Edward Isaacs says his community's struggling with it on top of worrying about loved-ones in Israel.
Mr Yousaf, who has suffered abuse for his race and religion in the past, particularly in the aftermath of the attack on the Twin Towers in New York, said there was zero tolerance for anti-Semitism in Scotland.
"I remember well my experience post 9/11 what it was like, people telling me not to grow a beard, telling my sisters not to wear headscarves, it was a horrible time and my thoughts are very much with our Jewish communities, and I understand the fear they have.
"We continue to liaise with Police Scotland and stand in solidarity with our Jewish communities to tackle hatred of any kind. Anti semitism has no place in Scotland and I'll be unequivocal about that."