Oxford Street TikTok chaos which saw 'hundreds of youths' descend cost Met Police over £100,000
21 September 2023, 14:31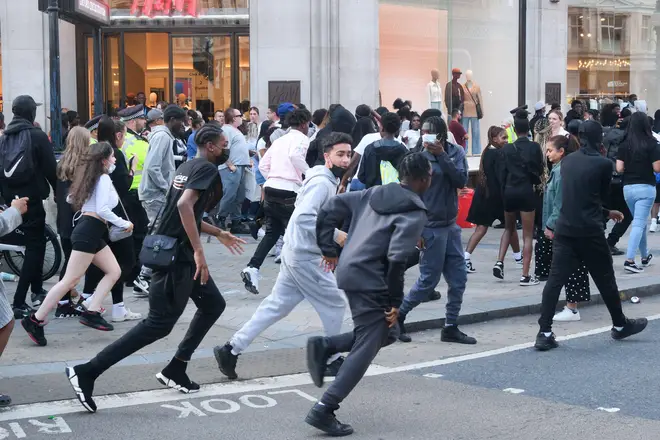 LBC has learned that a TikTok craze which caused '5 hours of chaos' on London's Oxford Street, cost the Metropolitan Police over one hundred thousand pounds.
Shops on the iconic high street were forced to shutter their doors, and dozens of police officers were in attendance forming human shields following a growing trend on social media calling for riots and looting.
This included one ominous video urging people to wear balaclavas and to not "turn up if you can't run".
The TikTok craze concentrated on Wednesday 9th August, when some social media said they would cause 'chaos' at shops including JD Sports, which led to the police arresting nine people and issuing 34 dispersal orders.
The Home Secretary Suella Braverman ordered the ringleaders responsible to be "hunted down and locked up", and former police officers have blasted the figures, obtained by LBC in a Freedom of Information request, saying the antics were a clear waste of police resources.
Read more: Parents told to 'get a grip' on social media yobs after Oxford Street chaos
Read more: Oxford Street's decline is driving up crime rates, Marks and Spencer boss claims after TikTok call for rampage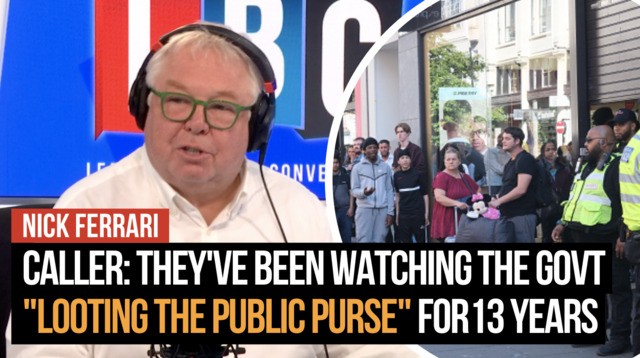 Caller: The young people on Oxford Street were not 'rioting'
A total cost of £101,467 was incurred by the event which is said to have attracted "hundreds of youths" to Europe's busiest shopping destination.
This included over £85k in opportunity costs, £620 for vehicles and the force's fleet, and nearly £14,000 in overtime for officers and staff.
Former Met Police Detective Chief Inspector Mick Neville told LBC "those resources would have been better deployed on streets and in neighbourhoods".
Mr Neville added, "I'm sure the public would rather have those officers patrolling their streets, and near their homes, rather than dealing with idiots who gang together to rob JD Sports on TikTok."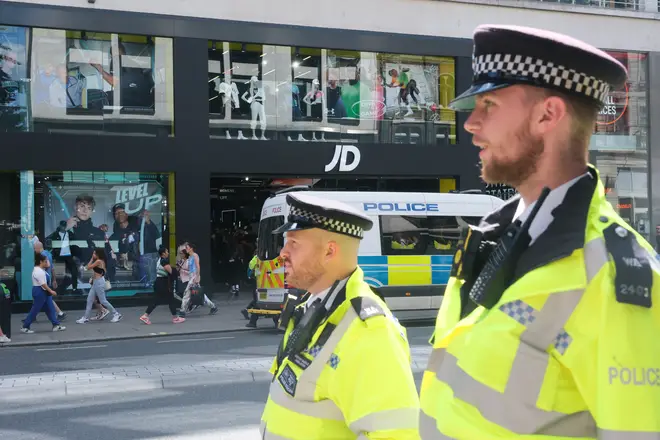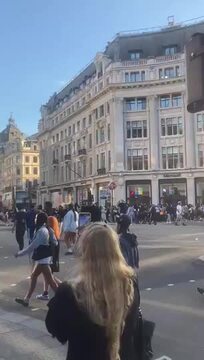 Mayhem on Oxford Street as huge crowds clash with police
TikTok previously denied being responsible for the carnage on Oxford Street, saying other platforms had been used to promote it.
A spokesman said: "We have seen no evidence to support these claims and we have zero tolerance for content facilitating or encouraging criminal activities.
"We have over 40,000 safety professionals dedicated to keeping TikTok safe – if we find content of this nature, we remove it and actively engage with law enforcement on these issues."
Nine people were arrested during the incident after police issued 34 people with dispersal orders.