Children shouldn't be allowed to make 'irreversible' gender changes, says Truss
28 July 2022, 21:45 | Updated: 28 July 2022, 22:14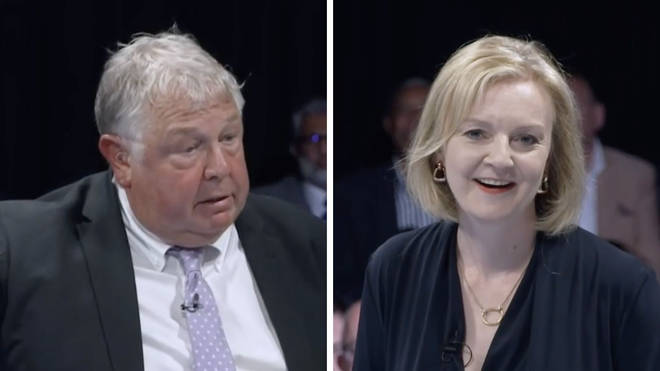 Children should not be allowed to change gender and make "irreversible" decisions about their bodies, Liz Truss has said.
The foreign secretary was quizzed about same-sex toilets being introduced in schools during the pandemic while speaking at LBC's Tory hustings.
When asked about returning to single-sex toilets, Ms Truss said: "I completely agree with you - I have sought to clarify that as women's minister.
"I've been very clear that single-sex spaces should be protected, particularly for young people as well as vulnerable people - vulnerable women in domestic violence shelters, for example - and I can assure you, as Prime Minister, I would direct that to happen.
"It's a difficult time being a teenager - being a young girl - and you should be able to have the privacy you need in your own loo, so I 100% agree with you and I would make that happen.
In a follow up question from LBC's Nick Ferrari about pupils who are transitioning, Ms Truss added: "First of all, I do not believe that under-18s should be able to make irreversible decisions about their own bodies that they might come to regret later.
"It's very important to note that.
"And of course, schools should be sensitive - they can provide additional facilities - but it should not be at the expense of protecting young girls."
Read more: Liz Truss and Rishi Sunak go head-to-head in LBC hustings
Read more: Liz Truss calls for 'more action' from France as families face 11-hour queues in Dover
It comes after the government announced its decision to make single-sex toilets mandatory in all new public buildings in a bid to stop the growing use of gender neutral facilities.
Joint facilities raised safety concerns from women who felt they were losing privacy and being unfairly disadvantaged, the government said.
Some children are believed to be avoiding using toilets at school because they only have access to gender-neutral facilities.
As a result, the separate male and female toilets will be expected in all new offices, schools, hospitals and entertainment venues.
However, campaigners for trans rights have pointed out that gender-neutral toilets can be reassuring for some trans men and women who fear discrimination in separate toilets.