Two women arrested at Sarah Everard vigil on Clapham Common receive payouts from Met Police
14 September 2023, 00:01 | Updated: 14 September 2023, 00:23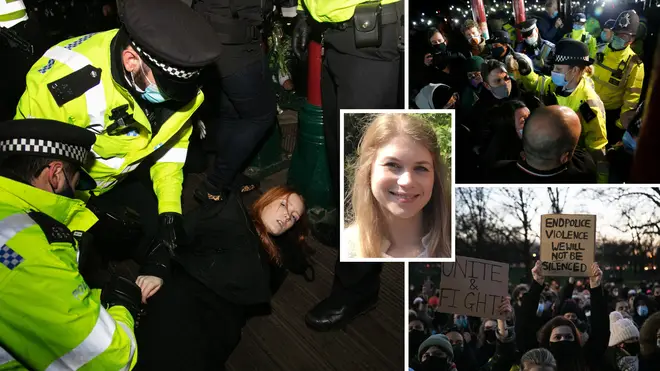 Two women who were arrested at a vigil for Sarah Everard during the Covid pandemic have received a settlement from the Metropolitan Police.
Patsy Stevenson and Dania Al-Obeid were arrested at the vigil, which took place on Clapham Common in memory of Sarah, after she was murdered by serving Met Police officer Wayne Couzens.
The event, originally organised by Reclaim These Streets, was held while Covid restrictions were in place but hundreds of people turned out to pay tributes for Sarah throughout the day and into the evening, including Kate Middleton.
The Met Police was criticised at the time for its handling of the vigil, which turned rowdy into the evening following an outpouring of anger against the police force.
Pictures quickly emerged of women being thrown to the ground by police officers, including Ms Stevenson, who was arrested at the event.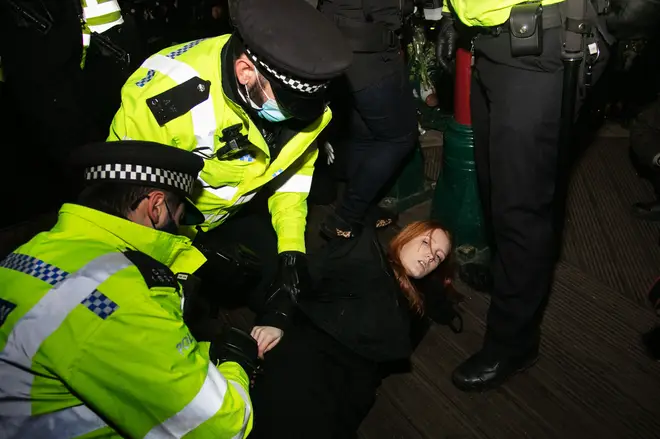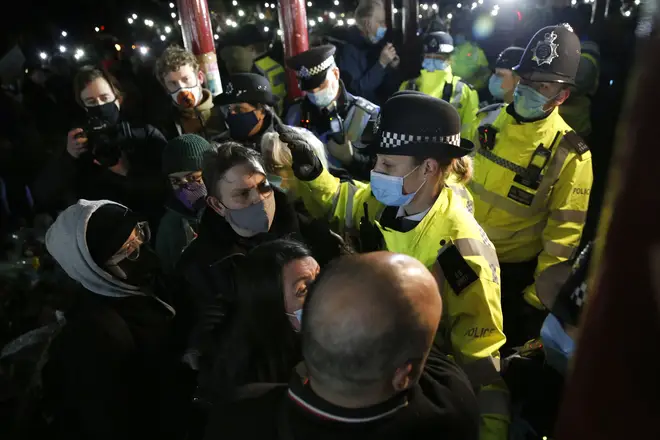 "It has taken over two years to reach this conclusion, it's been a really tiring and difficult process but it has felt important to push for some form of accountability and justice for myself and all women who attended the vigil to express our anger and grief over the murder of Sarah Everard by a serving Metropolitan Police officer," Ms Stevenson said.
"The event was originally planned by campaign group Reclaim These Streets, which cancelled the protest after Met officers threatened organisers with £10,000 fines under lockdown rules in place at the time.
"But members of the public attended anyway, with no police intervention for around six hours before clashes occurred."
Read More: 888 service aimed at keeping lone women safe at night in wake of Sarah Everard murder scrapped
Read More: It will take 'up to three years' to clear Met of corrupt police officers, says Met Commissioner Sir Mark Rowley
Commander Karen Findlay wrote in letters to both women: "I wish to emphasise that I fully acknowledge that your motivations in attending the vigil were to express your grief and anger regarding the circumstances of the tragic murder of Sarah Everard, and to express the level of concern and dissatisfaction felt by you and many other women who were understandably feeling badly let down by the Met.
"The policing plan for the vigil was devised to provide an opportunity for members of the public to attend in order to express their grief and anger.
"Acknowledging that the fundamental right to protest remained, the circumstances at the time of the vigil - namely that we were in the midst of the Covid-19 pandemic - presented an extremely difficult challenge for policing and the officers present due to the need to balance the potential risk such a gathering could pose to public health.
"That aside, I appreciate the anger, frustration and alarm your arrest undoubtedly caused you, exacerbated by the subsequent proceedings, and I regret that your opportunity to express your grief and anger was curtailed by your arrest and removal."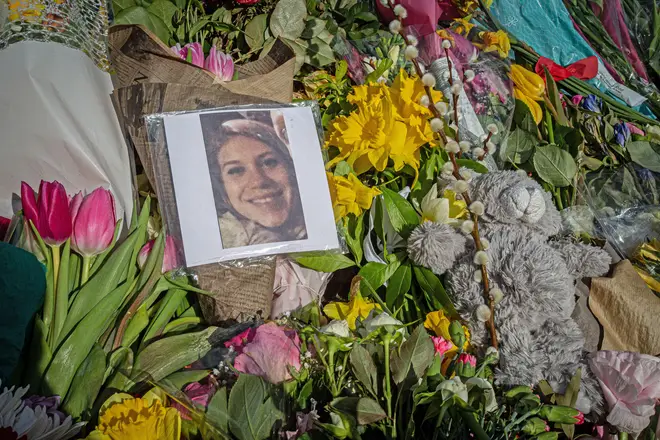 A legal battle had loomed for the Met, which it has avoided following the settlements.
A spokesperson for the police force said: "A protracted legal dispute is not in the interests of any party, least of all the complainants who we recognise have already experienced significant distress as a result of this incident.
"The most appropriate decision, to minimise the ongoing impact on all involved, was to reach an agreed settlement.
"We are working every day to make London a city where women and girls can feel and be safe and where communities can have trust and confidence in their police service."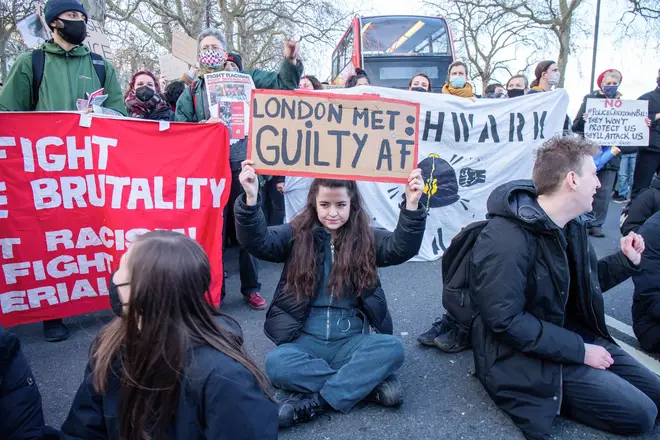 Ms Al-Obeid said: "I have found this journey incredibly difficult but very important as a survivor of domestic violence and someone who has been failed by the police in that context.
"I appreciate that the Met Police have acknowledged our motivations for attending it but 'badly let down' is an understatement.
"I have felt abused, abandoned by the police prior to, during and post the vigil - I do not feel protected or safe with any police force."
Rachel Harger, the women's solicitor from Bindmans LLP representing added: "I am glad that the Met have finally acknowledged that those who attended the vigil had the fundamental right to protest the murder of Sarah Everard by a serving Met officer.
"Protests are as vital as they have ever been, without them, injustices will be unchallenged and people will lose confidence in democratic processes by which things can change."