UK economy stagnates between July and September - but avoids recession this year
10 November 2023, 07:46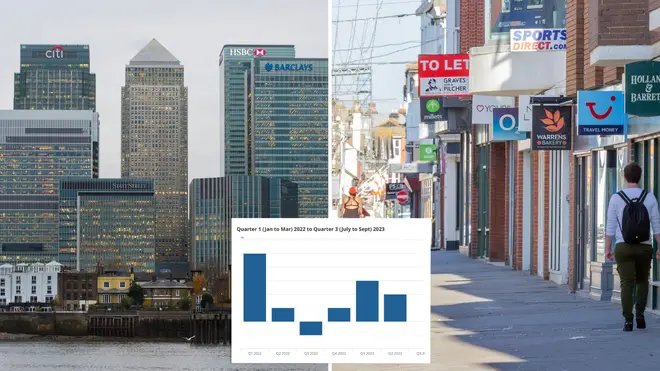 The UK economy recorded no growth between July and September, according to data from the Office for National Statistics.
Economists had forecast the economy to shrink by around 0.1% during this period.
It follows the economy's 0.2% growth in the second quarter.
The fresh figures mean that the UK has dodged a recession this year - defined as two consecutive quarters of negative gross domestic product (GDP).
GDP measures the value of goods and services produced.
The services sector saw a small decline in the third quarter, compared with the manufacturing sector's slight growth.
Read more: Police to form Armistice Day 'ring of steel' as Met drafts in more than 1,000 officers to curb remembrance disruption
Read more: NatWest 'to scrap' much of £10 million payout to ex-CEO Dame Alison Rose, who quit over Nigel Farage scandal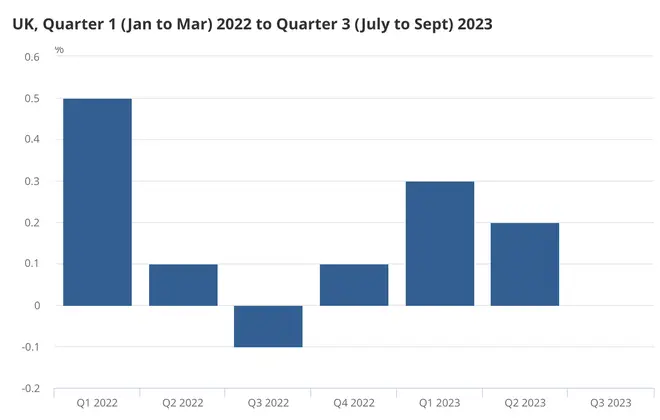 ONS director of economic statistics Darren Morgan said: "The economy is estimated to have shown no growth in the third quarter.
"Services dropped a little with falls in health, management consultancy and commercial property rentals.
"These were partially offset by growth in engineering, car sales and machinery leasing. "In the month of September the economy grew slightly, with increases in film production, health and education.
"This growth was partially offset by falls in retail and computer programming."
It comes after the Bank of England said last week that the UK economy was unlikely to see growth until 2025.
Chancellor Jeremy Hunt said in response to Friday's figures: "High inflation is the single greatest barrier to economic growth. The best way to sustainably grow our economy right now is stick to our plan and knock inflation on its head.
"The Autumn Statement will focus on how we get the economy growing healthily again by unlocking investment, getting people back into work and reforming our public services so we can deliver the growth our country needs."