Triggered by the UK's Emergency Alert system? Pull yourself together - you'll change your mind if it saves a relative
19 April 2023, 17:22 | Updated: 20 April 2023, 10:01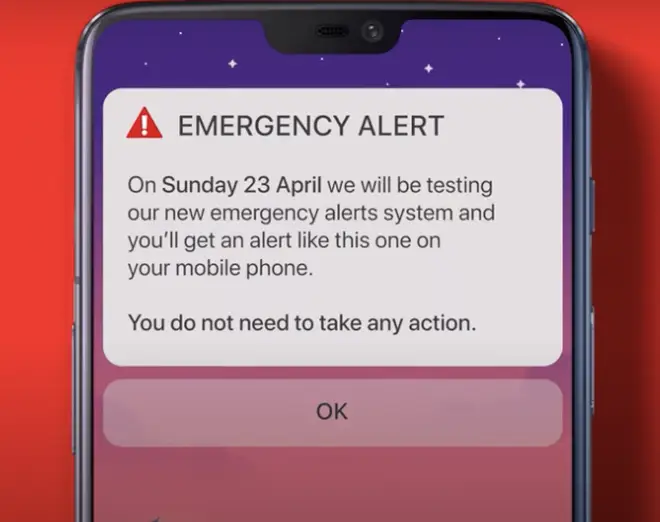 If you were an alien observing what's unfolding in the UK from somewhere out in space through our national media, you would probably be ready to invade to save humanity from the scourge of the new Emergency Alert system, writes LBC's technology correspondent Will Guyatt writes.
In the mind of many right-wing journalists and commentators it is the biggest threat to our personal freedom since World War Two.
Despite being teased by the government almost a year ago, and revealed in full a month ago, the Daily Mail found itself frothing at the mouth this week, with an outraged front page, while Mail columnist Sarah Vine described the "tiresome alert" as an invasion of our phones.
For god's sake – get a grip and take a long hard look at yourselves.
Read more: Emergency alert system UK: Date, time and why we're getting a mobile phone warning
I don't know about you, but I'm quite happy to accept the 10 second interruption of an emergency alert if I'm able to avoid something bad.
Reading between the lines, this is intended to not just alert us to extreme weather, but terror alerts and god forbid, an attack from Russia, or some other crackpot nation.
This system has been widely in use in many countries since 2010.
In the US, the alert system is used to warn of tornados, lost children, and even active gunmen, and has saved many lives.
You can go online and find stories everywhere that talk of its success and that gives great joy - particularly since it allows me to splash those stories across Twitter feeds of alarm deniers.
There's something about these alerts that have triggered every self-identifying online "truth-seeker" who clearly believes the new service is the latest Orwellian overreach of the government.
Read more: UK launches emergency phone alert system to warn of 'life-threatening situations'
Perhaps you'll change your mind when they save a member of your family?
Countless "voice of the people" pundits are pumping social networks like Twitter with so much information and bull shine about the initiative that it's hard for those alien observers to separate the truth from fact.
The government has not forced your mobile company to handover your personal details, they are not in control of your phone, and they don't know if you've responded to the notification.
The Emergency Alert simply sends this notification to any supported smartphone that's connected to selected mobile phone towers – which enables the alert to be highly localised, and it's always going to be a one-way communication.
And after all this, if you really don't fancy a 10-second notification potentially saving your life, why not simply disable these alerts on your device?
It'll take you less time to read Sarah Vine's latest Mail column. And relax…
The alert will be broadcast on April 23.