UK set for second October 'mini-heatwave' as Met Office issues fresh forecast after Arctic blast
16 October 2023, 07:35 | Updated: 16 October 2023, 12:30
Read the latest: Weather warnings issued as Storm Babet set to bring 'extremely' heavy rain and floods
Temperatures plummeted into single digits over the weekend, giving Brits the first real taste of Autumnal weather after a bright and warm start to the month.
Temperatures plummeted towards 0C in some parts of the Scotland, with some sleety showers in Scotland and colder weather in the north of England.
While temperatures are unlikely to match the 25.8C that was recorded in Kew Gardens on Saturday, October 7, that does not mean it is going to remain cold for the rest of the month.
In fact, a second October 'mini-heatwave' could be on the way this week, with temperatures expected to rise back up towards 20C once again.
According to BBC weather, temperatures in London will hit 19C on Thursday and could break 20C in the south of England.
Temperatures will remain around this mark on Friday too, before highs drop back down to around 15C ahead of the weekend.
According to the Met Office, a heatwave is "when a location records a period of at least three consecutive days with daily maximum temperatures meeting or exceeding the heatwave temperature threshold".
While this week's weather is unlikely to mean an official heatwave is recorded, the rise towards 20C would mean it is warmer than usual for this time of year.
Read More: Exact date 'unseasonably warm' October weather will end as Met Office issues fresh forecast
Read More: Arctic blast to sweep UK as temperatures plummet and first snow of winter arrives
What does the Met Office say?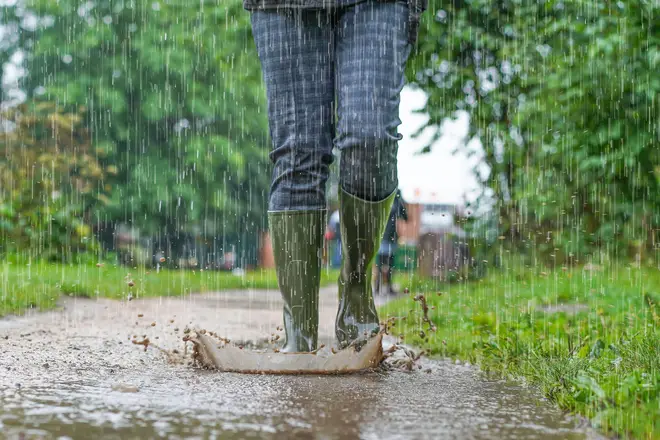 The Met Office's long-range forecast predicts that a "fine and dry interlude" could be in store for Brits due to high pressure over southern England.
But what about the end of the month, as we move into November?
Well, temperatures are likely to fall to typical levels for this time of year, with some rainy spells throughout the country.
Its long-range forecast reads: "This period will likely be characterised by the UK being stuck in a battleground between low pressure to the west or southwest, and high pressure over Scandinavia.
"Therefore the more likely outcome is for western areas to be wettest and eastern areas to see less rainfall, but with the boundary of that discrimination not clear cut.
"Temperatures are likely to remain above average, given the predominantly southerly flow, although colder spells remain possible, especially if the high to the east becomes the more dominant player."