UK terror threat level 'highly likely' to be raised by Israel-Hamas war
17 October 2023, 16:42 | Updated: 17 October 2023, 16:58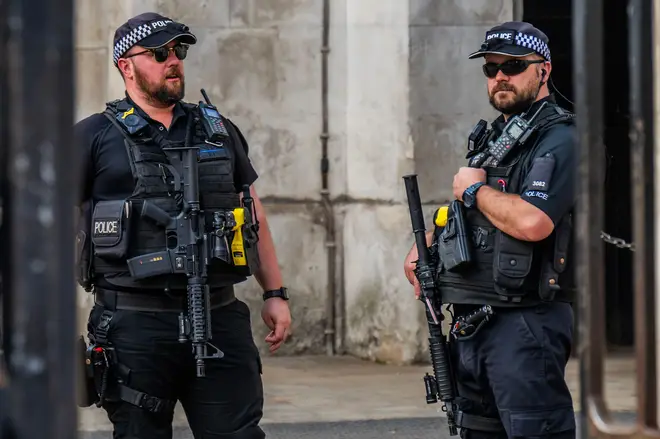 It is "highly likely" the UK's terror threat level will be raised as a result of the Israel-Hamas war, a former head of the National Counterterrorism Security Office has told LBC.
Speaking to LBC, Chris Phillips, who also served as a Detective Chief Inspector in the Metropolitan Police, outlined the impact that events in the Middle East, teamed with recent acts of terror in Belgium and France, are likely to have on MI5's assessment of the likelihood of an attack in the UK.
Phillips explained how the Joint Terrorism Analysis Centre (JTAC), which operates within MI5, takes account of these factors when designating the UK's Terror Threat: "Events such as we've seen in Israel and Gaza are a key part of that [analysis], simply because it impacts on people within the UK. Overseas events… can encourage some people, some extreme people to commit acts of terrorism or or certainly get close to it - and that's what JTAC are looking at.
"So events around the world, whether it's terrorist attacks across the world, or whether it's the horrendous scenes that we saw in Israel goes towards the decision making process."
Read more: 'I want to go home': Israeli woman, 21, kidnapped from festival pleads for release as Hamas posts first hostage video
Pressed on whether this would result in the terror threat level being raised imminently, Phillips said: "It's not inevitable, but it is highly likely to happen fairly soon. And that's simply because of the stirring up of issues within our cities in particular.
"Individuals that are already extreme may well be pushed towards committing acts of some form… the intelligence agencies will be looking at them individually and as groups to see if there's a likelihood that that people will react in some way towards committing a terror attack.
"Historically, we've seen that issues like this are likely to raise the threat level."
The UK's current threat level stands at 'substantial', meaning that an attack is "likely". By contrast, if, as Phillips predicts, the threat is raised to "severe", the second highest level in the UK's system, an attack is deemed "highly likely".
Read more: Palestinian 'river to the sea' chant is a call for ethnic cleansing, Israeli ambassador says after demonstrations
This would result in a greater level of "visible policing" across the country, including an increased deployment of firearms officers.
In the past week, there have been a couple of suspected terror attacks across Europe. In the French region of Arras, a school teacher was stabbed in what authorities believe was an Islamist attack, whilst two Swedish football fans were shot dead in Brussels last night.
Security concerns prompted by the attack led to the abandonment of the football match between Belgium and Sweden, with the suspect eventually shot by police on Tuesday morning.