Ulez expansion to be challenged at the High Court as five Tory councils clear legal hurdle
12 April 2023, 14:42 | Updated: 12 April 2023, 16:45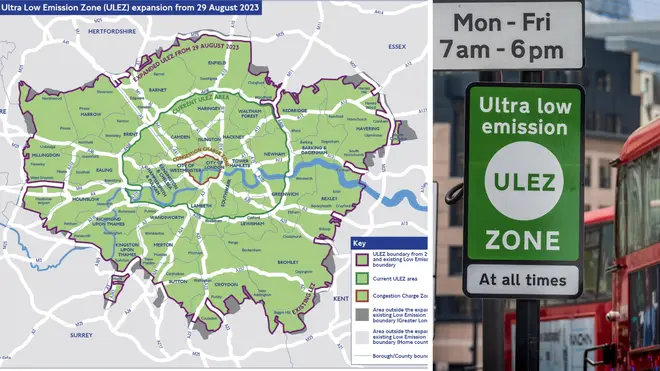 The expansion of London's ultra low emission zone (Ulez) will be challenged at the High Court this summer after five councils requested a judicial review.
Harrow, Hillingdon, Bromley, and Bexley in London and Surrey county council lodged a request for a judicial review of Sadiq Khan's plans - and the move was accepted by a judge.
It throws the expansion date of August 29 into question.
Nick Rogers AM, City Hall Conservatives transport spokesperson, said: "The High Court has now ruled there is sufficient evidence that Sadiq Khan's ULEZ decision may have been unlawful.
Read more: Grenfell families settle claims against building firms but say that justice will still be served
Read more: Hero mum fights for life after pushing pram out of the way of 'hit-and-run' driver
"The Mayor clearly does not have the legal grounds to proceed with his ULEZ tax plans, which take money from charities, small businesses and low income Londoners who cannot afford a new car.
"Sadiq Khan should do the right thing, immediately stop work on his ULEZ expansion, and explain his actions to the court."
The Mayor wants to expand the Ulez from its current boundary to cover every road inside the North and South Circular Roads.
Tory MP Gareth Bacon wrote: "I am delighted that the five local authorities, including Bromley, challenging ULEZ in the courts, have won the first stage in their legal battle against Sadiq Khan's decision.
"While the full legal case is still to be fought, today's decision is a significant step forward."
Transport for London will continue to defend the case.
A spokesperson for the Mayor said: "The Mayor is pleased to see the court has refused permission for the majority of the grounds. We will continue to robustly defend his life-saving decision to expand the ULEZ and continue with preparations without delay.
"It is a shame that some local authorities have chosen to attempt this costly and misguided legal challenge instead of focusing on the health of those they represent.
"Around 4,000 Londoners die prematurely every year due to air pollution. This is a health emergency and the Mayor is not prepared to stand by and do nothing while Londoners are growing up with stunted lungs and are more at risk of heart disease, cancer and dementia due to our toxic air."