US forces in Iraq targeted in drone strikes amid Gaza tensions raising fears of wider conflict and higher 'geopolitical stakes'
20 October 2023, 09:58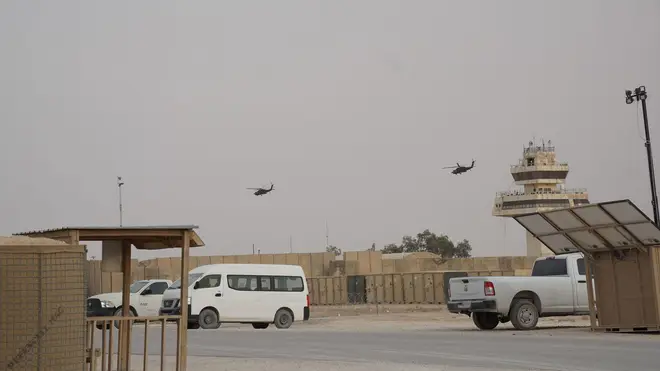 US troops in the Middle East came under attack from suspected Iran-backed militias on Thursday night in an escalation that threatened to pull global powers into the Gaza conflict.
Bases housing US soldiers came under attack in Iraq and Syria, raising fears Iran was mobilising proxy forces against the West, which backs Israel in its war with Hamas.
Two drones struck the al Asad airbase in western Iraq used by American troops, while another targeted a northern Iraqi base, according to a US official.
US forces intercepted the drones, destroying two but only damaging the third, which resulted in light wounds to coalition forces at al Asad, Central Command said.
"In this moment of heightened alert, we are vigilantly monitoring the situation in Iraq and the region. US forces will defend US and coalition forces against any threat," the statement said.
The US Navy also said it intercepted missiles and drones fired from Yemen and headed "potentially towards targets in Israel".
Read more: 'America is a beacon to the world, still': Joe Biden to ask Congress for urgent aid for Israel and Ukraine
Read more: Machine gun fire breaks out on Israel's border with Gaza as soldiers told 'you will soon see it from the inside'
As President Biden was giving an address from the Oval Office, reports emerged that rockets and drones had struck US military bases in Iraq. The Ain al-Asad air base in western Iraq, where US and international forces are stationed, was hit with several explosions, pic.twitter.com/QcW7nPsrlG

— godfather (@Truthgodfather) October 20, 2023
Iraqi militias aligned with Iran have threatened attacks on US facilities over American backing of Israel. The Islamic Resistance in Iraq, an umbrella of Iranian-backed militias, claimed responsibility for the two attacks and warned of more operations against the "American occupation."
The attacks occurred amid rising tensions and worries about wider regional conflict following the recent Israel-Hamas war in Gaza.
Much focus has been on Hezbollah in Lebanon and its arsenal, but the Iraqi militias have also threatened US interests over support for Israel.
After the Gaza hospital blast that killed hundreds, Kataib Hezbollah militia head Ahmad al-Hamidawi said "Our missiles, drones and special forces are ready to direct qualitative strikes at the American enemy in its bases and disrupt its interests if it intervenes in this battle." He also threatened Israeli targets.
The militias blamed the US and its Israel backing for the Gaza catastrophe and demanded an end to the American presence in Iraq, calling them "evil people" who "must leave the country. Otherwise, they will taste the fire of hell in this world before the afterlife."
US officials confirmed the al-Asad attack but did not immediately comment on the claimed strike on the northern base. Kurdish authorities said an intercepted drone crashed near a village.
Analysts said the Iraqi groups are unlikely to open a new battlefront unless the Gaza conflict escalates further, but could provide support roles if needed.
The militant "vanguard" groups tightly controlled by Iran have served as foot soldiers in regional conflicts before.
The Henry Jackson Society's Executive Director, Dr Alan Mendoza, said: "The news that US bases in the wider Middle East have come under some sort of attack from Iran-backed sources has just raised the geopolitical stakes in the Israel-Gaza conflict once more.
"Iran continues to exert a malign influence on events in what can only be construed as an attempt at escalation. The key to avoiding this is to persuade Tehran to control its expansionist appetite by explaining that the consequences of any escalation will be felt most clearly in Tehran first."