EU introduces 'vaccine passports' ahead of summer holidays
17 March 2021, 09:46 | Updated: 17 March 2021, 14:19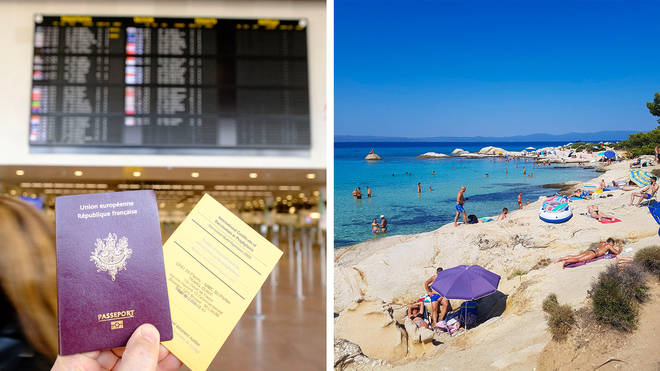 The European Union has unveiled plans for a vaccine passport scheme, which it hopes will facilitate easily travel across the continent for tourism and work this summer.
Commissioners met on Wednesday to discuss the "Digital Green Certificate", as well as plans for a "the way ahead regarding a progressive lifting of restrictions".
The certificates will be issued in a digital or paper form, using a QR code and digital signature to prevent against fraud.
It will contain three types of Covid related information: whether an individual has had the Covid jab, any recent PCR and lateral flow test results, and whether they have had Covid-19 recently.
Read more: What is a vaccine passport and how do I get one?
The announcement comes at a difficult time for the EU, with infection numbers spirally and the vaccine rollout remaining slow.
Speaking at a press conference following the meeting, EU Commission President Ursula von der Leyen hinted that the EU could block vaccine exports to the UK under emergency powers, saying Europe is "ready to use whatever tool we need" to get their "fair share".
Read more: Europe threatens to block vaccine exports to UK as bloc faces third Covid-19 wave
The start was tough. Now we're making progress on vaccination:

• BionTech-Pfizer and Moderna are delivering on their contracts
• First Johnson & Johnson vaccines to arrive in April

We can achieve our target to have 70% of adults fully vaccinated by the end of summer.

— Ursula von der Leyen (@vonderleyen) March 17, 2021
Tourism reliant countries, such as Greece and Cyprus, were reportedly pushing hard for the technological solution, which could avoid the need for quarantine and border testing.
Commissioner for Justice, Didier Reynders, said the Digital Green Certificate would "ensure EU citizens and their family members can travel safely and with minimum restrictions this summer".
However, he added "the Digital Green Certificate will not be a pre-condition to free movement and it will not discriminate in any way".
Any plans will need to be signed off by the European Parliament and EU member states, with the EU commission hoping technical framework for sharing the medical information will be set up "by mid-June".
However, Spain and Greece have previously announced they hope to begin allowing overseas tourists back by mid-May, if the pandemic allows.
Read more: Cyprus to allow vaccinated British tourists to holiday from 1 May
Today we will share our proposal to create a Digital Green Certificate.

This certificate would facilitate safe free movement of citizens inside the EU during the COVID-19 pandemic in a non-discriminatory way.

Stay tuned, and learn more here ↓#StrongerTogether

— European Commission 🇪🇺 (@EU_Commission) March 17, 2021
The Digital Green Certificate will be valid in all EU Member States and open for Iceland, Liechtenstein, Norway as well as Switzerland, the commission said.
The commission added it is "working with the World Health Organisation to ensure that certificates issued in the EU can be recognised elsewhere in the world as well."
But it stressed that the system "is a temporary measure" and will be suspended once the WHO declares an end to the Covid-19 international health emergency.
Watch: Caller says he'll only take the Covid jab to go on holiday
We'll present this month a legislative proposal for a Digital Green Pass. The aim is to provide:

•Proof that a person has been vaccinated
•Results of tests for those who couldn't get a vaccine yet
•Info on COVID19 recovery

It will respect data protection, security & privacy

— Ursula von der Leyen (@vonderleyen) March 1, 2021
As the UK is no longer in the EU, Brits will not be part of the Digital Green Certificate scheme, however, the plans say the technical framework will "allow the possibility to extend to compatible certificates issued in third countries".
Boris Johnson has asked Cabinet Minister Michael Gove to lead a review into vaccine passports and "whether Covid-status certification could play a role in reopening our economy, reducing restrictions on social contact and improving safety".
Health Secretary Matt Hancock has previously hinted that the government may issue vaccine passports for international travel.
Speaking to LBC in February, he said: "There are some areas where we know it is going to be needed to have this certificate to show whether or not you've been vaccinated.
"For instance, international travel to some countries – if another country says you can't come in unless you have the jab, then we want Brits to be able to demonstrate that.
P&O Cruises became the latest tourism operator to announce that unvaccinated holidaymakers will be banned from their ships.
Only UK residents who have received both doses of a coronavirus vaccine at least seven days in advance will be permitted onboard, the UK's largest cruise line said.
Failure to provide proof of the jabs "will result in denial of boarding", the firm warned.
This is a "strong expressed preference on the part of our guests", it added.
Saga Cruises had also previously announced it will require all guests to be vaccinated when it resumes operations in June.