'Highly visible' police presence at Wembley at England v Italy qualifier after Brussels football attack
17 October 2023, 11:48 | Updated: 17 October 2023, 22:35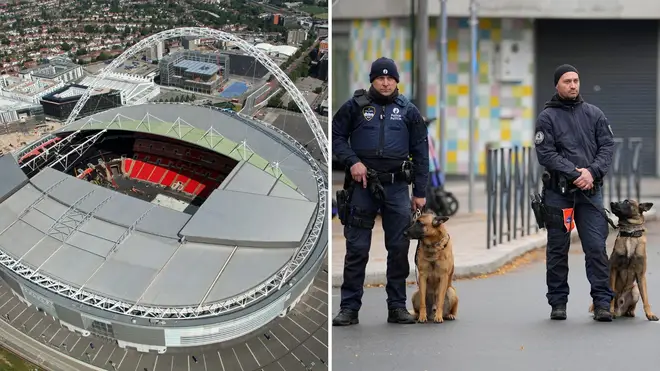 Police put on a "highly visible" presence at England's game against Italy on Tuesday evening as they urged fans who see anything suspicious to report it after the Brussels attacks.
England eventually won the Euro 2024 qualifier 3-1, thanks to two goals from Harry Kane and one by Marcus Rashford, and the game passed without major incident.
Two Swedish football fans wearing their country's kit were killed in Brussels by a terror suspect who claimed he was part of Isis.
They were some three miles from the King Baudouin Stadium, where Sweden and Belgium were due to play their own Euro 2024 qualifier on Monday night. The match was abandoned 1-1 at halftime.
Israel's war with Hamas has raised community tensions amid a spike in anti-Semitic crimes in London.
Read more: Police shoot terror suspect at Brussels cafe in manhunt for 'Isis' gunman who killed two Swedish football fans
The Met said a "highly visible policing presence" would be at Wembley as England prepared to take on Italy in their own Euro 2024 qualifier on Tuesday evening "given the events yesterday in Brussels".
The match commander for the game, Superintendent Gerry Parker, said: "We have been working with our partners, including the FA, in the weeks leading up to this match to ensure those attending the Wembley area enjoy this match.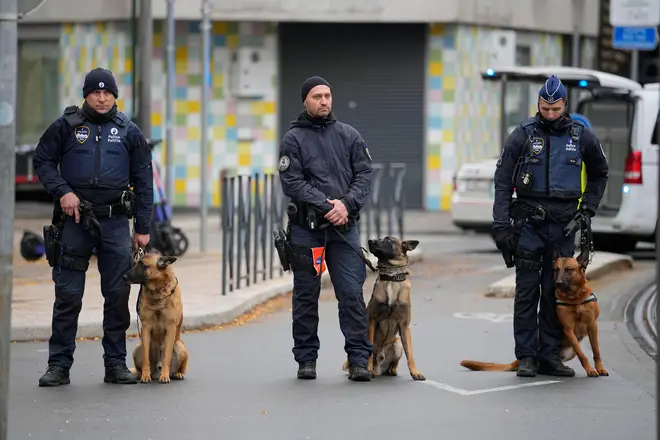 "Our officers are experienced in dealing with large-scale public order events, and a flexible plan is in place to reduce the likelihood of crime and disorder, and provide a timely response to any emerging incidents.
"Please ensure you arrive in good time for the match and remain vigilant throughout; if you see anything suspicious then flag it an officer or one of the match stewards immediately so the necessary action can be taken."
Read more: 'Prove you stand against violence': Antisemitism campaigners slam 'cowardly' decision to not light up Wembley for Israel
A terror suspect in Brussels was shot at a cafe following a manhunt.
He has been identified as "Abdesalem L", a 45-year-old originally from Tunisia.
The mayor of Brussels Phillippe Close said "it would appear that the suspect has been neutralised".
Federal prosecutors confirmed the suspect was shot and killed by police. A weapon found at the cafe was the same one used in Monday's attack.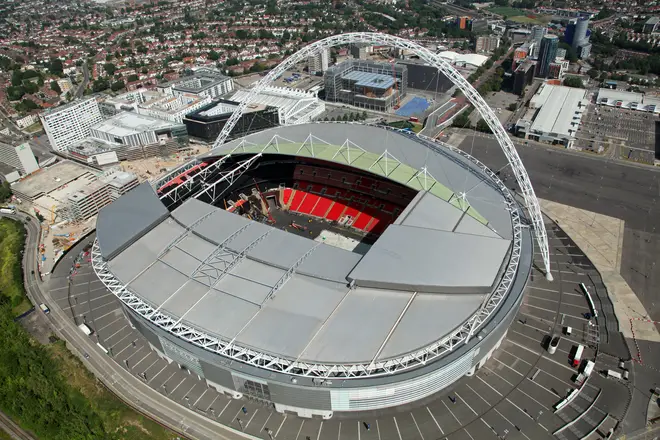 Belgian authorities have raised the terror alert to its highest level in the capital.
While a man identifying himself as the shooter on social media said he was part of Isis, authorities said there was no indication the attack was linked to the Israel-Hamas war.
Sweden's players chose not to come out for the second half and the game was abandoned.
Fans were held in the stadium for hours before being let out.
England's game comes after the Football Association decided against lighting up Wembley in the Israeli's colours, instead opting for a period of silence for the victims of the conflict.
The decision was criticised by the Campaign Against Antisemitism as "spineless".