Junior doctors' strikes costing NHS £1bn as health secretary labels fresh wave of industrial action 'reckless'
11 August 2023, 01:34 | Updated: 11 August 2023, 02:05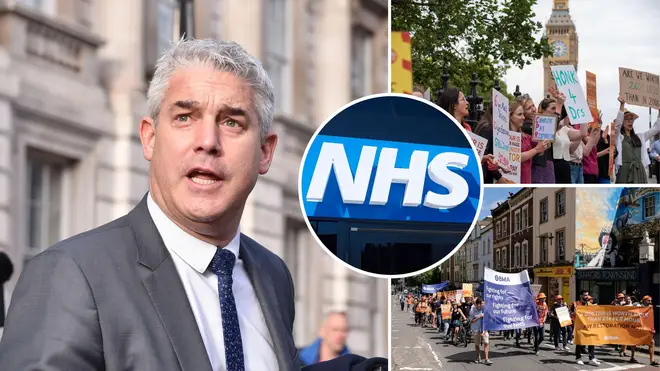 Striking junior doctors have cost the NHS around £1 billion so far this year according to new data, as union members are set to walk out for the fifth time on Friday.
New figures have suggested that striking junior doctors have cost the NHS around £1 billion so far this year after 16 days of industrial action.
The figure accounts for finding cover for absent staff and making up for lost appointments, which the NHS chief financial officer estimated makes up a third of strike costs.
Consultants providing cover during the strikes have reportedly been paid up to £2,000 a day, or £5,000 for a 24-hour shift, as the union members remain in an ongoing pay dispute with the government.
Junior doctors who are members of the British Medical Association (BMA) are set to start up strikes for a fifth round on Friday August 11 at 7am lasting until Tuesday August 15 at 7am.
"The BMA continues to act recklessly by going ahead with further unnecessary strike action this week, which serves only to harm patients and put further pressure on their own colleagues," Health Secretary Steve Barclay said.
He also said: "Patients are bearing the brunt of the impact of continuous strikes across the NHS and further action by the BMA will cause more appointments and procedures to be postponed, while costing the NHS significant amounts of money that should be spent on front-line services.
"My door is always open to discuss how to improve doctors' working lives, but this pay award is final so I urge the BMA to end its strikes immediately."
Read more: 'It's prosperous, frankly': Iain Dale disagrees with Labour's claim that doctors' strikes are not tied to waiting lists
Read more: Thousands of passengers face holiday chaos as Gatwick Airport workers announce fresh strikes throughout August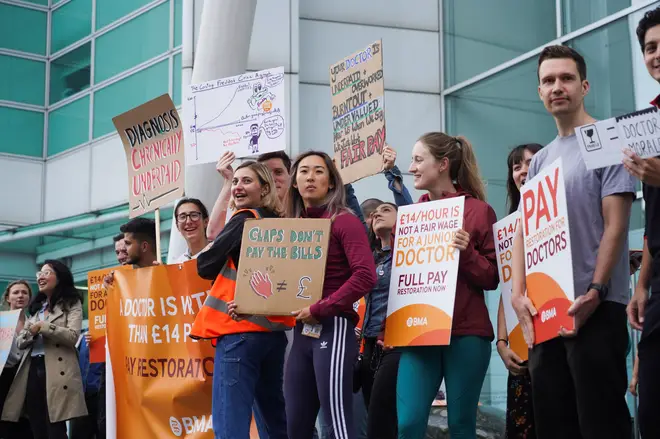 NHS chief financial officer Julian Kelly recently told the NHS England board that the five-day walkout in June cost the health service £315m.
Figures show that around 830,000 appointments have been postponed as a result of all NHS strikes, and three-quarters of these numbers have been attributed to junior doctors' strikes alone.
The pay dispute remains ongoing between the the BMA and the government, as the BMA has claimed it would cost the NHS £1 billion a year to meet its pay demands.
However, Mr Barclay suggested the total figure would be closer to £2 billion a year - the NHS' total budget is £160 billion.
Junior doctors were offered a pay rise of roughly 6% last month in what Rishi Sunak described as the "final" offer.
The BMA is currently re-balloting its members on whether to extend the mandate for strike action for a further six months.
It comes after it emerged on Thursday that the number of people on NHS waiting lists has hit a record high of 7.6 million people.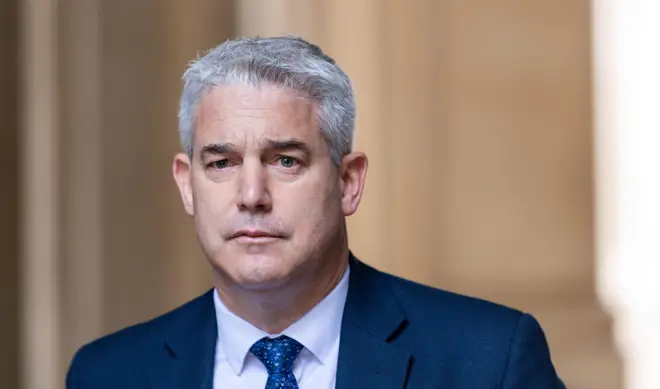 Dr Robert Laurenson and Dr Vivek Trivedi, co-chairmen of the BMA junior doctors committee said of the strikes: "We are now at the stage where a whole new cohort of junior doctors is entering the profession, only to be immediately given no choice by the Government but to go on strike for their future.
"The Government should be ashamed that this is the state of the profession they are presenting to our newest doctors."
The fresh wave of strikes has arrived after NHS health officials have claimed this summer has already been the busiest on record for the health service.
Professor Julian Redhead, NHS England's national clinical director for urgent and emergency care, said on Thursday: "Today's data is a reminder of the significant pressure on staff with this summer, currently on trajectory to be the busiest in NHS history, all while industrial action continues to disrupt services."