'Heartbroken' woman who had allotment destroyed by vandals gets more than £200k from donors - including Gary Lineker
13 April 2023, 18:24 | Updated: 13 April 2023, 22:19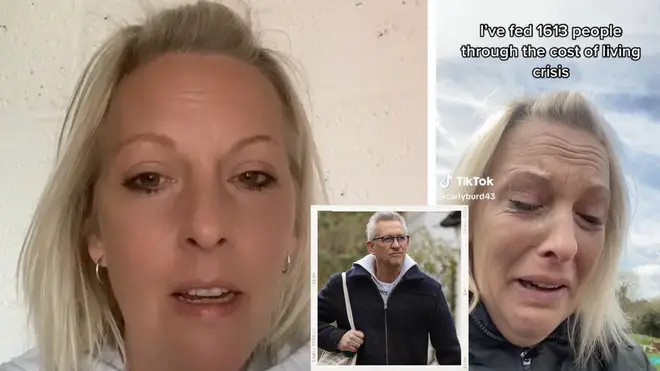 A woman whose allotment was destroyed by vandals has been left stunned after receiving more than £200,000 in donations, including from Gary Lineker.
Carly Burd turned her garden into an allotment during the cost-of-living crisis to provide for those who cannot afford food.
She had already set up a GoFundMe campaign when her allotment was destroyed, but donations have sky-rocketed since vandals covered the allotment in five kilograms of salt.
Speaking on her TikTok, Ms Burd said: "Thank you so much for the donations, bless you. It really does mean a lot.
"I'm still absolutely heartbroken. I went down there today to do some digging and all I could taste was salt in the air - to the point where I had to keep going for a drink."
She continued: "It's been a whirlwind.
"I took a picture (of the then top donation) just because it said Gary Lineker... I couldn't believe it, I was over the moon."
Read More: Woman who fed over 1,600 during cost-of-living crisis left 'heartbroken' after cruel vandals destroy allotment
Ms Burd, 43, began growing her own vegetables in July 2022, and says she's been able to feed 1,600 people as the nation faces soaring food prices.
The mum-of-three, who has multiple sclerosis and lupus and is on disability benefits, started growing in her own back garden, before supporting the local community with fresh produce out of a nearby allotment.
But on Saturday 8 April, Carly revealed that heartless thugs had ravaged the patch.
"I came down on Saturday morning and I just tasted and saw [the salt]," she said.
"Five kilograms plus of salt has been poured over my garden. It wasn't a kid grabbing it - it was an adult who knew what they were doing."
Read More: TikTok fined £12.7m after it 'did not do enough' to keep under-13s off platform
Read More: Review into impartiality guidance launches after Gary Lineker social media fury
The vandalism was met with fury online, including from Gary Lineker, who tweeted angrily: "Why would you ever do something like that?"
The sports presenter is among a list of celebrities to donate to Ms Burd, donating £500.
Steven Bartlett is at the top of the list of donations having given Ms Burd £2000.