Women 'quite clearly' can have a penis, Lib Dem leader Sir Ed Davey tells LBC
23 May 2023, 13:58 | Updated: 23 May 2023, 14:05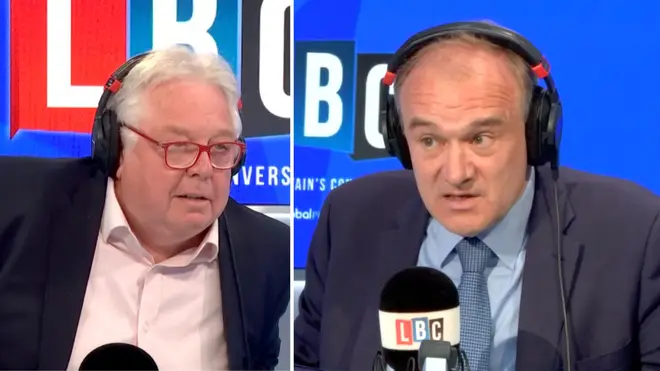 Leader of the Liberal Democrats Sir Ed Davey has told LBC that women "quite clearly" can have a penis.
Asked by caller Mary whether he could name what a woman is, Sir Ed said: "The truth is, Mary, the vast majority of people whose biological sex is a woman when they were birthed - they feel they're women.
"They feel they're gendered the same as at birth but there is a very small number of people who don't feel like that, and the law has recognised them for over 20 years now."
He added: "There's a small number of people who, actually, they have a tough time. They're harassed, they're discriminated against; real, serious mental health issues, and I think we need to debate this...with a bit more maturity and a bit more compassion."
Pressed further by LBC's Nick Ferrari on whether women can in fact have a penis, Sir Ed responded: "Quite clearly."
Listen and subscribe to Unprecedented: Inside Downing Street on Global Player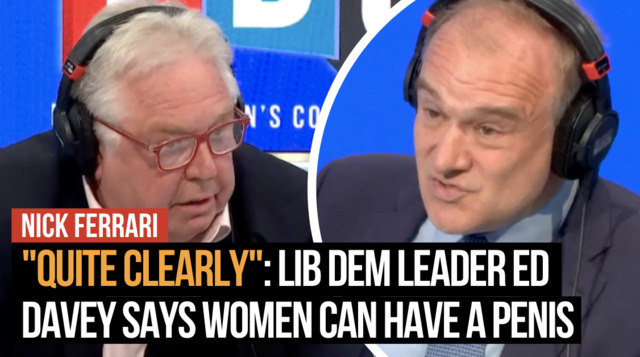 Ed Davey: It is possible for a woman to have a penis
Read More: 'I had points years ago,' Sir Keir says as he calls for Home Secretary speeding claims to be investigated 'immediately'
Read More: 'People in power don't act with integrity': Ed Davey denounces Suella Braverman over speeding row
It comes after leader of the Labour party faced similar questions about his position on whether women can have a penis.
Speaking to LBC's Nick Ferrari at Breakfast, asked if he wanted to clarify his comment that one in 1,000 women do have a penis, Sir Keir replied: "No we don't need to do that.
"I was trying to create some common sense frameworks to the discussion that we inevitably have. By just starting with the common sense proposition that for the vast majority, let's say 99.9 per cent, biology matters.
"Women have won many rights, smashed glass ceilings, won on equality and discrimination.'We can't roll any of that back and, in fact, there are more battles to be had for women."