Shocking footage shows XL Bully mauling boy in Blackburn as man arrested after victim's family threatened after attack
20 November 2023, 12:37 | Updated: 20 November 2023, 15:25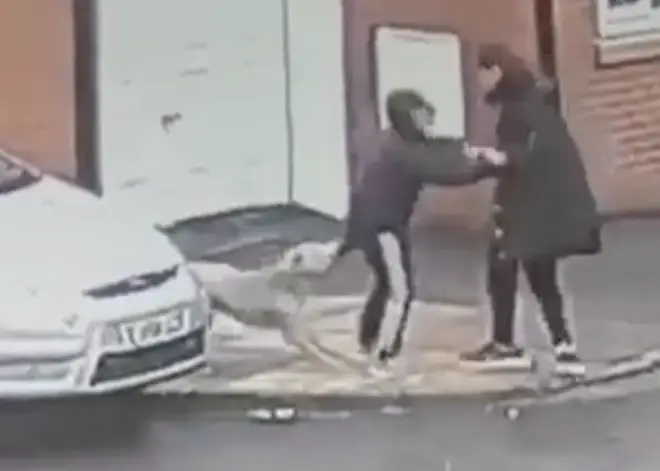 A boy has been savaged by an XL Bully in Blackburn, with the attack caught on camera.
The attack took place as the boy walked past a mosque in the Lancashire town on Saturday shortly after midday with an adult.
Footage shows the boy turning away and moves closer to the adult. The dog then bites onto the boy's coat.
The adult desperately tries to free the boy from the dog's clutches, as other bystanders also rush to help.
One passer-by tried to prise the dog's jaws apart, as someone else ran off to get assistance.
Read more: 'American Bully XL' to be destroyed after attacking two women in Staffordshire
Read more: Two hospitalised with serious injuries after 'XL Bully' attack sees woman fall from window of flat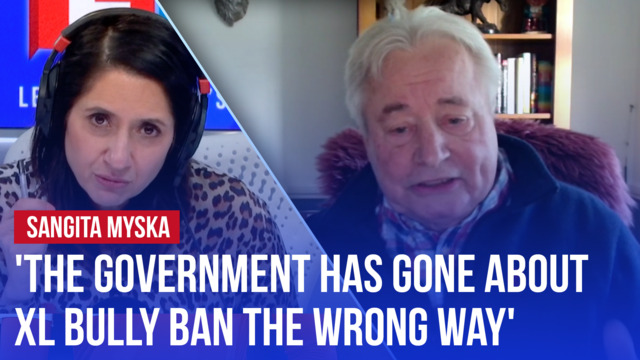 Dog behaviour specialist says the ban on XL bullies has been turned into a 'fiasco' by government
Police were called at about 12.20pm and seized the dog. It is unclear how badly the boy was hurt in the attack.
The victim's family were threatened after the attack. A man was arrested on suspicion of assault.
Police said: "The dog – which at this time we believe is an XL Bulldog type – has been seized.
"A short time later it was reported that threats had been made towards the family of the victim.
"A 27-year-old man from Blackburn was arrested on suspicion of assault – ABH and affray and has since been bailed pending further enquiries."
Shelagh Fogarty isn't impressed with caller Glen's defence of his two XL Bully dogs
XL Bullies have been blamed for a series of deaths and serious injuries in recent years.
It will be illegal to own an XL bully from February 1 2024 unless the animal is on an exempt list, called the Index of Exempted Dogs.
Those who want to keep their dogs will have until the end of January to register them with the exempt list, and will then be forced to comply with strict requirements.
Then-environment secretary Therese Coffey told LBC earlier this month: "There's been a significant increase in attacks, particularly from this breed as a proportion of dogs, and more broadly, the Dangerous Dogs Act makes it a criminal offence for people to have a dog dangerously out of control.
"There have been a lot of attacks, well-publicised, and it's important that we took this robust decision."