'Let's remember Zara and not him', family of Zara Aleena tells LBC, as killer's minimum term sentence reduced
3 November 2023, 14:13 | Updated: 3 November 2023, 17:33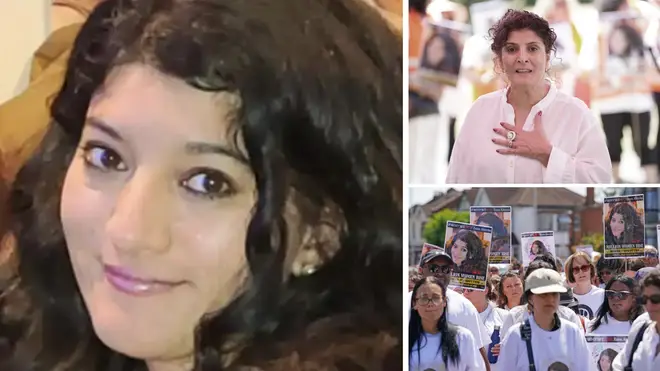 Zara Aleena's family have urged the public to 'remember Zara's legacy' and 'forget about her killer' after he won a Court of Appeal bid to reduce the minimum term of his sentence on Friday.
Judges ruled on Friday that too high an "uplift" had been imposed on McSweeney's sentence last December. His minimum term life sentence has now been reduced to 33 years.
Jordan McSweeney, 30, killed the 35-year-old law graduate while she was walking home alone in the early hours of June 26 last year when she was stalked along Cranbrook Road in Ilford.
McSweeney was caught on camera grabbing her from behind and dragging her into a driveway, where she was subjected to a horrific violent attack that lasted nearly ten minutes, and ended with him stamping on the victim.
Ms Aleena was found struggling to breathe and later died in hospital.
Her killer was handed a 38 year minimum term sentence last December after admitting to Ms Aleena's murder and sexual assault.
Ms Aleena's aunt, Farah Naz, to that the decision to reduce his minimum sentence on Friday was a "disheartening message for women" but urged the public to "remember Zara's legacy" in spite of it.
Speaking to LBC's Shelagh Fogarty, she said: "I'm disappointed, we would as a family, if we had the law in our hands, extend the minimum sentence to a life sentence.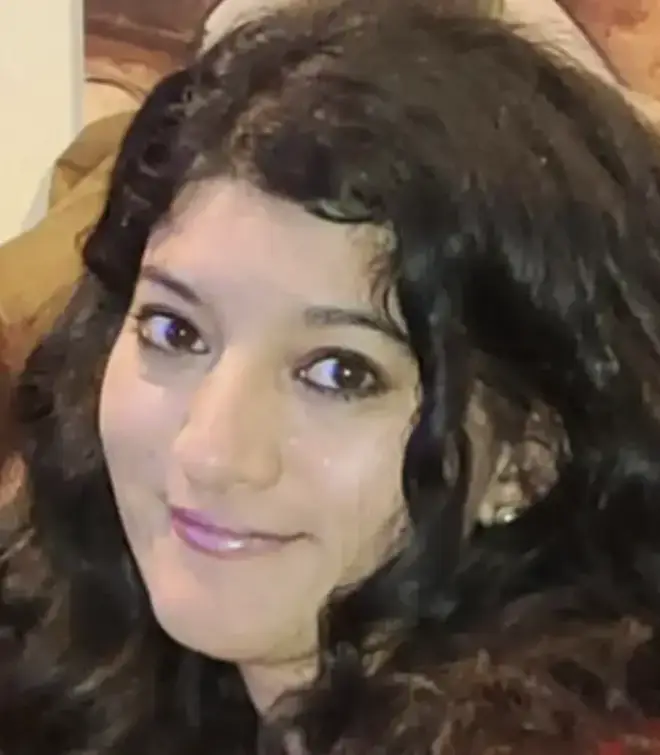 "People often say to me this [ruling] must re-traumatise you and re-traumatise your family. We're not re-traumatised because we haven't escaped the trauma yet.
"Our heads come up above the water occasionally, we have moments where we have to breathe. Breathing and living is a struggle and as a family we have to work really hard to be joyful."
She continued: "We do allow ourselves to rise above the trauma, and we have to, but we do struggle intensely still. What's important, the key message from today, and for everybody to remember is: let's remember Zara and not him. Let's put him away, forget him, he's not important. Let's think about the change and Zara's legacy."
In a statement issued by Ms Aleena's aunt, Farah Naz, after the ruling on Friday she said: "Today's decision, a decision to reduce the minimum sentence for that repugnant man, aligns with an established legal sentencing framework, a framework we comprehend.
"Yet, the message it conveys to women is disheartening, suggesting that a 'life sentence' may not truly mean a lifetime behind bars. It is, in all honesty, a shallow triumph for him.
"Despite his sentencing to a minimum of 33 years, his time in incarceration has been marred by abhorrent conduct, marked by a lack of remorse and a callous attitude toward others. The prospect of his release after 33 years remains slim, but, naturally, we hope he remains imprisoned for life."
Read more: More than 120 Met officers face no restrictions despite being under investigation for sexual or domestic abuse
Read more: Zara Aleena's killer Jordan McSweeney walks out of own appeal hearing for shorter sentence saying he's "had enough"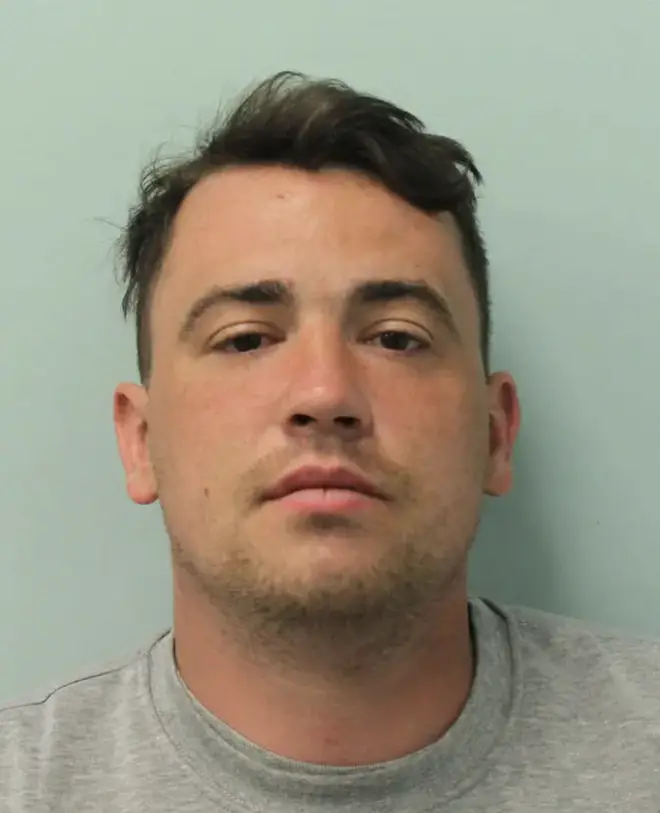 McSweeney, who refused to attend his sentencing in December, made an appeal for a reduced sentence last month via videolink from Long Lartin prison in Worcestershire.
McSweeney's barrister George Carter-Stephenson KC told the court that while there was a sexual motive to the crime committed by his client, the murder was not premeditated.
The sentencing judge, Mrs Justice Cheema-Grubb, had therefore wrongly factored in the "aggravating features" in the case, he argued.
"At the outset can I make it clear that it is accepted that the attack and murder in this case was particularly savage and brutal, and nothing I intend to say in this address is in any way meant to detract from that," Mr Carter-Stephenson told the court.
He continued: "The attack was an opportunistic act rather than anything that was planned in advance, though there was clearly a sexual encounter in mind.
"He planned to look for a sexual encounter, with or without consent."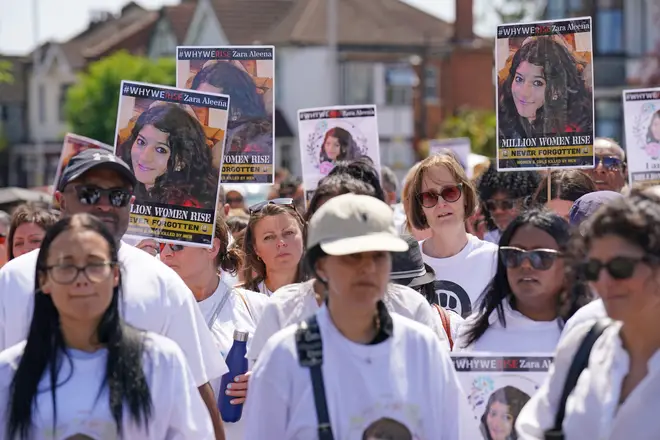 McSweeney had targeted at least five other women before sexually assaulting and murdering Ms Aleena in Ilford.
The attack lasted nine minutes and Ms Aleena suffered 46 separate injuries. It was caught on CCTV.
But Oliver Glasgow KC, for the Crown Prosecution Service, said the idea that McSweeney did not intend to kill Ms Aleena was "unsustainable" due to his stalking of other women before the attack.
"The sexual assault of Ms Aleena was the culmination of hours of planning and premeditation," he said.
Judges announced the reduction to McSweeney's minimum term life sentence on Friday.
Lady Chief Justice Lady Carr, sitting with Mrs Justice McGowan and Mrs Justice Ellenbogen, said on Friday: "Having correctly found that Ms Aleena must have been rendered unconscious at an early stage in the attack, the judge had lacked a sufficient evidential basis on which to be sure that there had been additional mental or physical suffering such as to justify an increase in the 30-year starting point.
McSweeney pleaded guilty to murder and sexual assault in December, and it emerged that he was due to be recalled to prison at the time of the murder.
He was released just nine days before killing Ms Aleena and had his license revoked during this time for failing to attend probation meetings.
McSweeney was known to police as a serial offender, with 28 previous convictions for 69 offences, including burglary and assault.
Following the ruling, Ellen Miller, Interim CEO of Refuge, said: "Refuge is devastated by the news that Zara's killer has won an appeal to reduce the minimum term of his life sentence. Our thoughts are wholeheartedly with Zara's family, and the families of all the women and girls who have lost their lives to male violence.  
"While nothing will bring Zara back, the end of the traumatic court proceedings, and the sentencing of her killer last year, meant that her family were finally able to start the grieving process. By appealing his sentence, her killer, has shown he has no compassion or remorse for his abhorrent crimes, and has only served to inflict further trauma and pain on her family.  
"At Refuge, we know that it is common for perpetrators of abuse to use the criminal justice system, and appeal processes, to inflict further harm onto women, and their families. Court processes should not be facilitating further abuse, need to do more to support families of those who are killed and deliver justice for victims.  
"Refuge stands in solidarity with the families of all women and girls killed by male violence. We understand many will be deeply impacted by the news today. If you need support, Refuge is here for you. You can contact us 24 hours a day, 7 days a week on 0808 2000 247, or via www.nationaldahelpline.org.uk."