Cross Question with Iain Dale 16/10 | Watch Again
16 October 2023, 22:06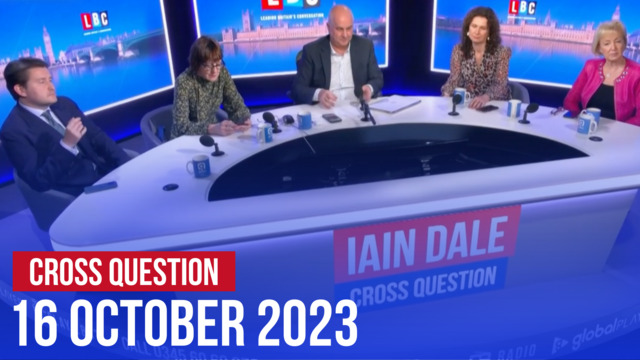 Cross Question with Iain Dale | Watch Again 16/10
You can watch Monday's Cross Question in full again here.
Iain Dale was joined by:
Dame Andrea Leadsom – Conservative MP for South Northamptonshire, former Business Secretary, former Environment Secretary and former Leader of the House of Commons
Wendy Chamberlain – Liberal Democrat Chief Whip, spokesperson for Work and Pensions and Liberal Democrat MP for North East Fife
Zoe Williams – The Guardian columnist
Benedict Spence: Journalist and political commentator
Cross Question is live every Monday, Tuesday and Wednesday from 8pm. You can watch live on Global Player.