Emily Thornberry Says She's "Seriously Worried" About Boris' Iran Gaffe
7 November 2017, 18:29
Emily Thornberry has told LBC she is "seriously worried" Boris Johnson's diplomatic blunder may have caused irreversible damage to the case of a British woman being held in an Iranian jail.
The Foreign Secretary has faced calls to resign after he claimed Nazanin Zaghari-Ratcliffe had been training journalists in Iran, something the Tehran authorities has since used as proof she was "spreading propaganda" against the regime.
There are fears his remarks could extend Ms Zaghhari-Ratcliffe's five-year jail term, after she was arrested last year while on holiday for allegedly acting as a spy.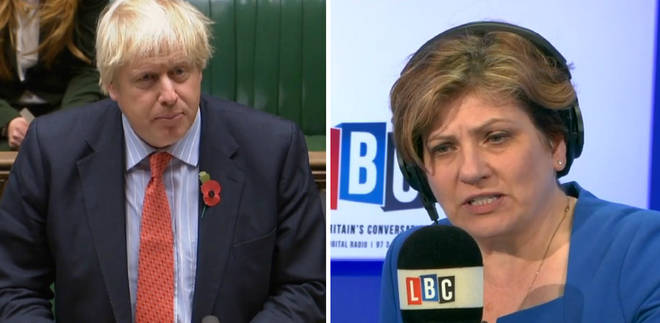 Mr Johnson has since admitted "I could have been clearer" with his remarks, but the Shadow Foreign Secretary said that was not enough.
Reacting to his blunder with Iain Dale on Tuesday afternoon, Ms Thornberry said: "I'm seriously worried.
"Leaving everything aside, leaving party politics or anything else, we're talking about a young mother.
"We're talking about somebody who was on holiday, seeing her family with her little baby and she's ended up in jail.
"She could get another five years because of what our Foreign Secretary has said about her and that really worries me.
"In the end we're talking about people here."