LISTEN: Leadsom Makes Her Case To Be PM
30 June 2016, 16:02 | Updated: 25 August 2016, 17:39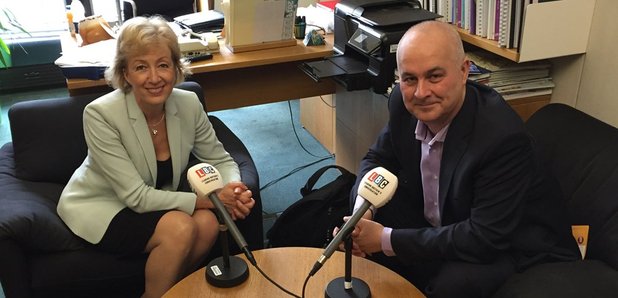 Andrea Leadsom gives an in-depth interview to Iain Dale as she makes her case to be the next Prime Minister.
Leadsom is running to replace David Cameron as leader of the Conservatives and says she felt she "had to stand".
Put on the spot by Iain about her low profile compared to frontrunners Theresa May and Michael Gove, Leadsom said: "I'm not without experience but I absolutely recognise I'm not very well known."
"I would point to the 25-year career that I've had, running financial services businesses.
"I've had to make some very big businesses decisions...doing some pretty serious and important things. I am absolutely confident in my own mind I can be tough when I need to be."
Leadsom also reacted to Boris Johnson pulling out of the race to replace Cameron this morning: "I was absolutely astonished that he pulled out."
She denied that her decision to run was because Boris failed to offer her a satisfactory role in any government he might form.
Leadsom then explained that if she won the race, she would appoint a Deputy Prime Minister who was tasked with leading Brexit negotiations with the European Union.
Leadsom promised to "focus on delivery".
"I'm an action person, I absolutely focus on the delivery.
"The policy ideas are vital but actually if you then don't implement them, they're just words."
She also shared her views on HS2, calling for an early review of the "incredibly contentious" project. "With my economic hat, I would have to look at: have we gone too far?
"I would certainly want to have a review of that, early days."