Theresa May Has Failed Her Party And Her Country: Iain Dale's Scathing Take On PM
9 June 2017, 16:20 | Updated: 12 June 2017, 16:04
This is Iain Dale's scathing attack on Theresa May's election campaign where he describes how the Prime Minister has "failed" her country and party.
The LBC presenter lambasted the Prime Minister for her speech outside No 10 today where she failed to acknowledge her party's losses.
In her brief statement, Mrs May said the Conservatives and the DUP would work together "in the interests of the whole United Kingdom".
She added: "This will allow us to come together as a country and channel our energies towards a successful Brexit deal that works for everyone in this country, securing a new partnership with the EU which guarantees our long-term prosperity."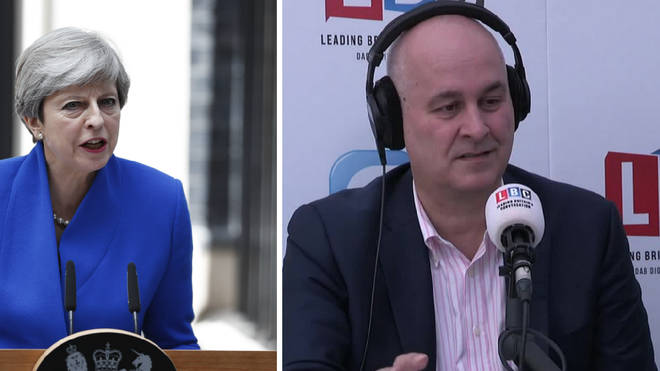 But, Mrs May's apparent failure not to acknowledge her party's humiliating campaign did not go down well with Iain.
He said: "I thought on what planet did her advisers think that was an appropriate speech to make?
"I was appalled by it, it was tone-deaf to the political reality that she finds herself in and she finds herself in a position where she is Prime Minister in name only.
"All power has seeped away from her. The Conservative Party regards her as a figure from the past and it's only a matter of time before she falls on her sword.
"Or it would take is one or two Cabinet ministers to resign and she would go and I say that more in sorrow than anger."
Watch his passionate speech in full above.