Tobias Ellwood Recalls Moment He Tried To Explain Westminster Attack To His Son
22 March 2018, 17:53
A hero MP who tried to save the life of a police officer killed in the Westminster terror attack has opened up about how he explained the atrocity to his son.
Tobias Ellwood rushed to the aide of PC Keith Palmer after he was stabbed while on duty at the gates of the Palace of Westminster.
Today marks one year since killer Khalid Masood ploughed into pedestrians on Westminster Bridge before attempting to launch an attack on Parliament.
During an interview with LBC, the defence minister recalled an "eerie silence" following the death of PC Palmer.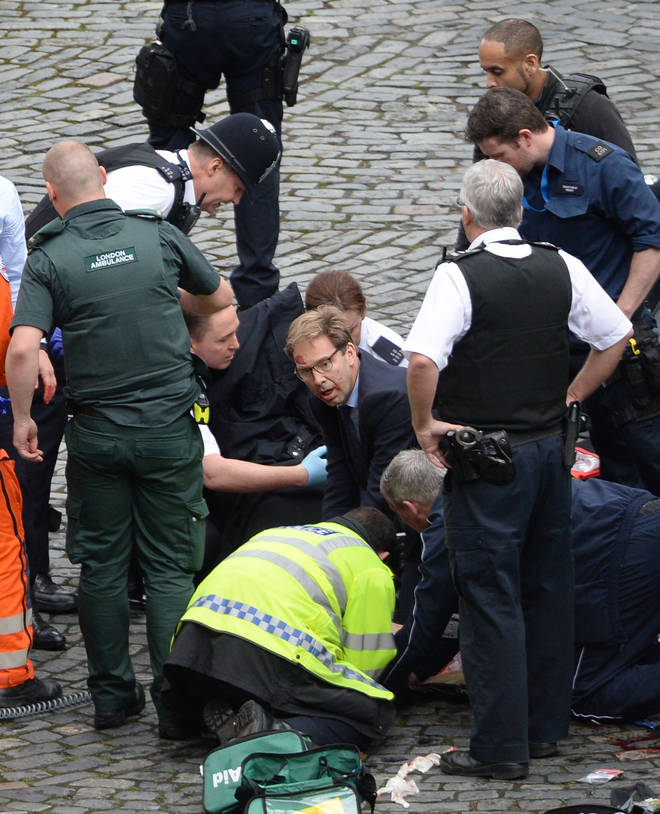 He told Iain Dale that he returned home that night to find his young son in tears.
"I have a nine-year-old and a three-year-old," Mr Ellwood told LBC.
"I didn't want to talk about it, but when I got back in at 10 o'clock in the evening he was sitting on top of the stairs waiting for me.
"He refused to go to bed and he was in tears, he couldn't comprehend it.
"He certainly couldn't understand how a place he was familiar with - because he had visited - would be attacked and an individual with a knife would then kill somebody else.
"And then, more bizarrely, why his father would then want to go into that arena."
The Tory MP continued: "I just tried to explain that there are some bad people in this world and that there are more good people.
"It's the good people that win in the end and that is the most important message that good prevails over bad."