"You're A Blithering Idiot!" Iain Dale In One Of His Most Explosive Rows Ever
31 July 2018, 19:07 | Updated: 31 July 2018, 19:15
Iain Dale branded this caller a "blithering idiot" during one of the most explosive LBC rows to date.
The furore erupted after Nigel accused the LBC presenter of being a Hamas sympathiser.
Listeners were hooked on the argument - with many quick to praise Iain's handling of the call on Twitter.
It was over a Foreign Office report which said Britain must be prepared to strike deals with "unsavoury" regional elites.
"There will be times when we have to hold our nose and support dialogue with those who oppose our values, or who may have committed war crimes," minister Alistair Burt, the report's commissioner, said.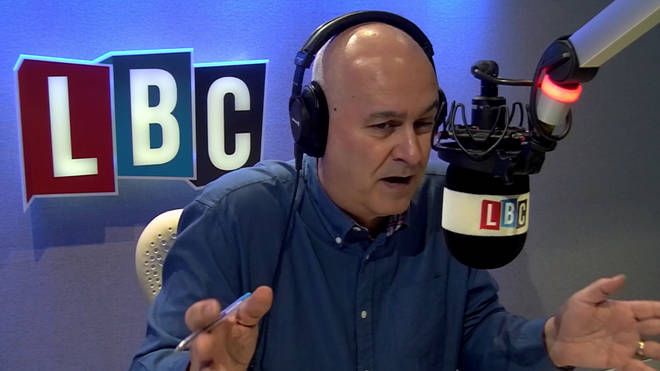 Nigel wrongly claimed Iain had suggested the government should always speak to terrorist organisations.
But, when the caller refused to listen, Iain boomed: "Will you shut up!"
The caller retaliated: "You seem to have sympathy with Hamas."
@IainDale well done for sticking it to Nigel in Marylebone he was full of it

— j o h n n y (@Jonathanlais071) July 31, 2018
Iain replied: "I have no sympathy for Hamas whatsoever - I would not give them the time of day.
"I would not talk to them, I would not do anything with them."
Noticing the LBC's anger, Nigel said: "You've lost your temper."
Iain hit back: "Yes I have lost my temper with you because you're a blithering idiot that's why."
The pair did not hold back - watch it unfold in full above.