Adam Johnson's ice hockey teammates and fans pay emotional tribute to player whose throat was cut in freak incident
18 November 2023, 20:47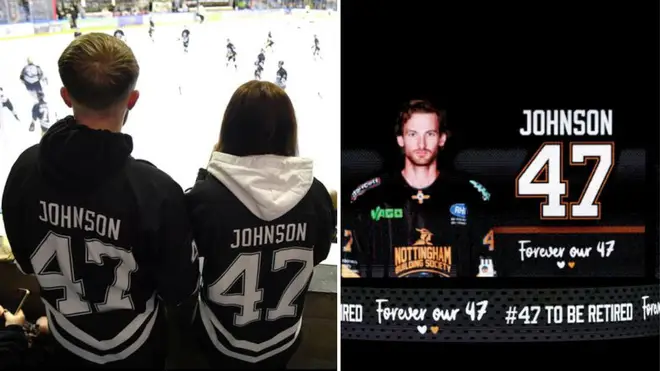 Adam Johnson's teammates and fans have paid an emotional tribute to the ice hockey player after he died when his throat was slit in a collision in a game last month.
His neck was cut by a skate as Nottingham Panthers played Sheffield Steelers. A man has been arrested on suspicion of manslaughter.
Johnson's former Panthers teammates played in a memorial game for him against Manchester Storm on Saturday "to celebrate the life of Adam and the remarkable person he was".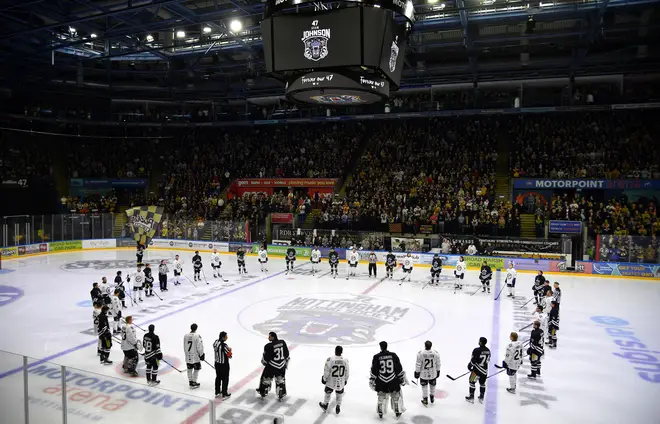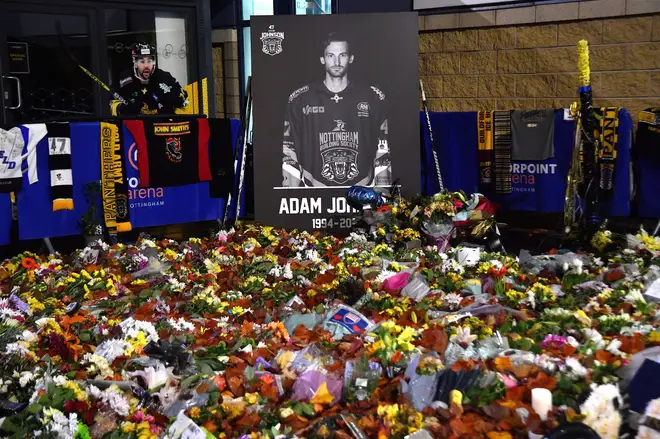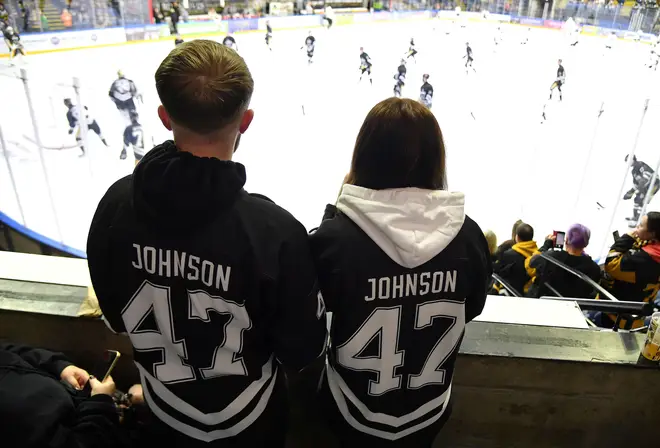 The game opened with a tribute to Johnson, and fans applauded on the 47th minute, a nod to his shirt number. A large sign above the rink showed Johnson's face and said: "Forever our 47".
The Panthers are set to retire the number 47 in Johnson's honour.
Players also banged their sticks on the ice as the 10,000-strong crowd chanted his name.
The aim of the game was to pay tribute to Johnson and bring the game together after his death.
"We're not just hockey fans - we're a hockey family," said Panthers fan Margaret Cartwright.
"In a split second something went wrong and unfortunately, we lost poor Adam."
Read more: 'Risk of future deaths': Coroner calls for ice hockey neck guards to be mandatory after death of Adam Johnson
It comes after South Yorkshire Police said officers arrested a man on suspicion of manslaughter on Tuesday and he remains in custody.
"Our investigation launched immediately following this tragedy and we have been carrying out extensive enquiries ever since to piece together the events which led to the loss of Adam in these unprecedented circumstances," Detective Chief Superintendent Becs Horsfall said.
"We have been speaking to highly specialised experts in their field to assist in our enquiries and continue to work closely with the health and safety department at Sheffield City Council, which is supporting our ongoing investigation.
"Adam's death has sent shockwaves through many communities, from our local residents here in Sheffield to ice hockey fans across the world.
"We know these communities will expect us to handle this investigation with the same professionalism, fairness and sensitivity as any other and request that members of the public refrain from comment and speculation which could hinder this process. Our thoughts remain with all affected by this devastating incident as enquiries continue."
No further details were released.
Johnson, 29-year-old, was killed as he played for the Panthers against the Steelers on October 28.
Read more: 'To me you were everything': Adam Johnson's fiancée pays emotional tribute as ice hockey star laid to rest
His father Davey, his grandmother and his aunt, Kari, were watching on from their home in Minnesota.
The game was stopped with just over half an hour played and the crowd of 8,000 at the Sheffield Utilita Arena were told to leave the stadium.
Johnson, a former Pittsburgh Penguins player in the NHL, was described as a "great kid who really cared about people" and a "real down to earth guy".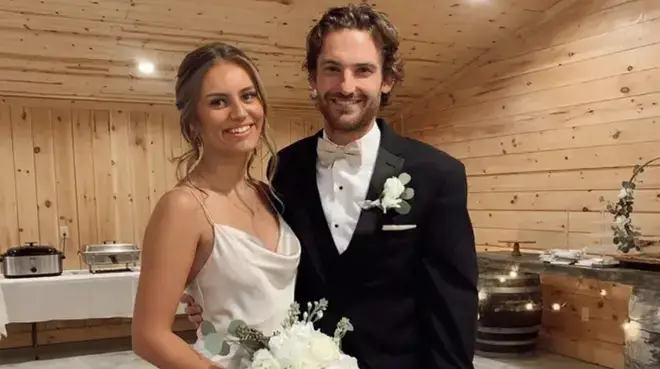 He was laid to rest in his hometown of Hibbing, Minnesota earlier in November.
His fiancée, Ryan Wolfe, read a letter at the memorial service.
"You've been so amazingly supportive and kind to me since the day we met," she said.
"And I couldn't have been more grateful for it. I always thought that maybe if I was lucky enough, after a lifetime together, that I might start to be more like you.
"You're such a special person, you have the best sense of humour, the biggest heart, the quickest wit and the kindest soul. You're unbelievably loyal, dedicated and smart. You're so, so smart.
"Whether it came to school or life in general, you just seem to have it all figured out, which gave me so much peace and comfort, and made me feel like we could do anything, or be anything, and we'd be OK. We'd be happy."