Alec Baldwin says he feels no guilt over Halyna Hutchins fatal shooting
3 December 2021, 08:33 | Updated: 3 December 2021, 09:46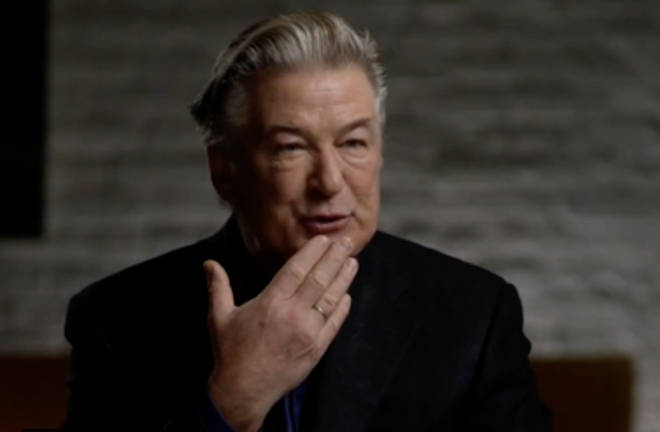 Alec Baldwin has said he does not feel guilt over the death of Halyna Hutchins as he was "not responsible" for the fatal shooting on the set of Rust.
Halyna Hutchins, 42, was killed in October when a prop gun - which Mr Baldwin was holding - went off during filming in New Mexico.
Joel Souza, the director, was also wounded by the bullet after it passed through Ms Hutchins, a married mother of one who died on the way to hospital.
Mr Baldwin had been told by an assistant director that the gun was safe when it was given to him during rehearsals, according to police records.
In his first interview since her death in October, Mr Baldwin was asked by ABC News if he felt any personal responsibility or guilt.
He said: "No. no. I might have killed myself if I thought I was responsible, and I don't say that lightly.
"I don't know what happened on that set. Someone put a live bullet in a gun, a bullet that wasn't even supposed to be on the property.
"Someone is responsible for what happened, and I can't say who that is, but I know it's not me."
Read more: Met chief 'doesn't accept' failure as poll reveals only half of Londoners trust the force
Read more: Distraught Alec Baldwin speaks out: 'Halyna Hutchins shooting a one in a trillion event'
Mr Stephanopoulos went on to say: "It wasn't in the script for the trigger to be pulled."
Mr Baldwin replied: "Well the trigger wasn't pulled, I didn't pull the trigger."
He also said he dreams about the incident "constantly" adding "I couldn't give a shit about my career anymore."
Stephanopoulos then asked Baldwin if his career was over, to which he replied: "It could be."
Although there has been speculation that Baldwin could face criminal charges over the incident, he told Stephanopolous people "in the know" believe that to be "highly unlikely".
Mr Baldwin is being sued by a crew member of the movie over the fatal shooting.
Serge Svetnoy, the film's head of lighting, says he's suffered "severe emotional distress" because of Halyna Hutchins' death.
Read more: Exclusive LBC poll: Only half of Londoners trust the Met
Read more: 'Predators down the hall': Students tell of spiking epidemic plaguing universities
He says the bullet which killed his close friend narrowly missed him - and that he held her head as she died.
During the emotional interview Mr Baldwin described the events before the shooting where he was rehearsing a scene in which he was playing a character who drew his weapon on two foes.
The actor recalled the film's first assistant director, Dave Halls, handed him a revolver and told him "this is a cold gun" - an industry term for a weapon that is either empty or loaded with dummy rounds.
The actor said Hutchins proceeded to instruct him on where and how to hold the weapon, "which ended up being aimed right below her armpit".
Read more: Police bodycam footage shows 'evil' murderer stepmum claim Arthur, six, attacked her
Read more: Man jailed for spiking drink in London pub with viagra with intention of sexual assault
In order to get a particular shot, Baldwin said he needed to cock the gun but not fire it.
Stephanopoulos then asked if Baldwin ever pulled the trigger.
"No, no, no, no, no," Baldwin replied. "I would never point a gun at anyone and pull a trigger at them."
For confidential emotional support at times of distress, contact Samaritans at any time by calling 116 123 or emailing jo@samaritans.org