American tourist shocked to find London Airbnb is just a 'large-ish' bathroom with a bed in it
11 July 2023, 14:51 | Updated: 11 July 2023, 15:19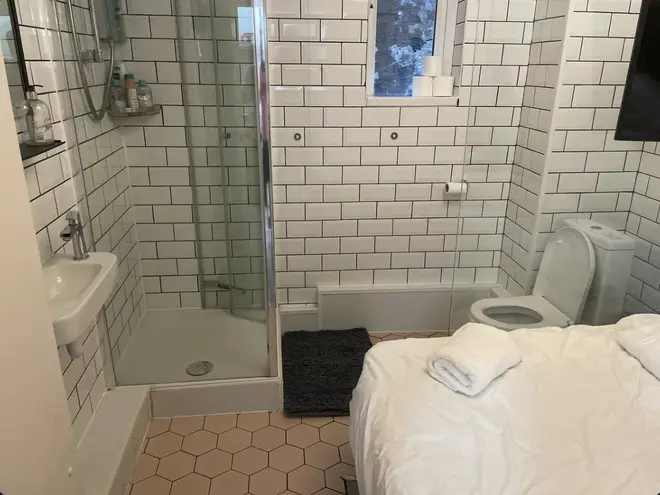 An American tourist visiting London has revealed his shock after arriving at his Airbnb to find the bed was located in the bathroom.
David Holtz, a professor at the University of California, says he was visiting the capital city from the US when he found out the accommodation was actually just a bathroom.
"[That feeling when] you arrive at your AirBnb and realise that the whole space is essentially just a large-ish bathroom that the host put a bed into," he wrote on Twitter.
Mr Holtz says he got in touch with Airbnb, who reassured him they would look into the matter.
But he claims Airbnb staff have "no interest" in helping to resolve the situation.
"I already spoke to customer support multiple times and every customer support advocate I've interacted with has had no interest in helping resolve the issue," he wrote online.
"Can I expect a different outcome this time?"
Read More: Tories are going to 'collapse the economy' says Tom Swarbrick caller as mortgage bill support is scrapped
Read More: Housing is Tories' 'biggest crisis' not lockdown dancing, says Rachel Johnson
After sticking it out in the Airbnb, Mr Holtz said: "After sleeping for 2 nights one foot away from a toilet, i'm ready to sleep for 26 nights in the jungles of Fiji."
The tweet has since gone viral, racking up more than 150,000 likes and 13million views at the time of writing.
It has sparked a debate over the nature of Airbnb accommodation, with some finding in the humour
One joked said: "Airbnpee."
Another said: "You've got everything you need within arm's reach."
A spokesperson for Airbnb told LBC: "Our customer service team has been in contact with this guest to provide support.
"We encourage guests to review all photos, as well as the description and reviews, prior to booking a stay."